0
EBC Day 02 - Kathmandu's Durbar Square
I woke up early to the noises of bustling Kathmandu. Fortunately the Annapurna Guesthouse that I was staying in was located off the main road and as such was a lot quieter than most of the other guesthouses. Later on was I to realize that the Nepalese start their day very early (normally around 05:00-06:00) as the sun rises and sets early here at this time of year. The first thing I did after I left the guesthouse was to head to the nearest shop and buy a map of the city which ended up costing a ridiculous NPR500! 
I decided to just walk around at first and just keep an eye on the map so that I would be able to figure out how to get back. At first glance all the narrow streets tend to look the same which can pose a problem for those who are new to the city. Since the guesthouse that I was staying in lay to the north of Thamel, I naturally found myself heading south and as such I decided to keep on going until I reached Kathmandu's Durbar Square (Nepali : काठमाडौ दरबार क्षेत्र)

. A 'Durbar Square' is basically a plaza that lies close to the old royal palaces in Nepal with most of the bigger cities (such as Patan and Bhaktapur) also having one.
Along the way I was kept fascinated by the little shops that lined the narrow chaotic streets. These shops were modest in size although were very flamboyant with their decorations and choice of colours. All sorts of goods were being sold, ranging from hiking paraphernalia, clothes and materials such as cashmere and pashmina, and hand-crafted souvenirs, to weapon shops that sold all sorts of blades including the Nepalese Kukri.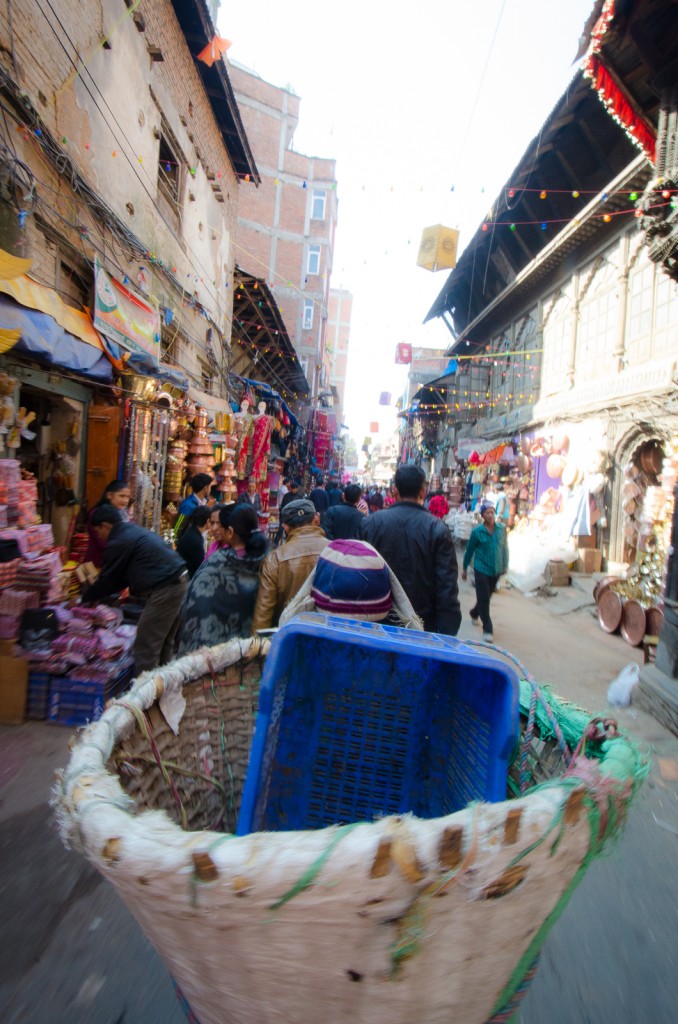 I was also shocked to find that a lot of the shopowners could speak Malay as it is apparently quite common for Nepalese men to come over to Malaysia for a few years for work. Funnily enough the conversations always went the same way - first they would ask me where I was from and were surprised when I said that I was from Malaysia. They would then get a resolute look about them and ask me something in Malay with a smirk as if they were about to catch me out. The fact that I was able to respond to their questions in Malay would leave them baffled all over again!
Getting to Durbar square was ridiculously easy. All one has to do is align themselves in the right direction and just keep walking! The entrance fee amounted to NPR750 but by heading to the KMC Site Office, which is just to the south of the square next to the Kumari-ghar temple, with the receipt of payment and a passport photo, one can be issued a visitor pass which will allow re-enterance into the square at any point for the duration of one's visa without having to pay the entrance fee all over again.
Durbar Square
By the time I reached Kathmandu's Durbar Square I was profoundly annoyed by the endless touts and guides who kept on pestering me trying to get me to hire them. The 'Hanuman-dhoka Durbar Square' itself is a cluster of both Hindu and Buddhist Temples, mostly built between the 12th and 18th centuries, and a Palace with a large courtyard called the Basantapur Durbar. There was also a place called the Kumari Bahal somewhere here which is apparently the residence of Kumari Deli, aka 'the Living Goddess' which is basically a young pre-pubescent girl that is worshiped as a manifestation of the devi.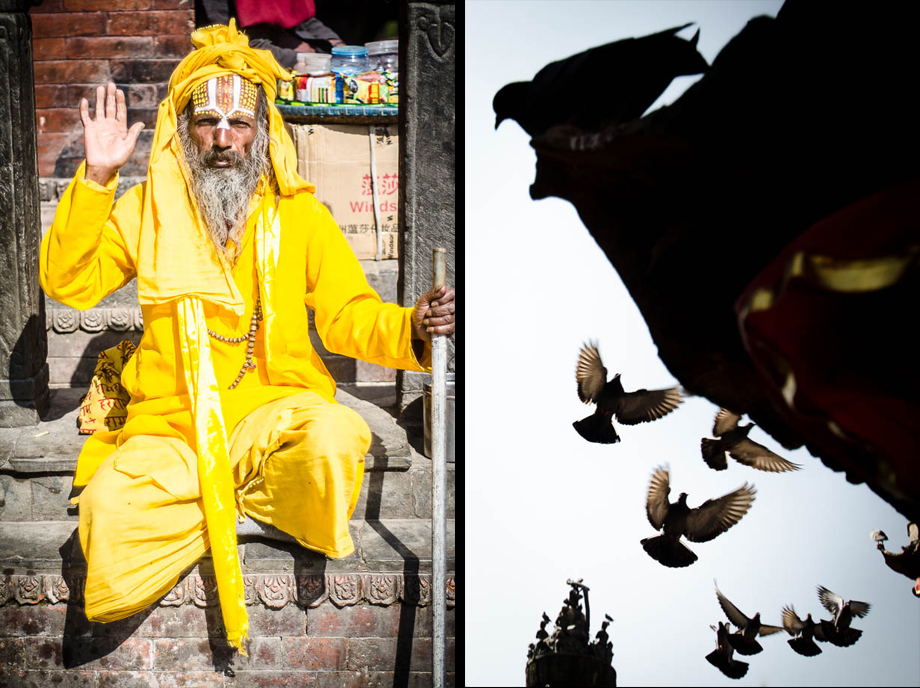 I personally found the Jaganath temple to be the highlight of the entire complex mainly because of the sheer number of pigeons (Family : Columbidae) that could be found in and around the courtyard which opened up a realm of photographic opportunities! The temple itself is also the oldest structure in the square and is known for its erotic carvings on the roof struts. After taking loads of pictures, I made my way towards Basantapur Durbar.
When I got to the courtyard that was called Nasal Chowk I found that I was not allowed into the Basantapur Durbar itself as I was either not Nepali or not a Hindu (they weren't very clear) so instead wandered around the square itself. One thing I found very interesting however was when a large group of pre-teen schoolchildren in uniforms poured out of Basantapur in what must have been some sort of school trip. They ran around mingling with the tourists trying their very best to speak English. It was somewhat refreshing knowing that these children weren't after money or trying to sell things and were just genuinely intrigued by the tourists.
I was extremely hungry by then and bought something from the next foodstall I came across which sold little square slices of what I think was supposed to be pizza (cost
NPR100
).
From Nasal Chowk with Lohan Chowk on the left and Basantapur Durbar on the right.
TIMS Card Attempt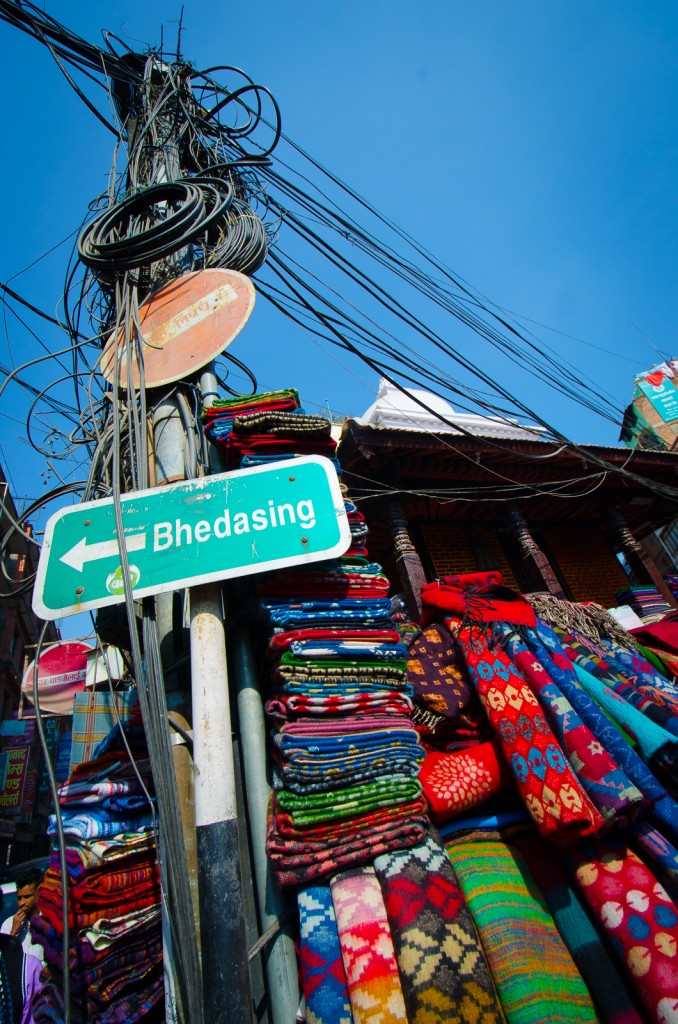 The little pizza slice was not very satiating however so I ended up going back to the same place I ate yesterday, the 'Newa Mo:mo Restaurant', since the food had been so good there. This time I ordered Chicken curry and a cup of coffee which ended up costing NPR255. Right after I went back to some of the shops that sold trekking gear that I had browsed around in earlier but this time ended up puchasing a pair of gaiters, a pair of trekking socks and a trekking pole and all for the modest sum of NPR1000. 
I was also surprised by the low prices of original climbing gear being sold here. A Petzl Grigri 2 was being sold for NPR7000, Petzl and BD carabiners for NPR1000-1500, BD ATCs for NPR1700, BD ATC Guides for NPR2150, and BD Bod Harnesses for NPR4000!  
Since I had some time to spare before dinner, I decided to go and sort out my TIMS (Trekkers' Information Management System) card so I ended up walking to the TIMS office but to my dismay it was already closed by the time I reached there. The walk itself is not one that would appeal to everyone as one would end up walking a distance of 3km through the dustiest parts of Kathmandu. If you do decide to head there, don't forget to keep your eye on the traffic and to bring a facemask!
The trip was not for naught however as I managed to find and purchase more medication for my kit along the way. I bought Diamox for NPR120, Immodium for NPR80, Antihistamine for NPR75, and surprisingly non-prescription general antibiotics for NPR110. It all came up to only NPR385! After that I once again went back to Newa Momo but this time ordered chicken 'fry' rice and buff (buffalo) momo for dinner for a total of NPR325. 

Route from Thamel to the TIMS office (Suunto Movescount)
Expenditure
End of Day 2 Expenditure (NPR)*

Transportation : 0

Entrance Fees/Visa : 750

Gear : 1000

Food : 680

Maps : 500

Medication : 385

Accommodation : 0

TOTAL (NPR)

* Excluding the cost of the flights to and from Nepal

Total

: 650

: 4900

: 6050

: 890

: 500

: 385

: 1200

: 14575