0
November 18, 2012
Posted by
Ramon Fadli
in
Alpine, Arctic & Antarctic Tundra
,
Base Camps
,
Budget
,
Glaciers
,
Hiking
,
Mountains
,
Nepal
,
Province 1
,
Solo Hike
EBC Day 11 – Everest Base Camp
The Everest Pyramid (evk2cnr)
The trail from Lobouche was fairly level until I reached the point where I was to branch off towards the 'Pyramid'

.. which was a strange sight indeed. It is an odd three-story structure made out of glass and steel, completely incongruous to its surroundings. It almost seemed as if it fell from outer-space, part of an alien spaceship that was passing by. I walked up to the main door and gave a quick knock and was greeted by one of the staff. I was told that a kid and a staff force that were made up of six locals lived there, and that I would be given a quick
tour
just as long as I did not take any more photos. I gladly obliged.
The EVK2CNR pyramid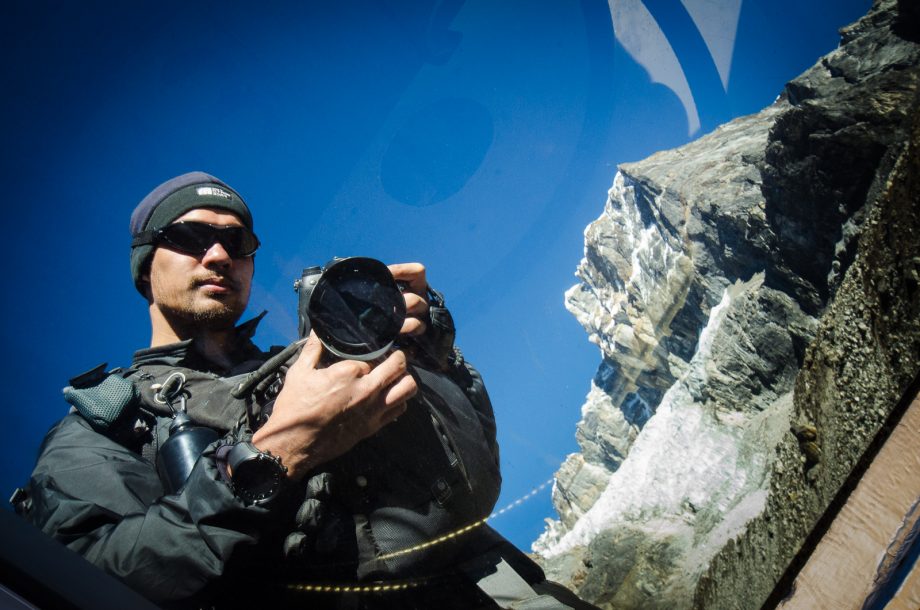 My reflection off one of the pyramid panels
After the tour, instead of making my way back the way I had come, I decided to save time by climbing up the steep hill to the east of the pyramid before dropping back down to the main trail.
360 Panorama
Most of the sections from here were relatively gentle but there was at least one steep ascent where I bumped into the two guys that I had seen with a gopro at Katmandhu's airport, and it turned out that they had flown in to Lukla by helicopter. I just kept on bumping into people after that. One guy had been travelling with a friend without a porter or a guide, and had gone over the Kongma La pass (
elevation : 5535m
), the pass that I had initially planned to do. He told me that his friend did not have the endurance to make the crossing in time so was forced to stay the night. The guy could not stay with his friend however, as he did not bring along camping gear, so he was forced to head over to the next tea house for the night. I also passed by a French woman who was travelling alone and an English group that were on their way up to Gorak Chep. Everyone's pace seemed to be very slow, perhaps due to the elevation, and I passed them one by one as I made my way to the frozen lakebed that is Gorak Shep (
elevation : 5164m
). I bumped into the Malaysian group once again when I arrived at the lodge. Apparently the temperature, the terrain, and the altitude had gotten to them and they were actually entertaining the possibility of taking horses up to Everest Base Camp and then pay for a
USD2.2k
helicopter ride back down to Lukla right after! After a quick meal, cheese egg fried rice (
NPR490
) with lemon tea (
NPR110
), I had three hot chocolates (
NPR390
) to warm me up before making my way back to my room to get ready to tackle the base of the tallest mountain on Earth!