0
November 18, 2012
Posted by
Ramon Fadli
in
Alpine, Arctic & Antarctic Tundra
,
Base Camps
,
Budget
,
Glaciers
,
Hiking
,
Mountains
,
Nepal
,
Pradesh 1
,
Solo Hike
EBC Day 11 – Everest Base Camp
That morning, a sad farewell took place in Lobouche

(
elevation : 4940m
) amongst a group of hikers from New Zealand. One of the party members apparently had been suffering from a bad headache and had just begun mumbling unintelligibly. It was wisely decided that he would need to make a quick descent back down to lower altitudes, whilst the rest of the party continued up to Gorak Chep (
elevation : 5164m
). I say wise because the ataxia and altered mental status indicated an onset of HACE. As one ascends to higher altitudes, the saturation of the atmospheric gases decreases, which results in mild hypoxia--a deficiency in the amount of oxygen that reaches the body tissues. One's breathing and heart rate are then forced to increase in order to combat this hypoxia. The capillaries in the body also dilate, and there is a chance of capillary leakage that may cause swelling (edema). When at high-altitude, the general issues that you are likely to encounter are headaches, trouble sleeping, dyspnea (shortness of breath) during exertion, and a cough. Without sufficient
acclimatisation
however, these issues can progress to altitude sickness, the mildest of which is 'Acute Mountain Sickness' (AMS). Normally one is diagnosed with AMS if one has a headache and at least one of the following:
AMS : Nausea / vomiting / dizziness / fatigue / lassitude (physical or mental weariness) / persistent inability to sleep
If you encounter any of those signs and symptoms, it is important to stop your ascent and rest, and consider a descent of
500 metres
or more. Treat the symptoms with analgesics and antiemetics as necessary, and consider the administration of acetazolamide (125 to 250 mg twice daily), otherwise known as 'Diamox'. Acute mountain sickness can progress to 'High-Altitude Cerebral Edema' (HACE), a condition that is potentially fatal.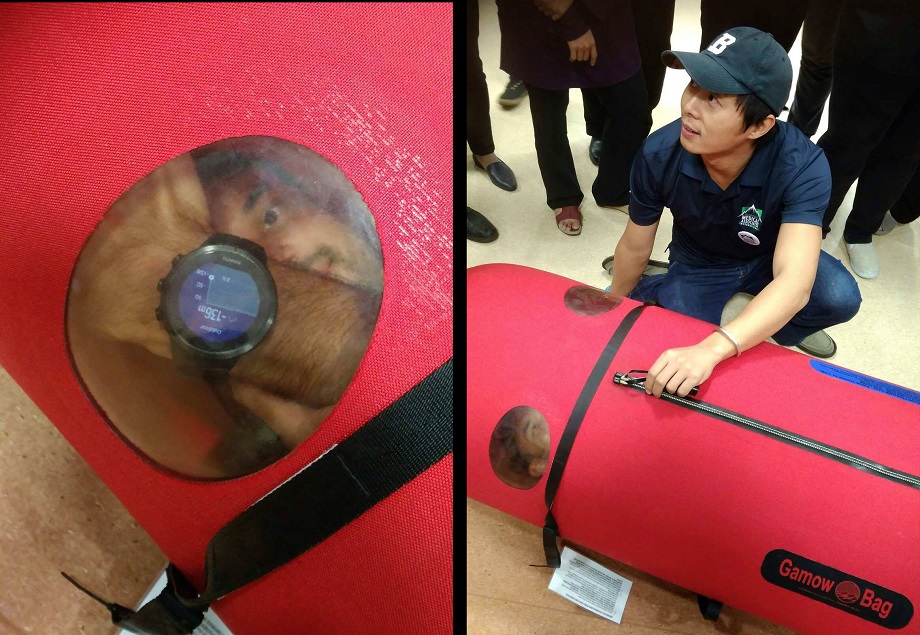 Testing out the Gamow bag at the TOPCOM conference. The Gamow bag allows medical practitioners to increase the air pressure that surrounds the patient in order to simulate a descent from altitude, which is the definitive treatment of altitude illnesses (AMS, HACE and HAPE). This 'descent from altitude' can be seen on the altitude graph on my Suunto Spartan Ultra.
HACE & HAPE
When the signs and symptoms above begin to deteriorate and the patient begins to show the following, it is normally an indication that they now have 'High-Altitude Cerebral Edema' (HACE):
HACE : Ataxia (lack of muscle coordination which may affect speech) / altered mental status / signs that indicate an increase in intercranial pressure (ICP) such as nausea and vomiting
High-Altitude Cerebral Edema (HACE) occurs when fluid leaks into the brain. This presents as brain swelling and an increase in intracranial pressure (ICP). High-Altitude Pulmonary Edema (HAPE) on the other hand, occurs when fluid leaks from the capillary beds in the lungs and into the alveoli, and causes swelling of lung tissue. HAPE tends to develop several days after arrival at moderate altitudes of (
3000m to 4000m
), and normally begins with pulmonary hypertension which presents itself as shortness of breath, fatigue, dizziness, and cyanosis, before progressing to the following:
HAPE : difficulty breathing that worsens when lying down / wheezing / anxiety / cough that produces frothy or bloody sputum
For HACE and HAPE, it is important to minimise exertion and to keep the patient warm before making an immediate descent and evacuation. For HACE, oxygen should be administered at a rate of 2-4 l/min, but for HAPE, the initial administration of oxygen should be at a rate of 4-6 l/min until conditions improve, after which the rate is then lowered to 2-4 l/min. Moderate HAPE can quickly deteriorate into severe HAPE in a matter of hours, which will ultimately result in respiratory failure and eventual death. Pulmonary edema can sometimes persist for days after a descent has been made and quite often requires hospital observation and treatment. Bear in mind that patients with severe HACE are unlikely to survive without aggressive intervention.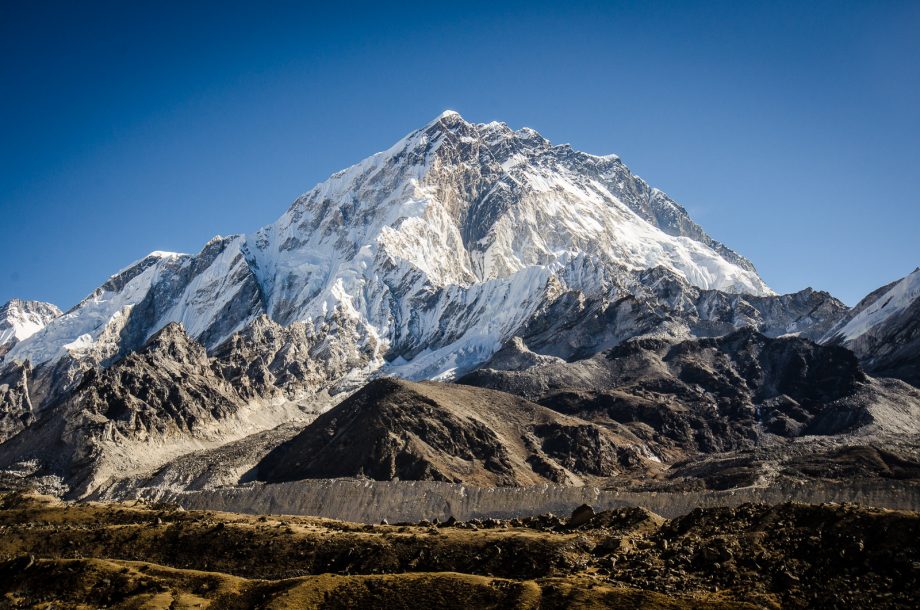 Nuptse (

elevation : 7861m

) and the Khumbu Glacier nestled underneath
The Everest Pyramid (evk2cnr)
The trail from Lobouche was fairly level until I reached the point where I was to branch off towards the 'Pyramid'

.. which was a strange sight indeed. It is an odd three-story structure made out of glass and steel, completely incongruous to its surroundings. It almost seemed as if it fell from outer-space, part of an alien spaceship that was passing by. I walked up to the main door and gave a quick knock and was greeted by one of the staff. I was told that a kid and a staff force that were made up of six locals lived there, and that I would be given a quick
tour
just as long as I did not take any more photos. I gladly obliged.
The EVK2CNR pyramid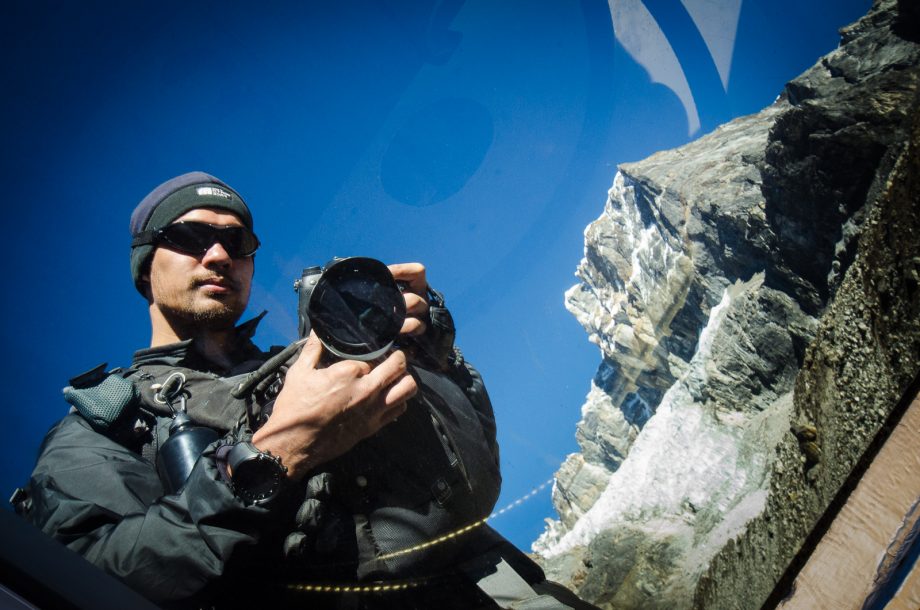 My reflection off one of the pyramid panels
After the tour, instead of making my way back the way I had come, I decided to save time by climbing up the steep hill to the east of the pyramid before dropping back down to the main trail.
360 Panorama
Most of the sections from here were relatively gentle but there was at least one steep ascent where I bumped into the two guys that I had seen with a gopro at Katmandhu's airport, and it turned out that they had flown in to Lukla by helicopter. I just kept on bumping into people after that. One guy had been travelling with a friend without a porter or a guide, and had gone over the Kongma La pass (
elevation : 5535m
), the pass that I had initially planned to do. He told me that his friend did not have the endurance to make the crossing in time so was forced to stay the night. The guy could not stay with his friend however, as he did not bring along camping gear, so he was forced to head over to the next tea house for the night. I also passed by a French woman who was travelling alone and an English group that were on their way up to Gorak Chep. Everyone's pace seemed to be very slow, perhaps due to the elevation, and I passed them one by one as I made my way to the frozen lake-bed that is Gorak Shep (
elevation : 5164m
). I bumped into the Malaysian group once again when I arrived at the lodge. Apparently the temperature, the terrain, and the altitude had gotten to them and they were actually entertaining the possibility of taking horses up to Everest Base Camp and then pay for a
USD2.2k
helicopter ride back down to Lukla right after! After a quick meal, cheese egg fried rice (
NPR490
) with lemon tea (
NPR110
), I had three hot chocolates (
NPR390
) to warm me up before making my way back to my room to get ready to tackle the base of the tallest mountain on Earth!
Everest Base Camp

I think that the altitude was finally starting to get to me as the hike up to base camp felt long and draining. I tried to push the pace nonetheless as I felt much lighter, now that I was free of my heavy backpack. Despite the much lighter load, I somehow managed to go off the trail twice, but the route on my
Suunto Ambit
always brought me back to the trail. The trail itself slowly made its way upward along gravel, and followed a ridge that then went on to join Everest's spine.
The famous EBC signpost
As I made my way upwards, I really did not know where I was heading. There didn't seem to be any visual reference of where the base camp

lay. Winter was just around the corner and that meant that there were no vibrant tents of climbing expeditions to mark the location. I prodded along, just keeping an eye on the faint trail that lay just in front of me. The view of Mount Everest (
elevation : 8848m
) from here was completely underwhelming, and paled in comparison to the views that were to greet me the
next day
. I realised then that reaching base camp basically was all about the ticking of a box, as all that one really finds there are piles of stones with a cacophony of pictures, signs and prayer flags strung out in-between. Once the crowd of other hikers parts sufficiently, you may even be able to take that (seemingly mandatory) photo of yourself that everyone back home is expecting, before making your way up the ridge, and back towards the small village of Gorak Shep once again.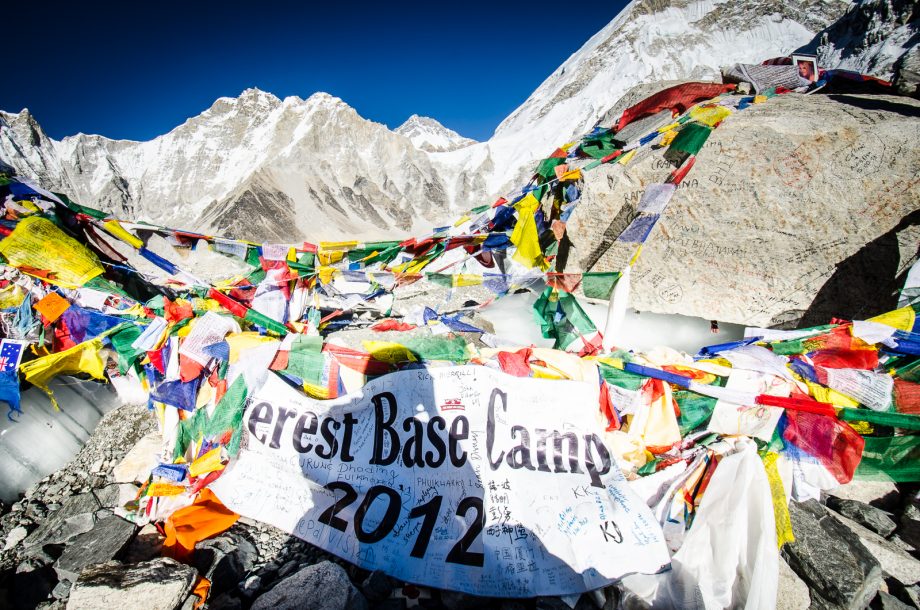 Underwhelming EBC!
On the way back, I ended up veering off the trail once again, this time going across the moraine to a point where the rocks below my feet began to get very unstable. After checking the route on my
Suunto Ambit
once again, I realised that I was too far east, so decided to cut across to the trail, practically crawling up the moraine to get there. The going here was slow as I had to take great care to ensure that each and every rock that I stood on would support my weight. I made it to the guesthouse eventually, just after the sun had set, and stumbled in cold and tired, eager to dig into the yak steak rice and coffee (
NPR1260
) that awaited me!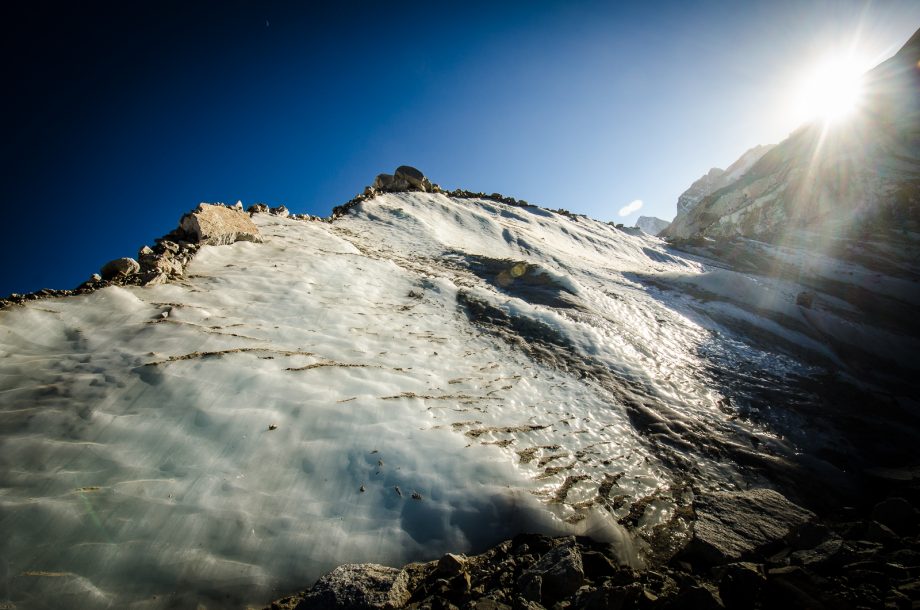 Area Map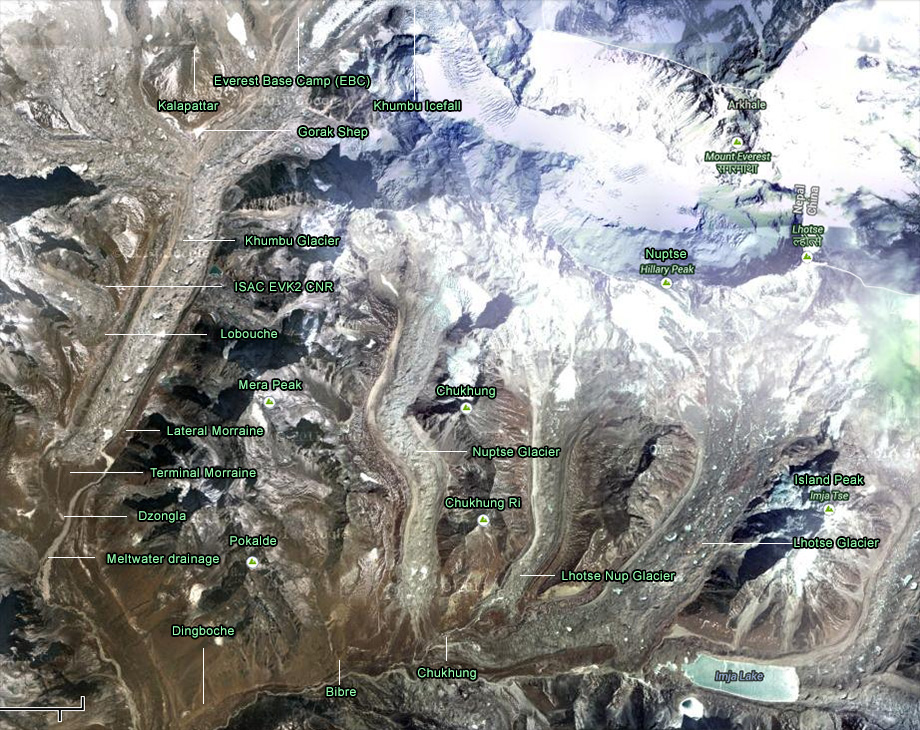 Expenditure
End of Day 11 Expenditure (NPR)*

Transportation : 0

Entrance Fees/Visa : 0

Gear : 0

Food : 1350

Maps : 0

Medication : 0

Misc : 0

Internet/Charging: 0

Accommodation : 0

TOTAL (NPR)

* Excluding the cost of the flights to and from Nepal

Total

: 30650

: 10295

: 16700

: 11100

: 700

: 385

: 700

: 1500

: 3590

: 75620