0
EBC Day 15 – Lakes of Gokyo
The views from here were absolutely gorgeous. This was the point where the Gaunara glacier converged with the
Ngozumpa glacier
, and the valley that it had carved out directed one's gaze eastwards all the way to Everest (
elevation : 8848m
). These were the best views that I had gotten of Everest since the beginning of the trip, but the views from
Kalapattar
did come in a close second. The South Col between Everest and Nuptse was very clear from here, as was the deep dark line that made up the Hornbein couloir on the north face on Everest. I watched for a while as the clouds shifted, obstructing the peak for a while before revealing it once again. The cloud-cover above the Ngozumpa glacier was also rolling in fairly rapidly, and the shadows that it cast brought the glacier to life--a veritable battle between the patches of light and dark had unfolded before my very eyes.
Looking east over the Ngozumpa glacier and the Gaunara glacier just beyond, with Everest in the centre

(hover over the image to see the labels)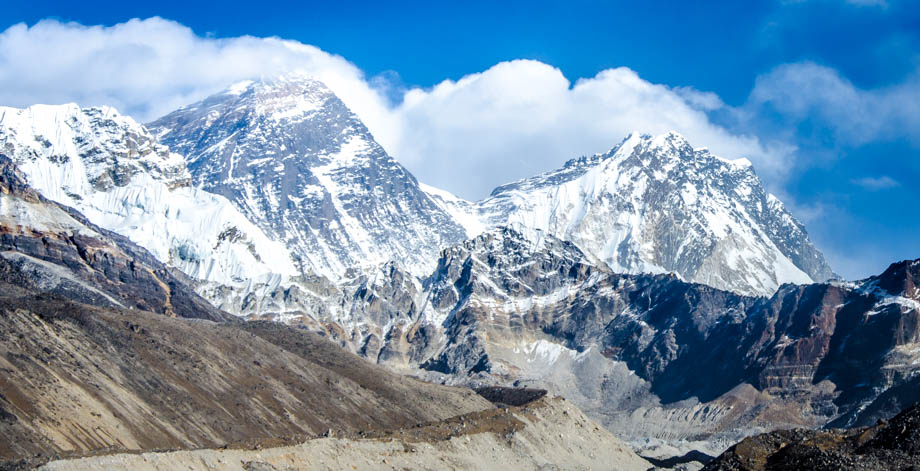 Close-up of Everest (

elevation : 8848m

) on the left, and Nuptse (

elevation : 7861m

) on the right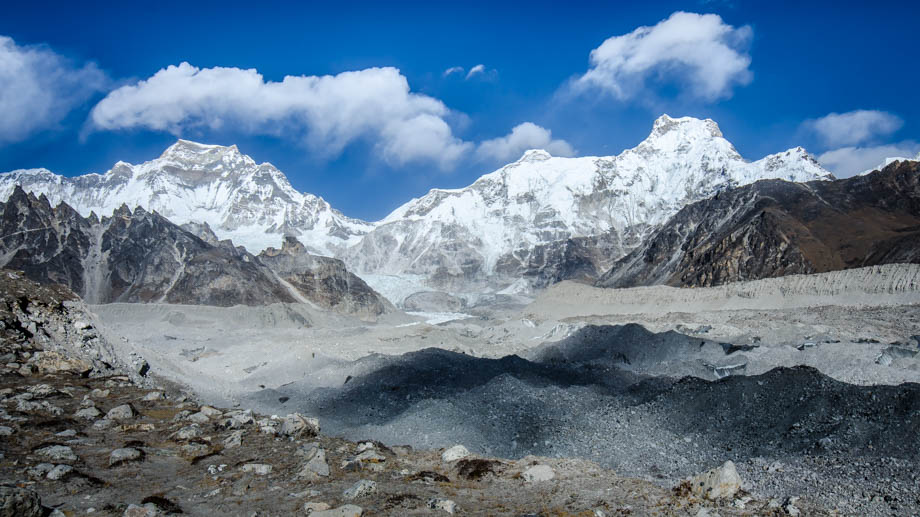 Looking north over the Ngozumpa glacier towards the peaks of Gyachung Kang (

elevation : 7952m

) and Chakung/Hungchi (

elevation : 7029m

)
As I sat watching, I noticed a man with a red jacket on the right side of the moraine. Right after, a gust of wind kicked up some dust which forced me to shield my eyes. As I looked back up, he was not there any longer. I walked over to investigate thinking that he could have lost balance and had slid down the moraine, and found with great relief that he had taken cover behind a large boulder. The man turned out to be Florian. He said that he still was not feeling too well but had just forced himself to walk up the path. We ended up walking (at least part of the way) back, chatting as we did. It turned out that Florian was also a rock climber but was more focused on trad, and had just finished a climbing trip in the
United States
. He used to be an architect but, like me, had grown weary of a 9-to-5 desk job and had abruptly quit his job to give himself some space to travel for a while. He said that he would be heading to India for a while after
Nepal
, and that he also had a job as a skiing guide waiting for him back in Canada. Florian and I met his mother once again as we returned to the lodge. She said that they would most likely stay in Gokyo for another day since neither of them were feeling particularly well. I ate dinner, which consisted of two cups of hot lemon (
NPR200, RM7
), dhal bhat (
NPR500, RM18
), and a fried egg (
NPR200, RM7
), before saying farewell to them and retiring to the room (
NPR200, RM7
) for the night.
Suunto Movescount Stats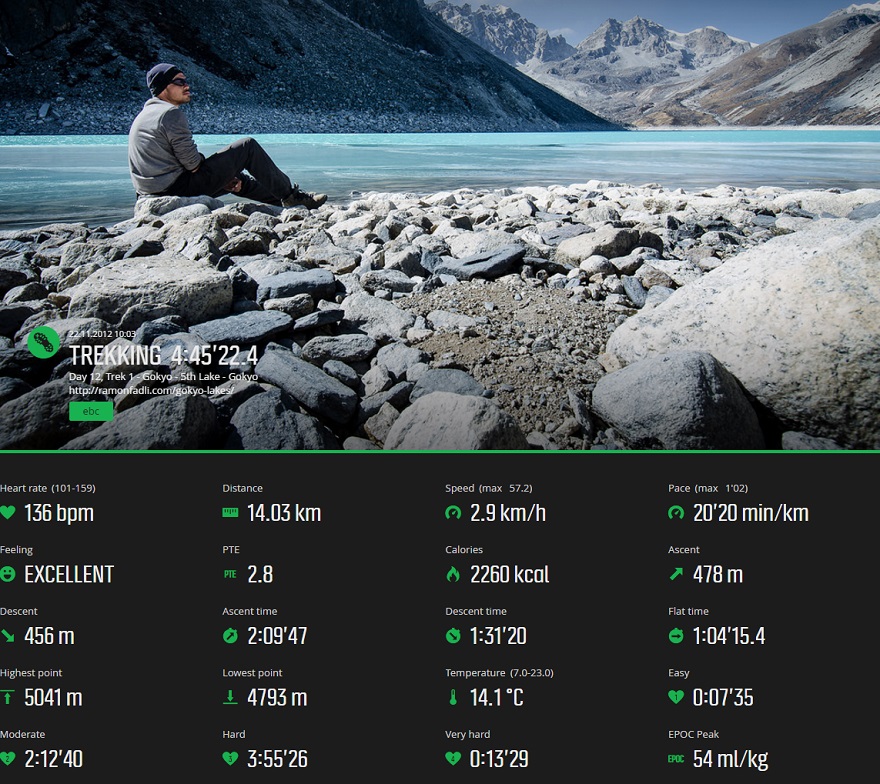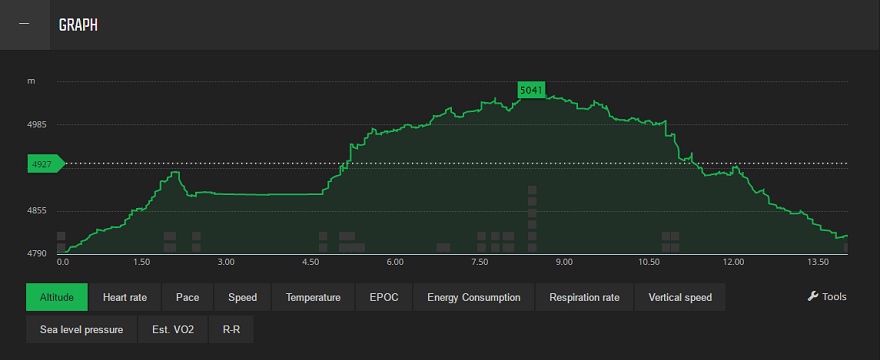 The information from the Suunto Ambit for this part of the trip can be found on my Movescount Page
For those who also have a Suunto GPS device and would like to use the move as a route, please click on the following link :
Expenditure
End of Day 15 Expenditure (RM)

Transportation : 0

Entrance Fees/Visa : 0

Gear : 0

Food : 32

Maps : 0

Medication : 0

Misc : 0

Internet/Charging : 0

Accommodation : 7

TOTAL (RM)

Total

: 2266

: 339

: 446

: 654

: 24

: 14

: 28

: 53

: 150

: 3974