1
EBC Day 12 – Kalapattar
Chola Tsho Lake

I made great time as I descended south back down the valley, passing Lobouche (
elevation : 4940m
) in only an hour and a half, and reaching the base of Awi Peak (
elevation : 5245m
) in three hours. This point was a major crossroads of valleys and glaciers: behind me to the north was the magnificent Khumbu glacier that lead up to Everest; the valley that perfectly framed regal Ama Dablam (
elevation : 6812m
) that leads south-east to
Dingboche
(
elevation : 4530m
) on my left; just in front of me was the Chola Glacier that poured out of Taboche (
elevation : 6542m
) and the east shoulder of Cholatse (
elevation : 6501m
), both impressive mountains that are connected by a long ridge; and to my right was where I had to go, the climb north-west up the valley towards the small village of Dzongla (
elevation : 4830m
) and the Cho La high-altitude pass just beyond.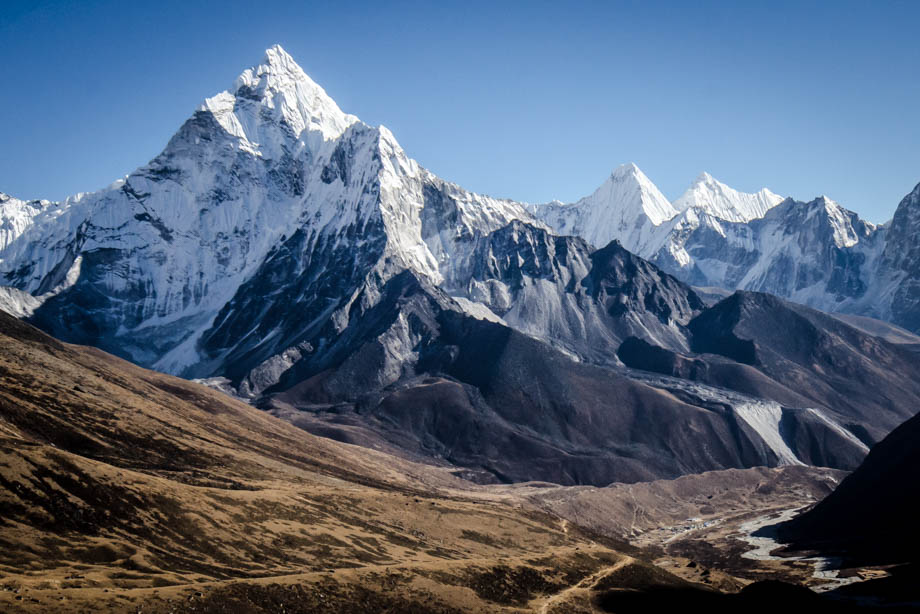 Looking south-east towards Dingboche (

elevation : 4530m

) and Ama Dablam (

elevation : 6812m

)
The trail that lead up to this point started off gently after the crossroads to Dingboche, and traversed the side of the hill with the valley on the left, before curving around the base of Awi Peak. This was the first time that I felt completely alone. I was now free from the hiker conveyor belt that is the EBC trail, and had nothing but fresh crisp air and glorious mountain views completely surrounding me. The temperatures seemed to fluctuate a lot too as the clouds intermittently blocked the sun. Earlier that morning temperatures were around -10° Celsius, when the sun was out the temperature shot up to 10°C and dropped back down to 0°C each time it was blocked by cloud cover. The terrain seemed to get a little trickier after a while and the temperature started to fall even more. Down below me to my left lay the periglacial lake of Chola Tsho (
elevation : 4550 m
)
[ 'cho' or 'tsho' meaning lake, 'la' meaning pass; so ' Chola Tsho Lake' literally meaning 'Lake Pass Lake Lake']
, its eastern shore dammed up by ice from the Chola glacier and its lateral moraines.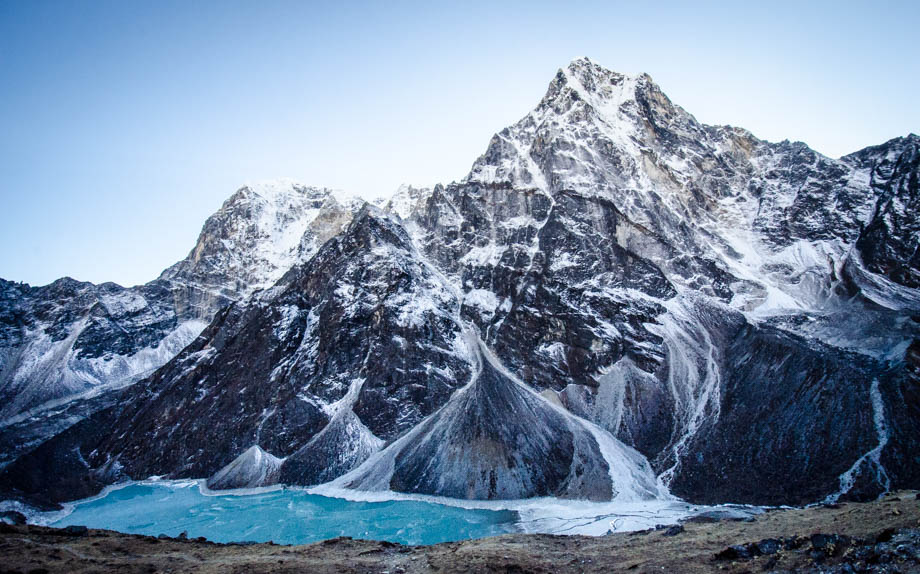 Taboche (

elevation : 6542m

) on the left and Cholatse (

elevation : 6501m

) on the right, with Chola Tsho Lake (

elevation : 4550 m

) nestled below
After uncountable hills I finally saw what looked like a camp in the far distance, thin tendrils of smoke from the tea houses making their way slowly up into the air. The first tea house that I came upon was already full of hikers, but there were several rooms available in the second tea house. I secured a simple but cold common room with a double bed for
NPR200
. I made my way to the common dining room after that to order some food and drinks (
NPR650
), and then relaxed for a while, just
reading
by myself. The other hikers were all huddled infront of the yak dung heater in the centre of the room, and most of them seemed to be elderly Japanese men. I observed one of them taking a good 5 minutes or so trying to untangle himself from his earphone cable, and found myself wondering how in the world he was going to manage the Cho La Pass tomorrow!
Suunto Movescount Stats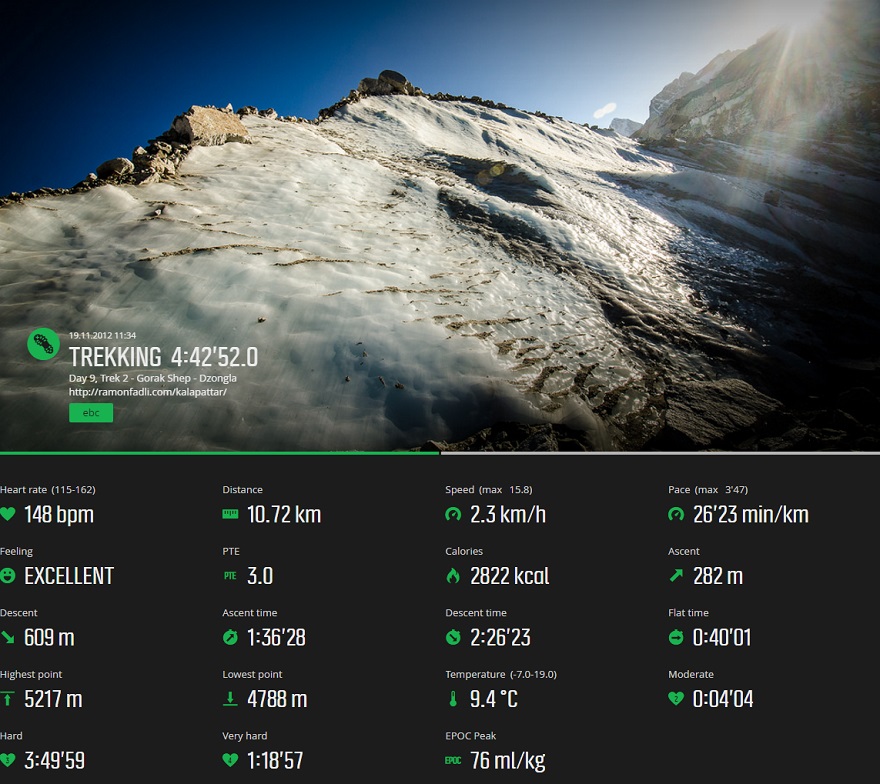 The information from the Suunto Ambit for this part of the trip can be found on my Movescount Page
For those who also have a Suunto GPS device and would like to use the move as a route, please click on the following link :
Expenditure
End of Day 12 Expenditure (NPR)*

Transportation : 0

Entrance Fees/Visa : 0

Gear : 0

Food : 1300

Maps : 0

Medication : 0

Misc : 0

Internet/Charging: 0

Accommodation : 200

TOTAL (NPR)

* Excluding the cost of the flights to and from Nepal

Total

: 30650

: 10295

: 16700

: 12400

: 700

: 385

: 700

: 1500

: 3790

: 77120