5
EBC Day 01 - Kathmandu Arrival
Thamel
Thamel is what I would call a 'backpackers paradise' as the small stores that sold all sorts of trekking gear and paraphernalia along the narrow lanes were ubiquitous. I was extremely wary at first as there were touts everywhere that would greet you with a "Namaste!" but then go on to lower their voice and offer "young Nepalese girls" or marijuana. At the same time there were numerous cars and motorbikes whizzing by and honking, forcing you to jump out of their way.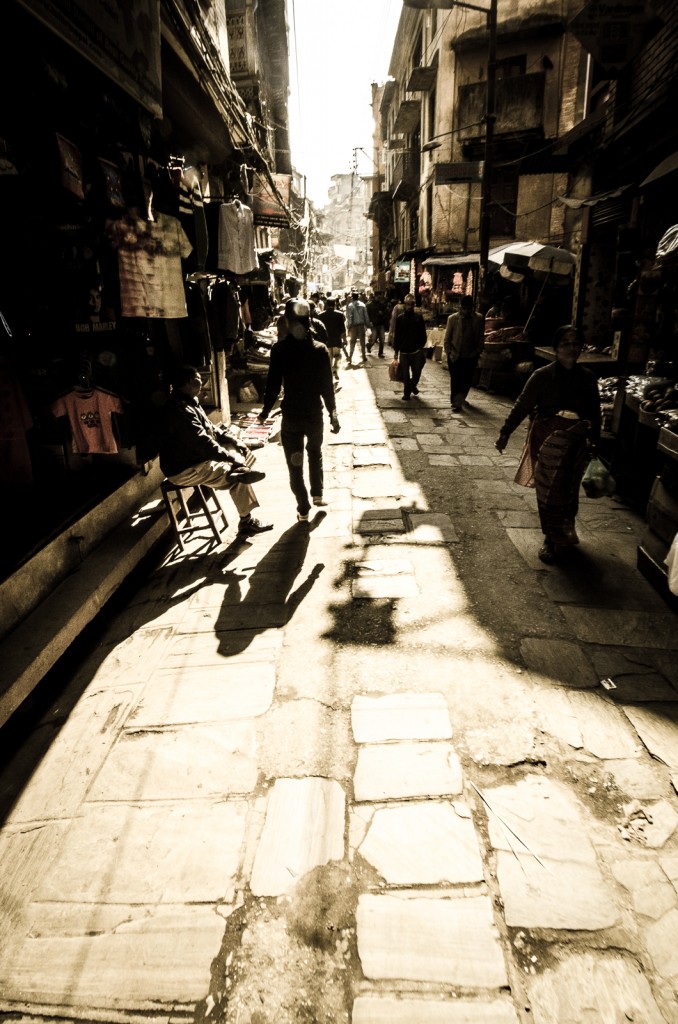 Despite this, I quickly grew accustomed to the vibrant sights and smells of Kathmandu. Everyone was friendly (probably because they were desperate to sell their wares) and welcoming; and English, albeit broken, was fairly commonplace. I was fortunate enough to find and purchase a second-hand Steripen Adventurer for the modest sum of NPR3800. I knew then that there was a bulb life for each steripen but the price was very reasonable, the Steripen looked very decent and the shopowner went so far as to get batteries to verify that it indeed worked. I managed to convince him to include the batteries aswell as CR123 batteries tend to be a little pricy. I also purchased some trekking pants that had zip off legs so that it could also function as shorts for a mere USD12 (NPR1250).
As the day was winding down, I came upon a so-called restaurant that was a little more than a shack by the side of the road that was full of people, both locals and foreigners. Figuring that that was an indication of quality, I decided to give it a try and ended up not regretting it! The place was called 'Newa Mo:mo Restaurant' and was known for its Nepali and Newari food. They even offered cooking courses there! I found out later on that the place was moving to a better, more spacious site that was just off the main road near the junction of
Bhagawati Bahal
and
Thamel Chowk
. The chicken fry [sic] rice
NPR210
 that I purchased was good and came in a generous quantity.
I finished off the day just reading my Kindle and people watching. There was an interesting conversation between what I thought was an Eastern-European man that was wearing some sort of headgear reminiscent of a turban that was conversing with another man that actually wore a turban! There were no free tables at the restaurant so the former just offered a seat to the latter and they struck up a conversation. It turned out that he was Russian and was financing his travels with the money that was coming in from the rental of his apartment in Moscow. Apparently he also used to weigh 173kg but his weight dropped down to 120kg by just ceasing his consumption of beer! The conversation got a little more interesting when he spoke of the days of communism and how life was a lot easier for him then. With that kind of conversation around, I doubt many would be able to concentrate on their reading!
Expenditure
End of Day 1 Expenditure (NPR)*

Transportation : 650

Entrance Fees/Visa : 4150

Gear : 5050

Food : 210

Accommodation : 1200

TOTAL (NPR)

* Excluding the cost of the flights to and from Nepal

Total

: 650

: 4150

: 5050

: 210

: 1200

: 11260