5
EBC Day 01 - Kathmandu Arrival
The Airasia flight from Kuala Lumpur to Kathmandu that I had purchased cost only
MYR579
(including the airport tax) however the return flight came up to a total of
MYR780
. This was because I had taken quite some time to finalise my itinerary and as such ended up booking the return flight much later on. The flight itself was fairly uneventful, an Airbus 330-300 that remained between 10000 and 11500 metres with a speed of 780 km/h for the most part. One thing I did notice however that was out of the ordinary was the fact that there was a large number of Nepalese men on the plane that were between the ages of 20-30 years old. I then realized that they were all expatriates who were working in Malaysia that were heading home for the Hindu festival of Diwali (known as 'the festival of lights') that was to occur a few days hence. I had managed to acquire a window seat on the starboard side of the plane so that I would be able to capture some window mounted
GoPro
shots and timelapses of the Himalayan ranges as we flew by. Unfortunately, condensation started to form on the windows fairly soon after and the only decent shots I could get were with my DSLR. I found it interesting how almost all those who had pre-booked their meals were non-Nepalese and also found it unnerving how all the Nepalese that didn't have meals just stared intensely at those who did. 
Mount Everest from the air
The immigration at the airport was a breeze as I had printed the visa form and filled it in well before so I ended up going straight up to the counter to pay the visa fees of USD40 (NPR4150) for a month-long visa (there was also an option of a two week-long visa that would only have cost USD25). The only problem with being the first to get through immigration is that you end up being swarmed by touts outside the airport. To avoid this I went to the taxi counter instead (despite knowing that it was slightly more expensive) and secured myself a taxi for NPR650 to Thamel. One thing that quickly struck me was how dusty Kathmandu was, perfect conditions to exacerbate ailments of the throat! 
The taxi took me straight to Annapurna Guest House as I had booked a basic room online with a common bath (with king sized bed) for two days for MYR44 (NPR1200) a few days prior. The hotel was pleasant and clean enough for the price I was paying and the room was nice and cozy. I unpacked my backpack and laid everything out : 
The Gear
Electronics
1x Kindle Paperwhite

1x Galaxy Nexus

1x HP Laptop & Charger

1x GoPro HD Hero2

1x GoPro Suction Cup Mount

1x GoPro Batteriy and SD Cards

1x GoPro Headmount

1x Mini Tripod
1x Headlamp

15x Spare AA Batteries
Clothing
1x Down Jacket

1x Windbreaker

2x Long-sleeved Tshirts

2x Quick dry Tshirts

1x Trekking pants

1x Cargo Pants

2x Cotton Tshirts

4x Underwear

1x Gloves 

1x Snow Cap

1x Pillow Case

1x Thai Fisherman Pants
Footwear
Wellbeing
Miscellaneous
1x Keyset

1x Padlock

2x Pens

1x Pencil

1x Notepad

1x Multitool

1x Doorstopper

1x Ear Plugs

1x Earphones

1x Sunglasses (with dust protection)

1x Spectacles

1x Quick-dry Towel

1x Passport

1x Wallet

3x Garbage Bags 
Toiletries
1x Soap

1x Chapstick

1x Toothbrush

1x Toothpaste

1x Anti-perspirant

6x packs of wet wipes
To purchase
If you are interested, here is a list of <100 items that I currently own.
Thamel
Thamel is what I would call a 'backpackers paradise' as the small stores that sold all sorts of trekking gear and paraphernalia along the narrow lanes were ubiquitous. I was extremely wary at first as there were touts everywhere that would greet you with a "Namaste!" but then go on to lower their voice and offer "young Nepalese girls" or marijuana. At the same time there were numerous cars and motorbikes whizzing by and honking, forcing you to jump out of their way.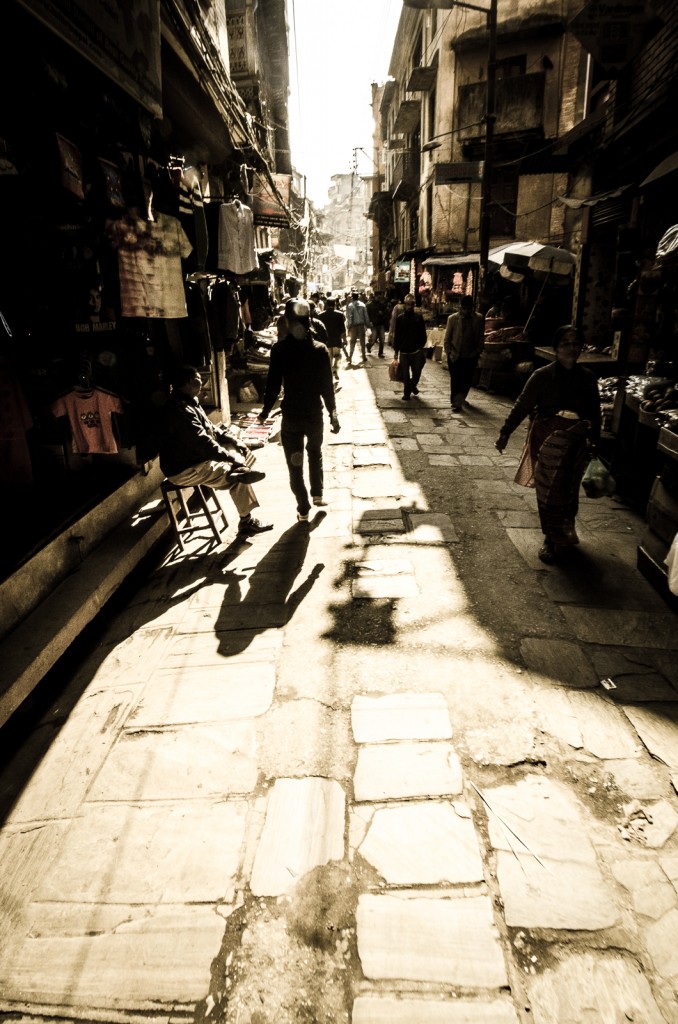 Despite this, I quickly grew accustomed to the vibrant sights and smells of Kathmandu. Everyone was friendly (probably because they were desperate to sell their wares) and welcoming; and English, albeit broken, was fairly commonplace. I was fortunate enough to find and purchase a second-hand Steripen Adventurer for the modest sum of NPR3800. I knew then that there was a bulb life for each steripen but the price was very reasonable, the Steripen looked very decent and the shopowner went so far as to get batteries to verify that it indeed worked. I managed to convince him to include the batteries aswell as CR123 batteries tend to be a little pricy. I also purchased some trekking pants that had zip off legs so that it could also function as shorts for a mere USD12 (NPR1250).
As the day was winding down, I came upon a so-called restaurant that was a little more than a shack by the side of the road that was full of people, both locals and foreigners. Figuring that that was an indication of quality, I decided to give it a try and ended up not regretting it! The place was called 'Newa Mo:mo Restaurant' and was known for its Nepali and Newari food. They even offered cooking courses there! I found out later on that the place was moving to a better, more spacious site that was just off the main road near the junction of
Bhagawati Bahal
and
Thamel Chowk
. The chicken fry [sic] rice
NPR210
 that I purchased was good and came in a generous quantity.
I finished off the day just reading my Kindle and people watching. There was an interesting conversation between what I thought was an Eastern-European man that was wearing some sort of headgear reminiscent of a turban that was conversing with another man that actually wore a turban! There were no free tables at the restaurant so the former just offered a seat to the latter and they struck up a conversation. It turned out that he was Russian and was financing his travels with the money that was coming in from the rental of his apartment in Moscow. Apparently he also used to weigh 173kg but his weight dropped down to 120kg by just ceasing his consumption of beer! The conversation got a little more interesting when he spoke of the days of communism and how life was a lot easier for him then. With that kind of conversation around, I doubt many would be able to concentrate on their reading!
Expenditure
End of Day 1 Expenditure (NPR)*

Transportation : 650

Entrance Fees/Visa : 4150

Gear : 5050

Food : 210

Accommodation : 1200

TOTAL (NPR)

* Excluding the cost of the flights to and from Nepal

Total

: 650

: 4150

: 5050

: 210

: 1200

: 11260