April 16, 2013
Posted by
Ramon Fadli
in
Budget
,
Class 2
,
Climbing
,
Coastlines
,
Day Hike
,
Forests
,
Islands
,
Karsts
,
Krabi
,
Lakes
,
Mangrove Forests
,
Thailand
Krabi Day 07 & 08 - Railay Lagoon & Phi Phi Island
I woke up pretty early that day so after purchasing two cans of Birdee robusta coffee (
THB20
each), I made my way over to West Railay to pass the time. There are several ways to get across with most of them passing through alleys and paths until they merge with Walking Street. They are used quite frequently by both tourists and the locals alike and almost everyone can direct you if you have any uncertainties.
News
April 20, 2016
2 years ago
Railay
, I found, to my dismay, that all Deep Water Soloing (DWS) had recently been banned! DWS is a thrilling way of climbing that entails free climbing (without a rope and harness) up a cliff and jumping or falling off the rock into the deep water that lies below!
Read more
The trees in the area around
Mangrove Restaurant
and Utopia are heavily inhabited by Long-tailed macaques (
Macaca fascicularis
), which are one of the most successful of all the Old World Monkeys (distinguished from the New World Monkeys by their non-prehensile tails). They have become very accustomed to the presence of humans and that coupled with their bold, curious nature always leaves me fascinated and intrigued. The far more elusive Dusky or Spectacled Langurs (
Trachypithecus obscurus
) with the very conspicuous white rings around their eyes, can also be spotted in this area albeit after spending some time scrutinizing the upper canopy of the trees. I grabbed two packets of sticky rice with fried chicken shavings (
THB10
each) before heading back to meet Cass and Jamie for lunch (
THB155
).
Railay Lagoon
*Cick here to learn more about the difficulty rating.
Distance: 2.1 km -

1/10

Total Duration: 2 hours -

1/10

Ascent: 129 m -

1/10

Terrain: Ascent Gradient 18.4% (10.4°) with some rope climbing -

8/10

Average Elevation: 181 m -

1/10
After lunch, the group made it's way to the 
start
 of the trail that lead up to both the Railay Lagoon and the Viewpoint. I decided to lead the group to the lagoon first as the lagoon was tidal and at that time the tide was already on its way out (it is best at high tide). The trail immediately began with a steep muddy (wear old or unwanted clothes as there is a very high chance that they will end up stained) incline that remained fairly constant for about 10 minutes or so that was conveniently fitted with ropes to help those who required assistance when ascending. The trail then came to  a plateau of sorts where the trail split off to the left heading to the Viewpoint and to the right continuing on to the lagoon.  The trail leading to the lagoon then entered what I can only describe as a ravine that was flanked by a variety of large ferns and trees with buttress roots that reminded me of the vegetation that one would expect to find in the Carboniferous period, something that would undoubtedly be fascinating to any paleobotanist. We reached the lagoon after another 20-30 minutes of hiking, with our progress slowed down by the three vertical dropoffs that we encountered just before we reached the lagoon itself. There were ropes in place although I found them to be more of a hindrance since they were so slippery. One of the dropoffs had a path leading to the right that lead to a unique hidden hole that one could descend through. I hadn't noticed it when I trekked here two years ago and was somewhat surprised when we came upon it.
Railay Lagoon
Location of Railay Lagoon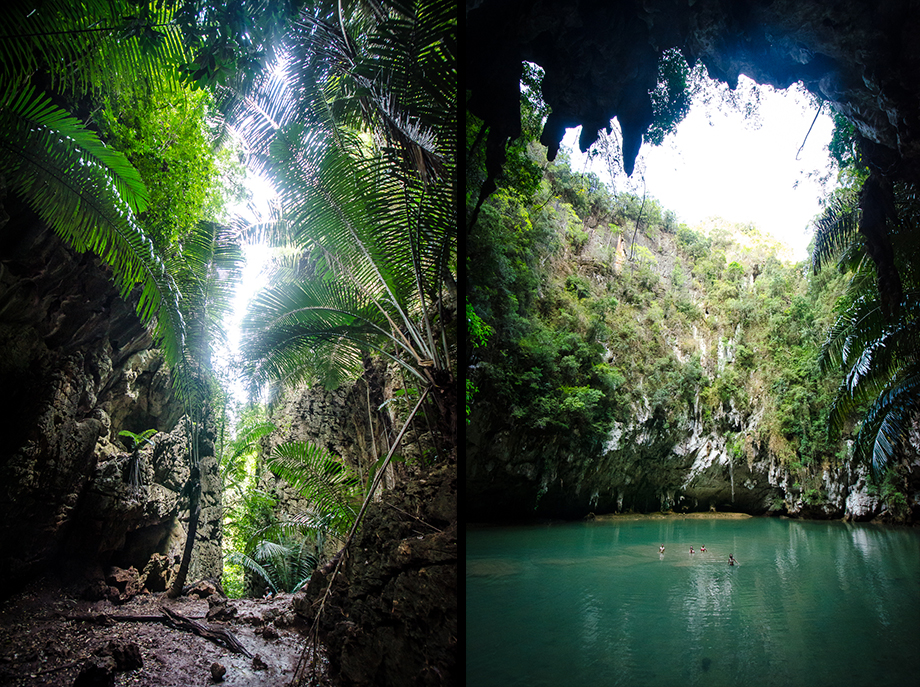 The lagoon was still very aesthetically pleasing since the tide had yet to go out. The turquoise water that dominated the area was surrounded by sheer rock faces towering 70 metres or so overhead. As the rest of the group began to wade towards the center the pool, I continued to circumnavigate the area by traversing the rock on the initial sections with a mixture of walking, scrambling and climbing on ledges later on. After spending some time bouldering a few of the sections, I entered the pool to join the rest of the group. I found the bottom of the lagoon to be quite muddy and it would have quickly engulfed the footwear of anyone who tried to go in wearing slippers. After some time spent leisurely lounging around and taking a bunch of photographs, we decided to make our way back since it was starting to get dark and we had yet to make our way to the viewpoint.