0
Mount Nuang (Janda Baik)
The Janda Baik trail is an alternative trail that leads up to Mt. Nuang from the other side of the
mountain
, and was one that I had been contemplating ever since I hiked Nuang via
Kuala Pangsoon
. The plans for this hike were made last minute after a few of our plans for that public holiday had fallen through. So with the car packed full of daypacks and people, and the GPS route preloaded on my
Suunto Ambit
, we set off for the ride up to Janda Baik early, well before daybreak.
*Cick here to learn more about the difficulty rating.
Distance: 11.7 km (return) -

5/10

Total Duration: 7 hours (return) -

4/10

Ascent: 1105 m -

5/10

Terrain: Gradient 9.5 % -

5/10

Average Elevation: 991 m -

1/10
Getting There
The trailhead was very easy to locate as all one needed to do was to head towards Kampung Janda Baik and to continue along the road until the 'ILMU' building was reached. From there, one would continue straight for a while until a gated carpark with a green fence along its perimeter (3.303979, 101.887121) was seen. I found the parking costs here to be very high though (at MYR7) but the cars were watched over and there were bathrooms and showers, so I suppose one could justify the cost to a certain degree.
Start of the trail
We prepared our bags in the pre-dawn chill, tightened our shoelaces and adjusted our bag straps, before making our way across the road and onto the small gravel path. The path lead past a stream and then onwards into farmland. It was just after 07:00 and the sun had started to rise, its light illuminating dew drops on the leaves and fruit trees that lined the path. The morning chill gradually dissipated as we trudged onwards, with the warmth of the sun slowly creeping over us as time went on.
We came upon a gravel path within 10 minutes or so that lead straight to the gate of the 'Hutan simpan kekal'. The trail narrowed significantly from here, with tall reeds and grass lining the sides and the occasional burst of colour from a variety of flowers. The path lead on past an Orang Asli traditional house before skirting a dropoff on the left. After about half an hour, we reached the junction (1.42km mark) with the marker-lined Nuang path continuing up straight on (the left path descending and the right with pipes disappearing into the dense undergrowth). The canopy above was considerably thicker here and the forest floor was moist underfoot with fresh litterfall and an abundance of leeches (
Haemadipsa sp.
). Sounds of chirping birds accompanied the sounds of water from the rushing river down to our left and the occasional cracked pipe that ran parallel to the trail. Bamboo (
Gigantochloa sp.
) shoots were ubiquitous here, with sections of the trail almost completely overgrown, reminding me of the beginning of the
TNBYY hike
.
Around 2.4km in, the trail branched off to the left. We continued following the trail markers until the trail began to descend for approximately 100 metres before reaching the Cemperoh waterfall. We decided to continue on, so hopped across the river before meeting the trail once again as it swung around to the left.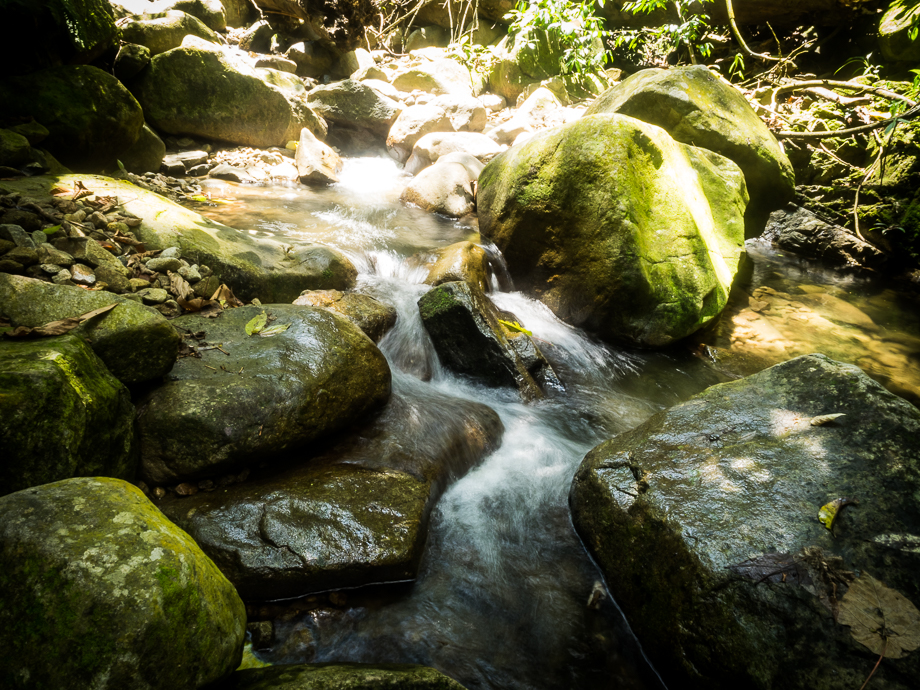 Cemperoh waterfall