0
ABC Day 01 – Pokhara
After the 6 hour- and 200 kilometre-long near-death experience on the Prithvi Highway from Kathmandu to Pokhara the day before, I was very glad to still be able to walk around the roads of Pokhara. We had managed to secure a few empty seats in a friend's private coach before it had left Kathmandu, but doing so meant that we had to endure the crazy traffic that swerved in and out in order to overtake each other, with countless near-misses, on the curvy serpentine roads that lined the 'Mahesh Khola and Trishuli River. We paid the driver (who must have had a death wish) USD10 (
NPR1000/3
) for the three of us.
Getting There
There are a few options when it comes to transportation from Kathmandu to Pokhara. Apart from flying and private transport, you have a range of buses to choose from depending on your budget. Local buses depart from the Kalanki bus stand in Kathmandu, which lies on the west side of the Ring Road (approximately 10 minutes-drive from Thamel). The local buses tend to be much older and far more crowded but are much cheaper, with fares that are sometimes as low as NPR200 for the 8-hour journey! Tourist buses on the other hand tend to be a bit more comfortable and are normally equipped with air-conditioning and fans. They depart from Ratna Park bus stop on Kantipath Road (which is a few minutes-walk from Thamel) around 07:00 every day. Prices are normally around NPR500, but some bus companies offer packages that also include food and insurance that can cost up to 5-times more!
Pokhara is the second largest city in Nepal and is nestled right next to Phewa Lake, which is supposedly one of the most beautiful spots in Nepal. The city attracts mountain bikers, paragliders, white-water rafters, and trekkers from the world over. Since we were there to trek, our priority that day was to obtain the required permits. The only other permits, aside from the 30-day visa (
NPR4000
), that we needed to secure were the
Trekkers' Information Management System (TIMS)
card (
NPR2000
) and the
Annapurna Conservation Area Project (ACAP)
permit (
NPR2260
), both of which would be required at various checkpoints on the trail, and both of which could conveniently be applied for and obtained from the
Pokhara Tourist Office
.
Phewa Lake from Damside Park
Emergency Numbers
Local Police 100 / 061-465087 Tourist Police 061-462761

The Tourist Office

was located at Damside, on the east bank of Phewa Lake, and we set off after a quick breakfast (momo and coffee,
NPR180
), but decided to stock up on some last-minute supplies on the way. I ended up purchasing a 230g propane-butane gas cannister (
NPR700
), a silk sleeping bag liner (
NPR1000
), and a buff (
NPR100
) from one of the trekking gear shops; and a box of aquatabs (
NPR300
), two sheets of Acetazolamide tablets (
NPR400
), a bunch of strepsils (
NPR60
), and a course of Ciprofloxacin (
NPR135
) from one of the pharmacies.
Queues had begun to develop by the time we reached the Tourist Office. Fortunately, the entire process turned out to be relatively straightforward, and we only spent less than an hour there to get everything sorted. All we needed to do was to bring along four passport-sized photographs (two for each permit) and cash, to fill-in and submit the required forms, and then just wait for a short period whilst the forms were being processed.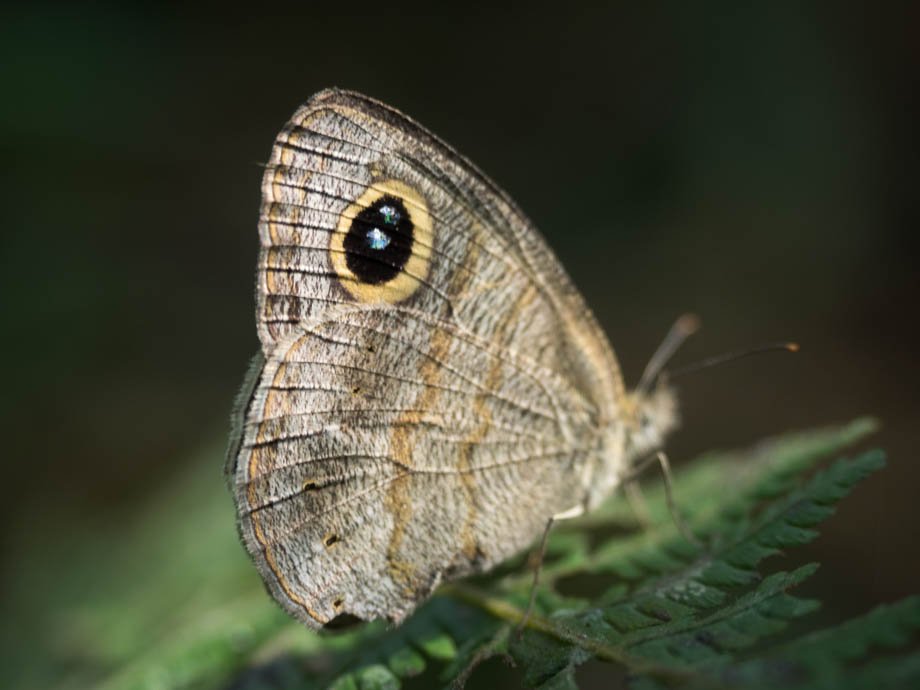 Ypthima butterfly (Ypthima sp.)
Oriental garden lizard (Calotes versicolor)
The Tourist Office turned out to be located fairly close to the start of one of the trails that lead to the World Peace Stupa (also known as the Nipponzan Myohoji Japanese Buddhist Temple). The stupa was said to offer good views of the Annapurna range as well as Phewa Lake, so we figured that it would be a perfect warm-up hike. Just be careful if you decide to hike up to the stupa, as there have been reports of robberies along the trail over the years. Please exercise caution and travel in a group if at all possible.
*Cick here to learn more about the difficulty rating.
Distance: 4.5 km -

2/10

Duration: 2.5 hours -

2/10

Ascent: 314 m -

2/10

Terrain: Ascent Gradient 13.0% (7.5°) -

3/10

Average Elevation: 946 m -

1/10
The trailhead

was located at the World Peace Biodiversity Garden, which was a nursery of sorts for various ficus trees, including sacred figs (
Ficus religiosa
) and banyans (
Ficus benghalensis
). Newly hewn stone steps wound their way northwards up the hill and past all the ficus shoots, and gave way to rough steps shortly after. Eagles (
Aquila sp.
) screeched as they circled around in the thermal convection currents above us, whilst Libellulid dragonflies (
Crocothemis sp.
) buzzed around us. After a mere 300 metres, we entered a fern-fringed forest trail that was pock-marked with orchard spiders (
Leucauge spp.
). The trail branched soon after: the left trail headed up and the right followed the contour. We followed the latter, which emerged onto a rise with a view of the lake that lay just beyond. At the 2km mark, the trail switch-backed up the slope and plateaued on a ridge. It then continued on for a while heading west, before emerging out on another, far more exposed, ridge up above.
Just beyond the ridge lay coffee shops that awaited the thirsty and the unprepared, whilst the stairs continued on to the stupa itself. At the top, throngs of tourists were gathered around the railings trying to glimpse a view of the cloud-obscured mountains. Annapurna I (
elevation : 8091m
), Hiunchuli (
elevation : 6441m
), and Machapuchare (
elevation : 6997m
) normally take centre stage on a clear day, with Annapurna II, III, and IV (
elevation : 7939m, 7555m, 7525m
respectively) located further along the horizon to the right. What was quite clear however was the massive Phewa Lake that lay in front of us, and the tiny buildings of Pokhara that seemed to be haphazardly and almost randomly erected, almost akin to colourful lego blocks.
Lalupate flower, also known as 'Poinsettia' (Euphorbia pulcherrima)

View from the World Peace Pagoda. The shadow of the stupa can be seen on the right.
A sudden bout of lethargy seemed to hit me as we descended down the trail to the southern shores of Phewa Lake, but I kept on going, past Lychee Garden Resort, and down to the boat houses that were located on the shores of the lake. The boat trip across the lake cost
NPR500/3
for the three of us and
NPR10
for each (mandatory) life jacket.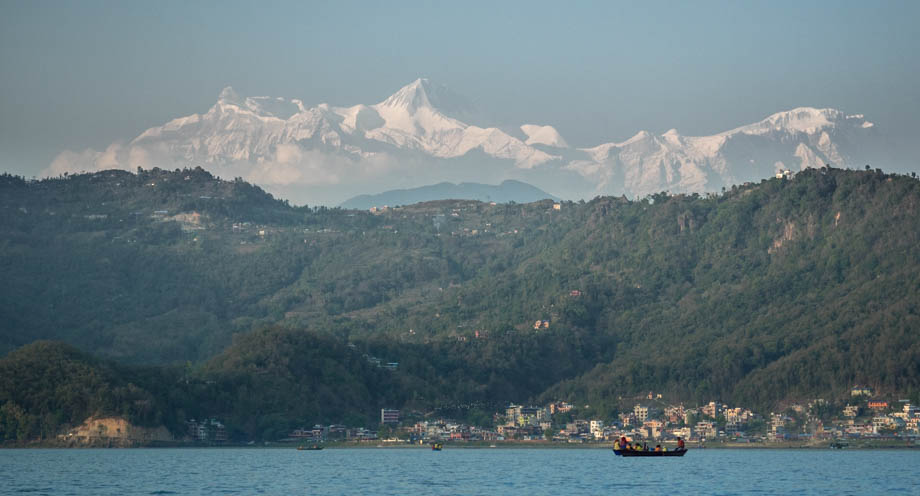 The peaks of Annapurna IV (

elevation : 7525m

), Annapurna II (

elevation : 7939m

), and Lamjung Himal (

elevation : 6983m

) over Phewa Lake

Boating on Phewa Lake
The lethargy grew steadily over time and was followed by an almost complete loss of appetite. I was only able to force down half of my dinner (buff fried rice and lassie,
NPR270
), before the cold chills struck. I began to burn up fairly soon after, so I hurried back to the room (double room per night,
NPR1277
) for paracetamol before drifting off to sleep.
Expenditure
End of Day 1 Expenditure (NPR)*

Permits: 8260

Transport: 509

Medical: 895

Supplies: 1800

Food: 450

Accommodation: 1277

TOTAL (NPR)

* Excluding the cost of the flights to and from Nepal

Total

: 8260

: 509

: 895

: 1800

: 450

: 1277

: 13191