0
EBC Day 08 – Tengbouche to Dingbouche
Chortens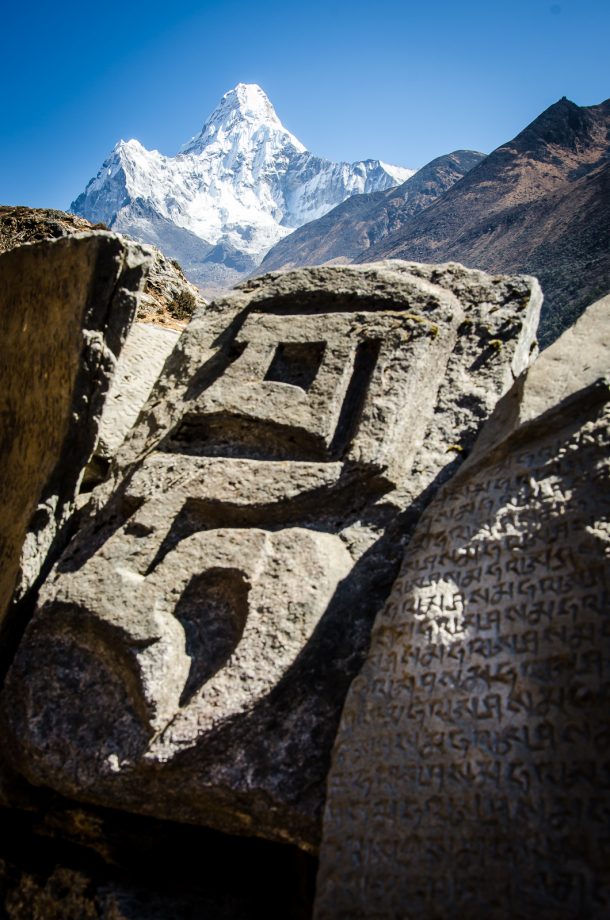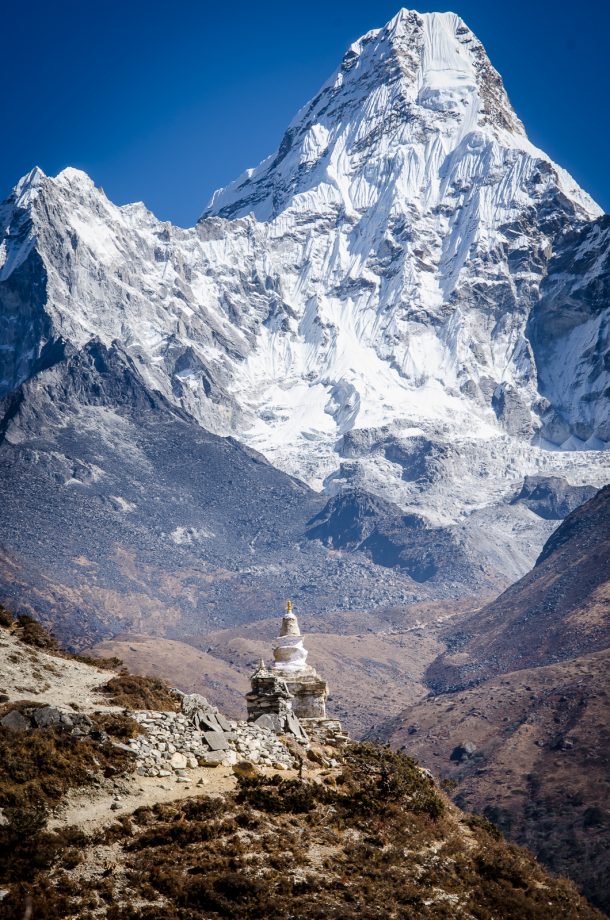 Mani stones and chortens with Ama Dablam as a backdrop
The path wound its way up and through the beautiful, tranquil hillside with the picturesque and regal Ama Dablam (
elevation : 6812m
) completely dominating the eastern view, and passed countless
mani stones
and several chortens (the Tibetan word for 'stupa') along its way.
Chortens tend to be fairly simple structures when found up in the mountains but despite this, are still seen as religious focal points in the landscape. They can contain offerings such as mantras that have been written or printed on paper and occasionally even valuable items such as jewellery. Chortens also contain a wooden stick that has been covered with mantras and gems that is referred to as the 'tree of life'. Each section of the chorten is representative of one of the elements - working up to the top, the square base represents 'earth', the rounded dome represents 'water', the thirteen ridges of enlightenment on a cone represent 'fire', and a small umbrella-like hood near the top represents 'wind'. Right at the tip lies a sphere that represents the unity of the sun and the moon.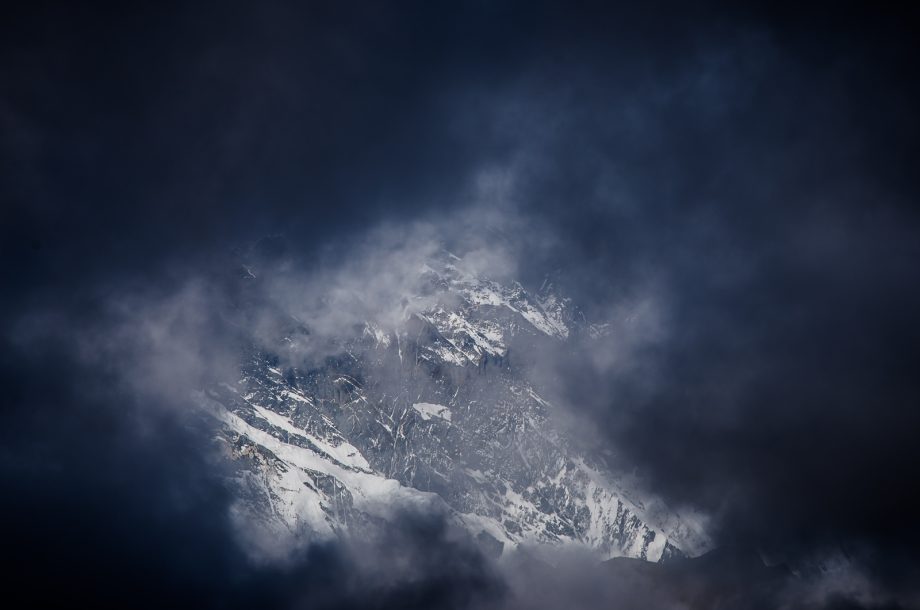 Junction to Periche
I came upon the small town of Syomare with an even smaller settlement called Orsho soon after. Right after Orsho, there was a fork in the road that lead left down to Periche and right up towards Dingboche. I turned right as I considered Dingboche to be the better option of the two, as it was said to be less effected by the cold winds that descend down the valleys at night. To be honest, I really think that I would have been fine with either one, as long as I was able to find a place to take my shoes off and to put my feet up for the night... I took the left fork down to the bridge that crossed the Khumbu Khola. As the Imja Khola roared below me to the right, the clouds started to roll in from above, obscuring the clear skies that I had started to get used to. Occasionally the clouds would part and Everest would appear through the ridge of Nuptse and Lhotse, first shyly, and then slowly revealing itself as the rays of the setting sun turned the snow-covered peaks blazing red. Lower Dingboche

(
elevation : approx 4300m
) was reached shortly after, just less than two kilometres from the Orsho junction. I ended up checking into the 'Hotel Family Dingboche' guesthouse, hungry and eager to get my hands on some well-deserved dhal bhat for dinner; but decided to head outside first to take a timelapse of Ama Dablam as the sun's shadow slowly crept up its sides (
Video Timecode : 01:08
).
The Periche - Dingboche Junction
Suunto Movescount Stats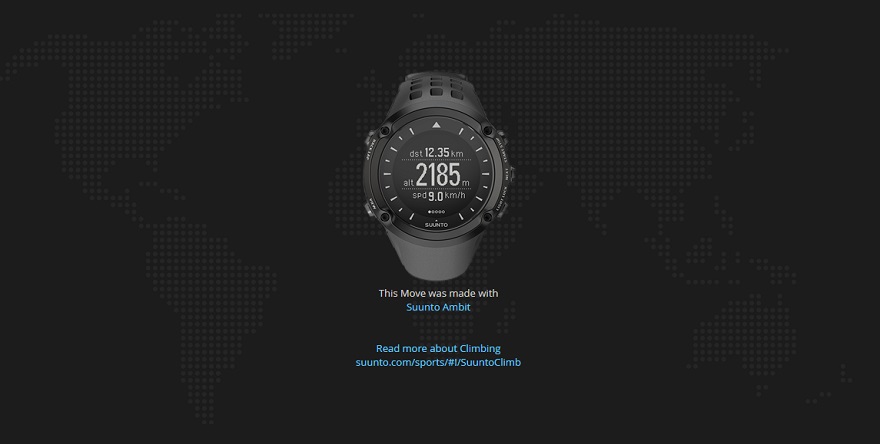 The information from the Suunto Ambit for this part of the trip can be found on my Movescount Page
For those who also have a Suunto GPS device and would like to use the move as a route, please click on the following link : 
Expenditure
End of Day 8 Expenditure (NPR)*

Transportation : 0

Entrance Fees/Visa : 0

Gear : 0

Food : 485

Maps : 0

Medication : 0

Misc : 0

Internet/Charging: 0

Accommodation : 0

TOTAL (NPR)

* Excluding the cost of the flights to and from Nepal

Total

: 30650

: 10295

: 16700

: 6535

: 700

: 385

: 700

: 700

: 2990

: 69655