0
Tok Nenek, Bubu, Yong Yap (TNBYY) - Day 1
The original plan was to depart from KL Central at 20:00 but there were a few trekkers coming up from Johor to join aswell and were only expected to arrive around 23:00. As such, and after meeting up with my brother Aidan, we made our way to Kajang instead as the departure was to be from the DATS store much later on.
The convoy itself arrived at the Gua Musang Police Station around dawn the next day where Haidy and the guys promptly got to work laying out all the gear and dividing them up for distribution. The rations consisted in part of not only the actual ingredients that were for our meals but also of cooking utensils and things such as tissues and cutlery. Prior to setting off however, since everyone was tired from a lack of sleep, a few tried to grab whatever rest they could (however futile) before heading off for breakfast.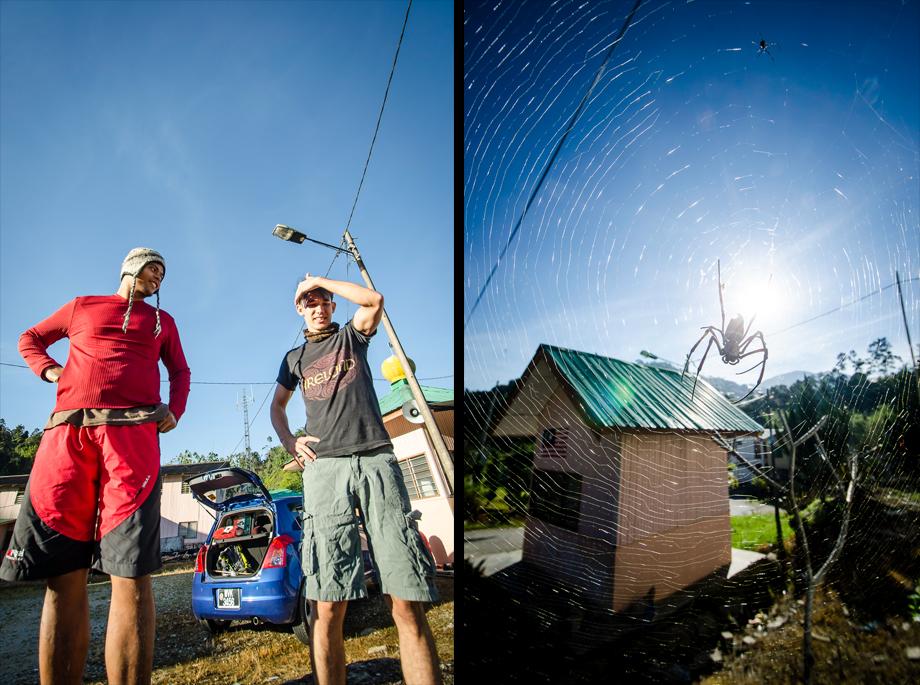 Trail Head
Start of trek at indigenous village
The trek itself began after a short trip up the road to an indigenous village

on a 4WD pickup truck with both the bags and everyone just crammed into the back. With our bellies full, everyone seemed to be in good spirits despite the lack of sleep and seemed to be very eager to get started. After dismounting the 4WD and crossing a rickety bamboo bridge that spanned a large river, the group headed uphill beyond the village past large swaths of land that had trees cut down for the cultivation of tapioca for what was to be a daily session of a short stretching routine; a briefing by our guide Kay which covered what we were expected to encounter along the trek, the duration, as well as where our next stop was to occur; and since the group consisted mainly of Muslims, a short 'doa' or prayer session. I was also relieved and somewhat encouraged that the briefing did not include any superstitious bunk that one tends to find before walks in the wilderness such as this.
Simpang Tok Nenek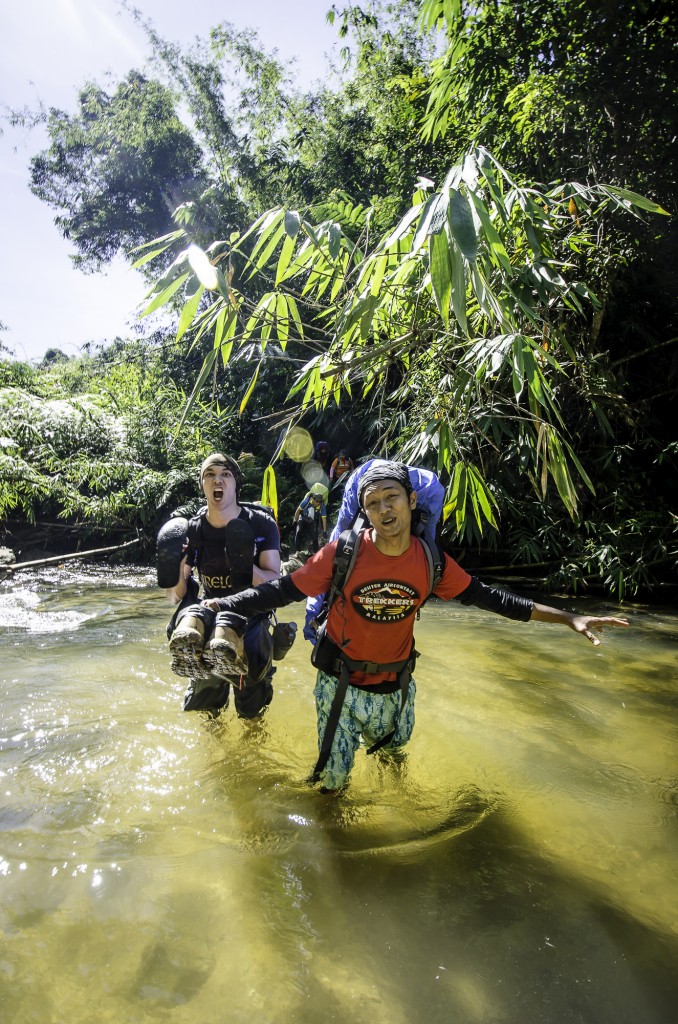 The trek bore north-west for about 5.9km, which was covered in just over 2 hours, crossing multiple rivers and a variety of different terrain before reaching 'Simpang Tok Nenek'. The trickiest areas to navigate through before reaching that point were the ones that consisted of bamboo (Tribe : Bambuseae). Tunnels of bamboo with low lying shoots that crossed overhead made it tricky for most  as one would have to stoop very low to the point of crawling to get the large backpacks through and would then find that standing back up was tricky due to the slippery terrain. I was very relieved once past those areas as everything that came after just seemed to be really easy.
After a short stop and bathe in the river, we proceeded on a more westerly course for another 3km or so before stopping at a small clearing called 'Kem Lengkuas' for lunch. Lunch consisted of Nasi Impit (a sort of compressed rice) with some delicious Beef Rendang. We then following the route west and came upon an old guide travelling in the opposite direction. He asked for some food and it turned out that he was injured so was forced to turn back. Funnily enough when we came across him, he seemed to be just slashing away with his parang at some vegetation on the side that did not appear to be causing any obstruction whatsoever. I was very wary at first but he turned out to be harmless.
Later on, Am, Aidan, Lesly and I came upon Hatta who was just sitting by the side of the trail clutching his foot. It turned out that he sprained his ankle by putting pressure on the upward side of his foot (directly below his leg rather than to the side as would occur for lateral and medial ankle sprains). I passed Lesly some wide stretchable tape for an ankle wrap from my First Aid Kit whilst I had a short chat with Hatta to find out if he had any conditions or allergies before administering an analgesic to him. In the end he decided to stay with Am and rest for a while whilst waiting for the guide, K, who was just behind us. I passed Hatta my trekking pole and I carried Aidan's backpack so that Aidan would in turn be able to carry Hatta's backpack. 
The going was slower from that point on due to the extra weight and night fell quickly. We reached 'Kem Belumut' in torchlight after a total of 8 hours of trekking, covering a distance of 13.93km and an ascent of 914m.  I was one of the last few to reach camp as I was carrying two backpacks and found myself very glad to have a Hennessy Hammock Explorer as the only space left to setup a tent or hammock by that time was some very uneven terrain at the back of the camp. Once the hammock had been setup, I went looking for food and found that due to my hunger, the Nasi Lemak that we had could be described as nothing short of glorious!