0
Tok Nenek, Bubu, Yong Yap (TNBYY) – Day 3
I woke up fairly early as the camp slowly came to life and managed to get my hammock packed up and stored away well before dawn. As the sun rose everyone set about either clearing or cooking breakfast and contributing somehow, preparing for the day of trekking that lay ahead. We were all aware that after the Yong Yap peak it would basically be almost entirely downhill from there on so we had both one of the G12 peaks as well as what we presumed to be an easy trek to look forward to. Unfortunately, both the skies that morning aswell as the skies the night before were not clear so we were not graced with any glorious landscapes or starry skies.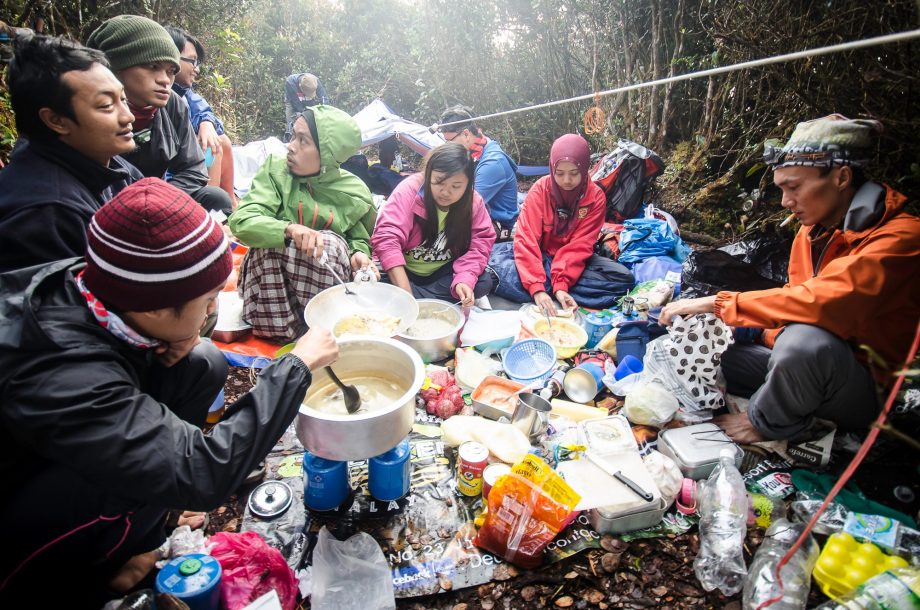 Since we spent the night on the peak of Mount Bubu

(elevation : 1974m), the trek that day began with a descent of about 300m to the base before the start of the ascent up to Mount Yong Yap. It took us about four hours to reach 'Simpang Yong Yap' which was a junction that split off into two paths that lead to the peak of Mount Yong Yap and the path that lead back down the mountain. Along the way there were several points where we were given some less-than-perfect views of the surrounding mountain ranges which were most often than not, also points where other groups that were heading in the opposite directions stopped to rest.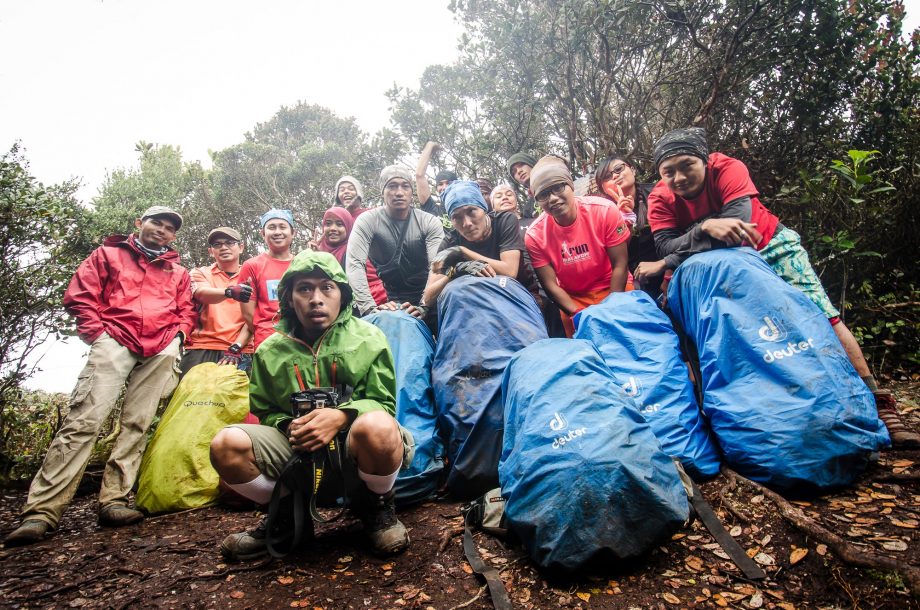 It was around this time when my body suddenly entered an unexpected catabolic state which was most likely prompted by both the extended periods of exercise and insufficient carbohydrates. A highly unpleasant feeling when it hits, especially when it occurs in the middle of a trek, and one that I have experienced only twice before (during the Renjo La and Cho La Passes in Nepal).
Every step from there on was both a physical and mental struggle as I had to somehow find energy from my already depleted resources. I trudged on nevertheless, but in order to do so was forced to consume my lunch rations prematurely. From 'Simpang Yong Yap', we made our way up towards the peak of Yong Yap. This part of the trek was very pleasant as we were surrounded by the mossy epiphytic vegetation of the cloud forest which I took every spare second to appreciate. The way the light entered the canopy was less harsh and the fuzzy texture of the distinctive plants combined with the abundant water vapour and moisture in the air made everything seem soft and comfortable.  
The winding branches almost seemed as if they were grasping upwards towards the sky and on occasion formed ominous tunnels of trees, one of which I attempted a rather less-than-perfect panorama. The precipitation from the fog and the moisture that inevitably ended up seeping into the peat and humus-filled terrain did pose as a difficulty however but due to the slow pace as well as the constant and frequent stops for photographs made it fairly manageable.
360 Panorama
Yong Yap Summit
The summit of Mount Yong Yap

(elevation : 2168m) opened up into an empty clearing that was disappointingly surrounded by shrubbery that acted as a blockade to any views that we may have had. The fact that it was one of the G12 mountains made up for it I suppose and the rest of the group must have had similar thoughts as everyone seemed to be in good spirits. Lesly however seemed to think otherwise. From what I understood, he perceives a trek to be worthwhile when the views that await him at the top surpass the difficulty of the trek itself. Those sentiments are not entirely ones that I could disagree with.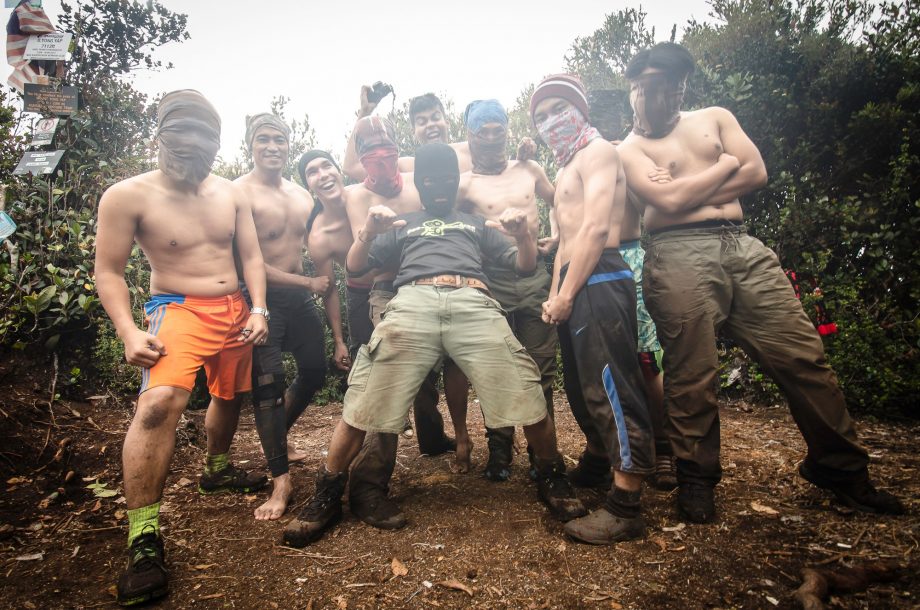 Descent to Agas Camp

Once the usual and always entertaining euphoric antics were over and done with, the group proceeded to descend back down to 'Simpang Yong Yap'

. The group descended in such close proximity that at points it became annoying and even potentially dangerous. After a descent of 219m which took us half an hour, we reached the junction where we each donned our own backpacks that were left there prior to the ascent. 
Lesly began to have difficulty as we made our descent down the mountain. His open-toed sandals that he had acquired in Indonesia, the mud and the steep declines made for a very bad combination. Lesly did however manage to obtain my cross-trainers that I had brought along for river crossings and wearing around camp when we stopped to regroup at another 'Last Water Point' (albeit this LWP was for those who were heading up to the peak of Yong Yap in the opposite direction). The change of footwear seemed to help him immensely.
As night fell we ended up trudging through multiple rivers (I ended up counting 15) by torchlight. The sand that ended up in my boots did become an annoyance however as the blister that I had acquired from a game of futsal several days prior to the trip had grown into a monster of a blister that had a tendency to retain within it any particle of sand that passed by. What was a mere annoyance at the beginning ended up causing actual pain later on and this and the lack of energy left me off balance and grasping clumsily for support on many an occasion.
I was quite relieved to reach Agas Camp as where there is a camp, there is food! What was completely unexpected however was the fact that our guide K, had cooked some rice beforehand in anticipation of my arrival. A little sprinkle of peanuts and fried anchovies gave the pot of rice a little taste and a bunch of us dug in. I ended up finishing the pot of rice which, although completely bland and not entirely satiating, gave immense relief. After setting up my hammock and bathing in the freezing river water, we all gathered for dinner before heading off for some well deserved rest.