0
March 17, 2018
Posted by
Ramon Fadli
in
Class 7
,
Coniferous Forests
,
Gandaki
,
Hiking
,
Humid Subtropical
,
Looped Hike
,
Mountains
,
Multiday Hike
,
Nepal
,
Solo Hike
Annapurna Base Camp & Poon Hill
Annapurna (Sanskrit, Nepali, Newar: अन्नपूर्णा) is the name of a massif in the Himalayas that is known for its highest mountain--Annapurna I (
elevation : 8091m
), the 10th highest mountain in the world and one of the 14 8000ers. Although Annapurna I was the first 8000er to be summited way back in 1950, it also, as of 2012, has the greatest fatality rate, with a ratio of 34 deaths for every 100 safe returns (followed by K2 (
elevation : 8611m
) and Nanga Parbat (
elevation : 8126m
) with 29 and 21 respectively). This makes Annapurna I the
world's deadliest mountain
.The vast majority of trekkers do not visit this region to summit the peaks however, but instead choose to tackle either the Annapurna Circuit, the
Annapurna Base Camp
trek, or the
Poon Hill
trek (the last two were combined on this trip, of which the route can be seen in the map below). When you head towards Annapurna from the south, up the narrow valley that has been carved by the Modi Khola River over the many eons, you will eventually reach the 'gateway' between the peaks of Hiunchuli (
elevation : 6441m
) and Machapuchare (
elevation : 6997m
). This gateway leads to the Annapurna sanctuary, which is an oval-shaped glacial basin that sits more than 4000 metres above sea level. This 'sanctuary' is completely surrounded by towering mountains on all sides, and is what makes the Annapurna Base Camp trek so appealing.Poon Hill on the other hand, is one of the shortest, easiest, and most popular treks in the area. For such a simple trek, the view of the mountains from the summit can be very rewarding. On a clear and cloudless day, you will be presented with magnificent 360-degree views of Dhaulagiri (
elevation : 8172m
), Nilgiri (
elevation : 7061m
), Annapurna I (
elevation : 8091m
), Annapurna South (
elevation : 7219m
), Hiunchuli (
elevation : 6441m
), and Machapuchare (
elevation : 6997m
).
Hovering your cursor over the image above will show you the names of the peaks as seen from Poon Hill.
*Cick here to learn more about the difficulty rating.
**Please bear in mind that this rating is for Poon Hill AND Annapurna Base Camp. The Poon Hill route alone has a rating of 4.4 (Class 6 - Fairly Challenging) as there is a reduction in every single category. This rating is also for those who do not employ the services of porters. A lighter load reduces the difficulty levels significantly (moderate to fairly straightforward), and becomes more pronounced with high-altitude hikes.

Interactive Location Map
The map below has sections of the path that I followed hyperlinked and clicking on each section of the route will bring you to its respective page (if the map does not work for any reason, you may also find the links at the top of this page). The GPS route can also be found at the end of this page.
ABC Day 02 – Nayapul to Birethanti

ABC Day 02 – Birethanti to Ulleri

ABC Day 03 – Ulleri to Ghorepani<

ABC Day 04 – Poon Hill

ABC Day 04 – Ghorepani to Banthanti

ABC Day 05 – Banthanti to Chomrong

ABC Day 06 – Chomrong to Bamboo

ABC Day 07 – Bamboo to Deurali

ABC Day 08 – Deurali to MBC

ABC Day 09 – ABC

ABC Day 10 – Banthanti to Kyumi

ABC Day 10 – Kyumi to Birethanti
Elevation profile for the entire route (

hovering your cursor

over the image below will reveal highpoints )
For those who also have a Suunto GPS device, the GPX file for each segment can be found at theend of each day's entry. The entire route can also be downloaded here (right click and save link as).
The Annapurna Conservation Area is Nepal's first and largest conservation zone, and has been set up to protect the Annapurna massif and the biodiversity-rich areas that surround it (entry into which requires an ACAP permit). This initiative is quite vital as the number of tourists that have flocked to this region has soared over the years--the region currently attracts about 60% of the total number of trekkers that visit Nepal. This is not only due to the cultural and natural richness of the region, but also because of its accessibility; the range is so close to the city of Pokhara that trekkers are able to reach Annapurna Base Camp (elevation : 4130m) in just a matter of days.
This surge in popularity has resulted in the establishment of thousands of guesthouses [I intentionally choose to use the term 'guesthouse' instead of 'teahouse' to distinguish between lodges that cater to trekkers and the authentic Nepali teahouses], as well as other services to accommodate the trekkers' whims and fancies. The consumption of wood in the region stresses forest resources, and to make matters worse, visiting trekkers consume multiple times more wood, either directly or indirectly, than the locals do.
The amount of litter that is generated is another matter of concern. It is estimated that an average trekking group of 15 trekkers generates about 15kg of non-biodegradable waste on a 10-day trek, which amounts to tonnes of waste produced in the mountains annually. As such, the reduction of my ecological footprint when in the mountains was of paramount importance to me. So to keep it low, I decided to do the following:
Reducing your footprint
1 - Treating water - I generally use a combination of UV-sterilisers (such as the Steripen), water filters, and water-purification tablets in order to treat water. This ensures that I do not need to purchase bottled water (which should be the very last option due to the single-use plastic packaging), or boiled water from either the lodges or filling stations, as it can be fairly hard to determine whether the fuel that is used to boil the water contributes to deforestation.
2 - Minimising purchases - Most guesthouses rent out their accommodation for paltry sums, but the difference is made up for in their exorbitant food prices. In the mountains, the rule is you eat where you sleep. With this in mind, I always had dinner in the guesthouse that I slept in. I minimised the purchase of cooked meals by ensuring that I checked in after lunchtime, and most often than not, left whilst everyone else was eating breakfast.
3 - Cooking with a gas stove - After setting off on the trail in the morning, I would normally find a quiet corner and make a quick cup of coffee with my Jetboil Zip and have some muesli whilst taking in the wonderful views. I was especially careful to not let anyone from the guesthouses know that I even carried a stove as it represents a loss of income for them. I also never ever used the stove indoors as most of the lodges are made of wood and doing so would be an immense fire hazard.
Hovering your cursor over the image below will show you the numbers for the items.
Please note though, that the image does not include the food that I brought with me, as well as the camera that was used to take the photo (Olympus OM-D E-M1 with the Olympus M.Zuiko ED 12-40mm f2.8 PRO).
The full list of all the equipment that I own and use can be found on my '100 item list'.
Making things easier
There are many ways to make this trek easier, some of which are:
1 - Trek to Poon Hill and back, and skip ABC in the process.
2 - Trek to ABC and back, and skip Poon Hill in the process.
3 - Hire a porter. Trekking (or hiking in this case) with just a day pack will make the journey significantly easier.
4 - Get dropped off and/or picked up further up the trail. Doing so could reduce the 96km trek by up to 17km (7.5km to Hille and 9.4km from Sewai), which amounts to almost one-fifth of the total distance.
5 - Descend from ABC in three or four days instead of just two. Doing so will extend the total duration but will also shorten the distance covered daily, which will make it much easier on your knees.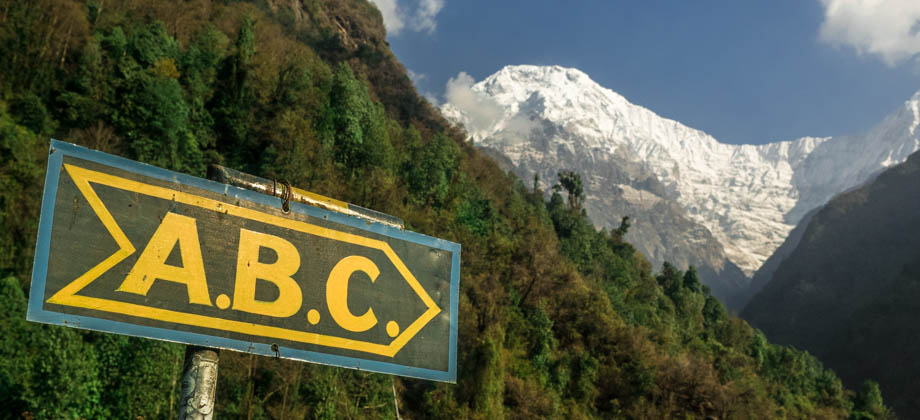 Tips & Tricks
1 - Do it yourself! The ABC and Poon Hill treks are very straightforward treks with very wide and well-trodden trails, and both the treks should prove to be no problem at all for those who have experience with navigation and the outdoors.
2 - Don't be confused by the names. There are two places called 'Banthanti' near Ghorepani, one in the east and another in the south-east. There are multiple places called 'Deurali', one near ABC, one near Pothana, and there is a Ghorepani Deurali, as well as a Deurali Pass. There is also a Chomrong and a Chimrong (which lies just north of Nayapul).
3 - The mobile reception around the Annapurna region is very good by mountain standards, and SIM cards are fairly cheap (Nepal Telecom is usually the cheapest).
4 - Stay at Machapuchare Base Camp (elevation : 3700m) instead of Annapurna Base Camp (elevation : 4130m). That way, you can leave your main pack at the lodge and take a daypack up to ABC. ABC is where the crowds gather, and MBC is practically empty in comparison. While the guesthouses at ABC are normally filled to capacity, I had an entire dorm room to myself at MBC.
5 - Head up to ABC the next morning for sunrise. Doing it twice (the first time right after you initially reach MBC) will allow you to enjoy the stupendous views of the mountains and glaciers at various times of the day.
6 - Do not hesitate to pass slower trekkers out when doing sunrise hikes (Poon Hill and ABC). Not doing so might cost you the sunrise!
7 - Ascend slowly to allow yourself enough time to acclimatise. Remember the mountaineering maxim, "climb high, sleep low", and the rule of not exceeding an elevation gain of 500 metres a day (when above 3000 metres). Even though the elevation of ABC is just above 4000 metres, I have heard stories from other trekkers about those who had trouble eating and sleeping due to insufficient acclimatisation. Rushing things could very well ruin your trip.