0
Bagan
I climbed out of the Shwe Mandalar express bus groggily and somewhat curmudgeonly after being rudely awoken by the strident cry of the bus driver just as the bus squeakily rolled to a stop. Despite the lack of sleep, I found to my surprise that the bus ride had been far more comfortable than I had anticipated. For some reason I had expected the eight and a half hour ride to be on a cramped and very crowded bus that was not too dissimilar to the one that I had taken to get to
Bromo
. This was most likely due to all the horror stories of the road conditions in Myanmar that I had heard, stories that I think are probably only applicable to rural areas and possibly the ride from Bagan to Inle Lake.The bus had departed from the
Aung Mingalar Bus Terminal
in Yangon (also known as the Highway Bus Station), which can be reached from the airport by taxi for about
MMK5000
. The bus terminal is much closer to the airport than the city of Yangon itself as it is located on 
Pyay Road
so it would naturally cost a bit more if one was to take a taxi from Yangon. Buses to Bagan, which had cost me
MMK15000
, only departed at 07:00 and 19:00. Since I had chosen the latter, I arrived in Nyaung-U at 04:30! The sun had yet to rise when I arrived so I decided to just walk around the deserted, dark roads of the small town until the town started to stir from its deep slumber.
Bagan is located right on the banks of the Irrawaddy River, and is 42 square kilometres of approximately three thousand Buddhist pagodas, temples, and monasteries, with a large number of them dating back to the 11th century. Bagan was also apparently once described by Marco Polo as a "gilded city alive with tinkling bells and the swishing sounds of monks' robes". Despite all this, Bagan has yet to be included in the list of UNESCO World Heritage Sites as the way and manner that a lot of the pagodas have been restored and rebuilt (some having been deemed as tampering of sacred archaeological sites) has left the area controversial and in disrepute. Bagan however remains on the UNESCO tentative list [Update: Bagan was added to the list in 2019].
As dawn slowly creeped in, the soft, dim twilight began to illuminate shifting figures along the street, figures that had been in complete darkness just moments before. Before this, there were pockets of light from passing cars and some buildings but just enough to get a rough bearing of where I was. Now as the sky transformed from a deep, empty black to a dark purple, weariness hit me - as it as always seems to do whenever you have gone without much sleep and the sun makes its presence known. The shifting figures that were still rubbing the sleep from their eyes turned out to be very young monks, still children, that were out asking for the morning alms... but unlike Marco Polo, I did not hear any swishing sounds as they passed by.I found the streets to be utterly dust-choked. There was garbage haphazardly strewn about and it seemed to attract stray dogs that would dart away from the harsh snarls of longyi clad men that were spitting globs of betel nut chews - the seed of the Areca Palm (
Areca catechu
), called 'kun-ya' in Burmese - everywhere. Despite all this, I found that there was something calming and tranquil about the place. Palmyra Palms (
Borassus flabellifer
), the sap of which is used to create palm wine that in Malaysia is known as 'Toddy', lined the street with twittering birds flitting in and around them as horse-drawn carriages lazily grinded along looking for tourists to pick up. By now, shop owners were awake and were sweeping the ubiquitous, pestering dust back out onto the narrow streets. I walked on slowly taking in the sights, sounds, and smells; unsure if the pace was due to my fascination or just sheer weariness...The whole time I was walking, my eyes had been peeled looking out for cheap places to stay. I had figured, based on my experience, that hostels that were further away from the centre of town were bound to have lower rates. This turned out to not be the case here as the conditions of the hostels were not getting any better and the price was not decreasing as I walked on. I decided to stop at a coffee shop (that were apparently called 'tea shops') and purchased a tiny cup of Burmese coffee (
MMK200
) to go along with my fried rice (
MMK2000
) and as I ducked out of the wooden shack that was the coffee shop, I saw a sign advertising bicycles for rent a little further down the road. The rigid, bright purple, single-gear bicycle with a white seat and a basket that I ended up renting cost
MMK1500
for the entire day! I also had realised by then that there didn't seem to be too much of a difference between the rates of the hostels and the slightly better hotels so I settled on a hotel that charged
USD35 (MMK46430)
per day, an amount that was far more than I would normally have ever spent on accommodation. After a refreshing shower and a short rest, I set off for the first temple, the famous Shwezigon Pagoda!Before I go on, I would like to point out that I will be categorising the temples into 'types':
Type I temples : This temple is an early form, and is just made up of a bulbous dome
Type II temples : There is a series of receding terraces, surmounted by a dome which continues into a finial of concentric rings.
Type III temples : Similar to Type II except with a ribbed, bowl-shaped disc interposed between the dome and the finial.

Shwezigon Pagoda
Type of monument : Type II Temple
Location : Northwest of Kyanzittha Umin near the bank of
Ayeyarwaddy River
Region : Nyaung U & Wetkyi-In
Built by : King Anawrahta
Date : A.D 1076
Monument Number : 1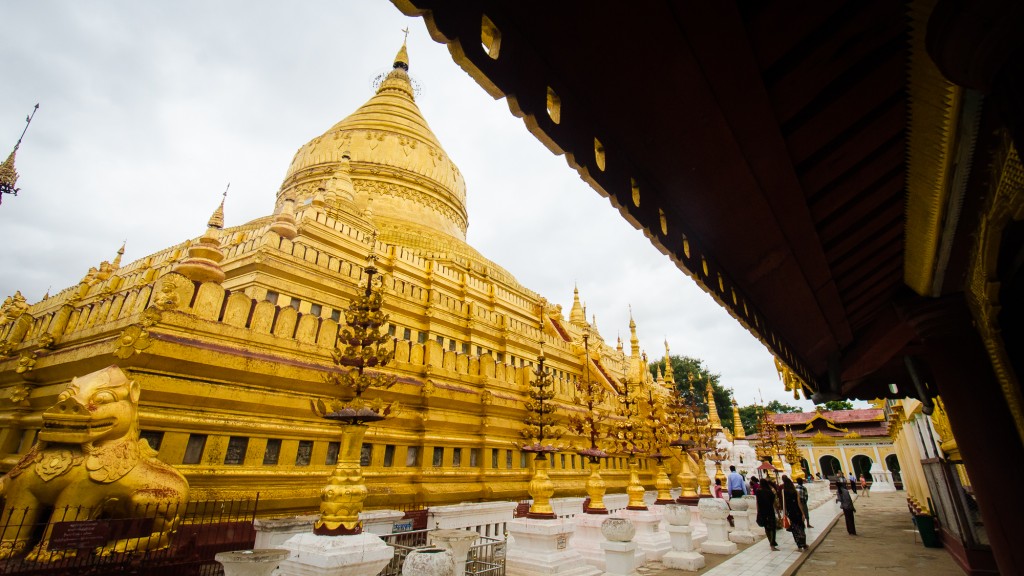 The Shwezigon Pagoda was apparently constructed to be the most important reliquary shrine in Bagan, and was to be a centre of prayer and reflection for the new Theravada faith King Anawarahta. The pagoda was also apparently built to enshrine one of the four replicas of Buddha's supposed tooth, the other three located in Lawkananda Pagoda, Tan Kyi Taung Pagoda, and Tu Yuan Taung pagoda. People also seem to believe that if one visits all four tooth replicas in a day, it will bring prosperity and luck. There were also enameled plaques in panels around the base of the pagoda that were known as the '550 Jatakas'. These plaques were supposed to represent the scenes from the previous lives of the Buddha.I personally disliked the Shwezigon Pagoda and found its garishness and ostentatiousness to be somewhat disconcerting, albeit no where near as bad as the Shwedagon Pagoda in Yangon. There were also a number of monks in the compound that were asking for alms, with a few that had the audacity to ask for money in an impudent manner, almost as if it were expected that I give them my money. I ended up leaving the temple in a hurry and found myself wondering about the supposed frugal and austere lives that these monks were supposed to be living...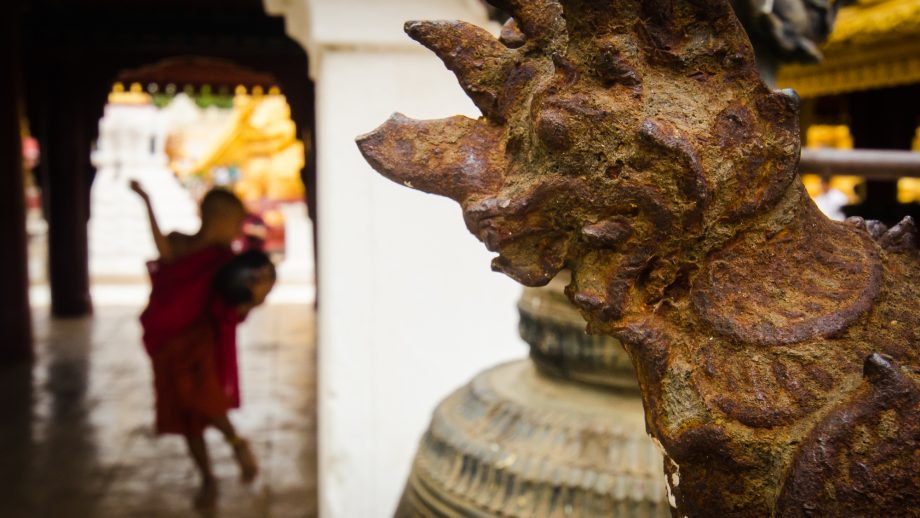 Thagya Hit Temple
Type of monument : Type II Temple (Kundaung Pauk Gu)
Location : West of Wetkyi-In Village
Region : Nyaung U & Wetkyi-In
Built by : Unknown
Date : 13th Century
Monument Number : 249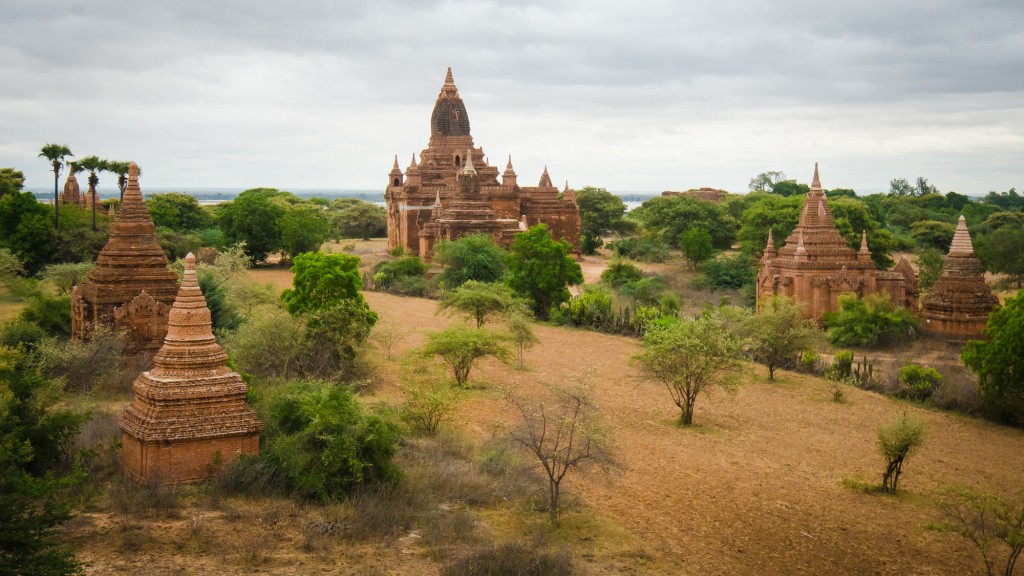 The Thagya Hit Temple was located on the right side of the road (as I cycled South-West) a short distance from the Shwezigon Pagoda. As I approached the temple, I realised that there were not many people around and that I would be able to explore the building at a far more leisurely and relaxed pace and not feel pestered or rushed in any way.The temple was a two-storey building and unlike Shwezigon Pagoda, actually showed its age. There was an entrance hall on the lower level that had a large sitting Buddha statue that for some unexplained reason left me with an eerie feeling.There were small passages at the side that contained a stairwell that lead up to the second level. The stairwell was very narrow and I struggled a little trying to squeeze myself through, scraping my shoulders along the ancient bricks. I quickly forgot about my discomfort as I found myself completely entranced by the shafts of light that illuminated the swirling dust that was floating in the air. Once I emerged from the stairwell, I was greeted by glorious views of the Irrawaddy River and a beautiful sweeping vista of fields of pagodas stretching far off into the distance.After spending some time at the top soaking in the views and simply glad to be away from the crowds, I wondered back down to explore the grounds a little thoroughly. I bumped into some touts who (as always) inquired as to where I was from and (as always) looked very skeptical when I mentioned that I was Malaysian. I hurried away hoping to avoid explaining my racial ambiguity once again and found myself at the next temple soon after...
Thagya Pone Temple
Type of monument : Type II Temple (Kundaung Pauk Gu)
Location : West of Wetkyi-In Village
Region : Nyaung U & Wetkyi-In
Built by : King Kyansitthar
Date : 13th Century
Monument Number : 235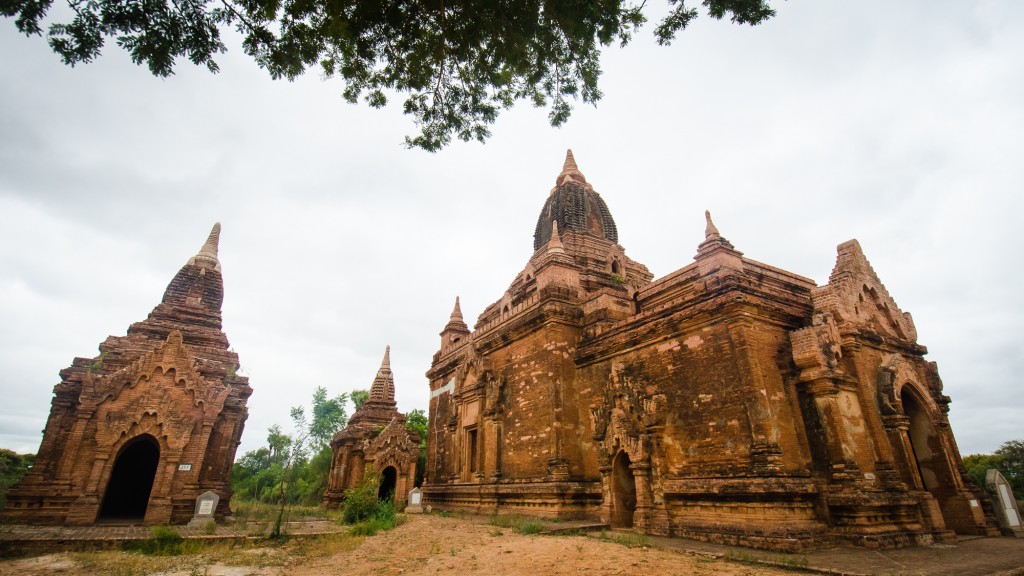 The Thagya Pone Temple was also a two-storey building with a large passage on the first floor, not too dissimilar from the Thagya Hit Temple. I spent a short while here walking around before crossing the road to the Shwe Laik Tu Temple.
Shwe Laik Tu Temple
Type of monument : Type III Temple (Kundaung Pauk Gu)
Location : Northeast of Htilominlo Temple
Region : Nyaung U & Wetkyi-In
Built by : Unknown
Date : 13th Century
Monument Number : 259

I had marked this temple down as there were apparently some remains of ancient mural paintings inside. Unfortunately, I did not get to see them because as soon as I approached the temple, a tout started to make his way towards me fairly quickly. I was a little frustrated at this point and frankly a little disgusted at the touts, so turned away quickly and continued to head towards the next temple instead.
Htilominlo Temple
Type of monument : Type II Temple (Kundaung Pauk Gu)
Location : South of Bagan Nyaung-U Main Road
Region : Old Bagan
Built by : King Nadaungmya @ King Zeya Theinkha
Date : A.D 1218
Monument Number : 1812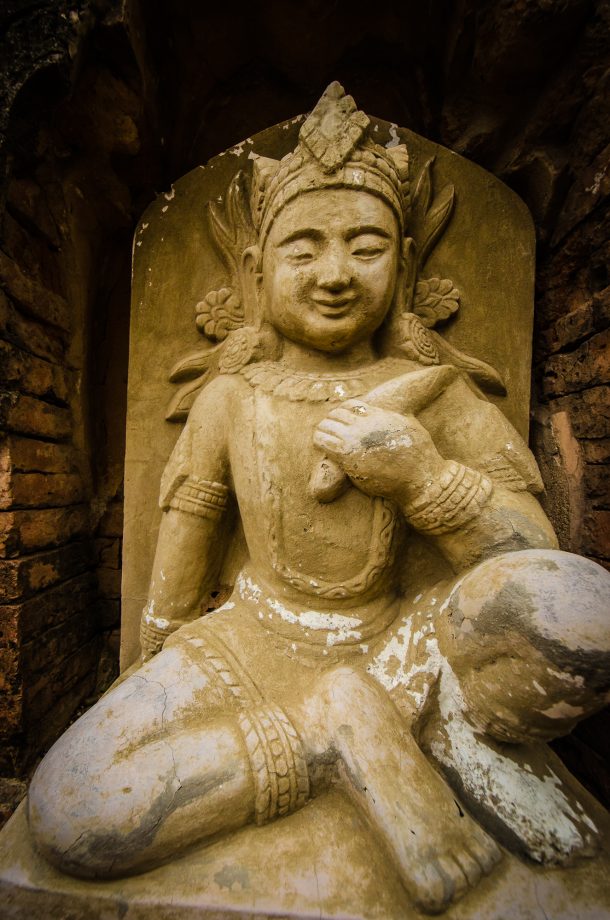 According to legend, Htilominlo was 'chosen' to be the succeeding King out of the five sons of King Narapatisithu on the exact spot that the temple was built. Apparently the five sons had to stand in a circle with a white umbrella in the centre. The next king was then chosen when the umbrella would tilt and point towards one of the sons. The Htilominlo Temple itself is fairly impressive and towers almost 46 metres high. It is known to be the last 'Myanmar Style' temple that was built in Bagan.As I entered the temple I was approached by someone in uniform asking to see my 'ticket'. I was surprised by this as I had not gone through or past any ticketing booth earlier and found it a little strange that the tickets for the entire Archaeological Park were being sold at this temple rather than at a park entrance. The ticket ended up costing
MMK15000
and it looked fairly legitimate although there was no way for me to know if it was for sure.The temple had a large inner walkway that was lined with a green carpet and had carvings with small statues adorning the walls. Since the touts seemed to remain outside the temple, I was able to wander around the walkway in peace, exploring and inspecting the depictions of mythological animals in the stucco and the glazed terracotta plaques with scenes from the Jataka tales. As I exited the temple however, I was swarmed once again by touts trying to convince me that I needed to purchase souvenirs, some going so far as to try and convince me to follow another group that a guide was bringing to another temple somewhere.By this point I was already starting to get used to switching back and forth between a quiet and deep, almost introspective serenity as the sheer age of the timeless temples washed over and through me; and sheer exasperation at the desperation of the ubiquitous touts.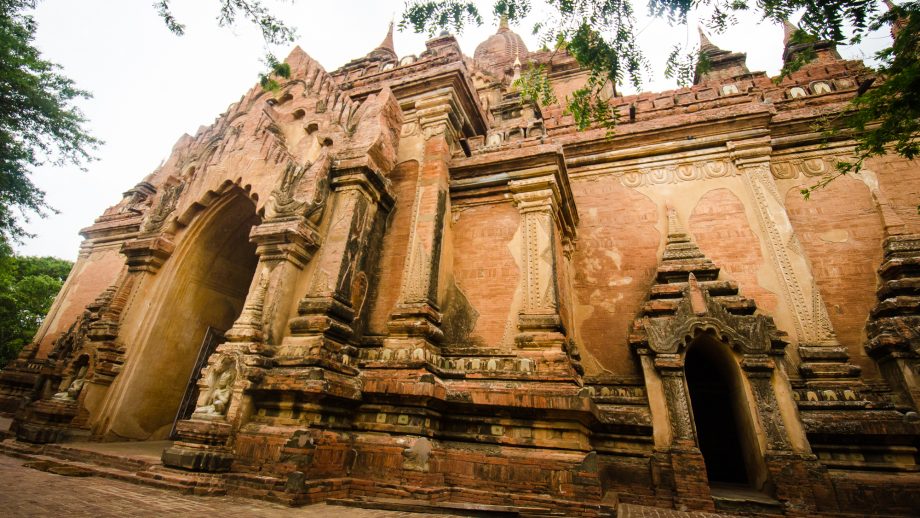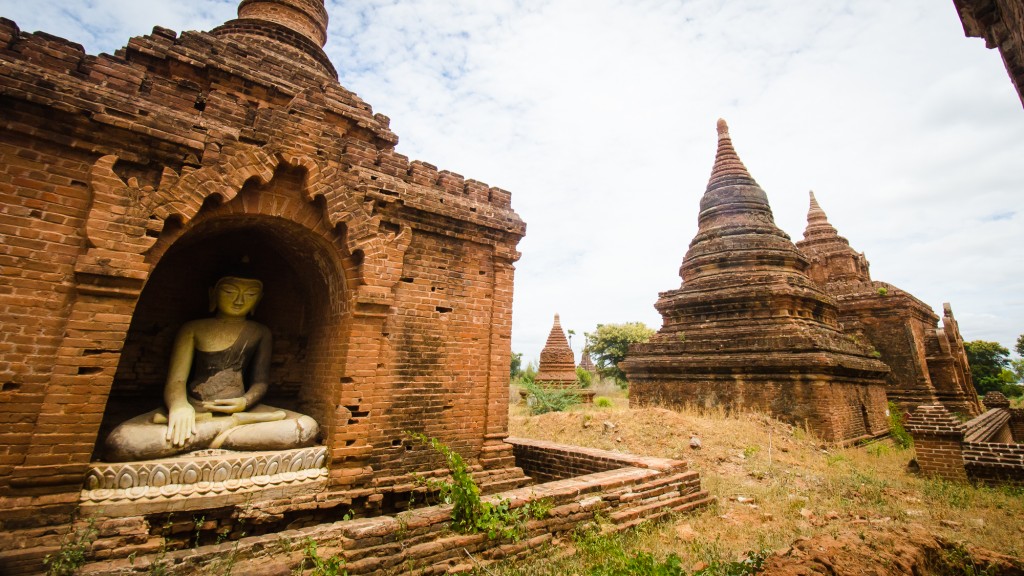 Minochantha Temple
Type of monument : Type II Temple (Kundaung Pauk Gu)
Location : South of Bagan Nyaung-U Main Road
Region : Old Bagan
Built by : King Kyansittha
Date : A.D 1112
Monument Number :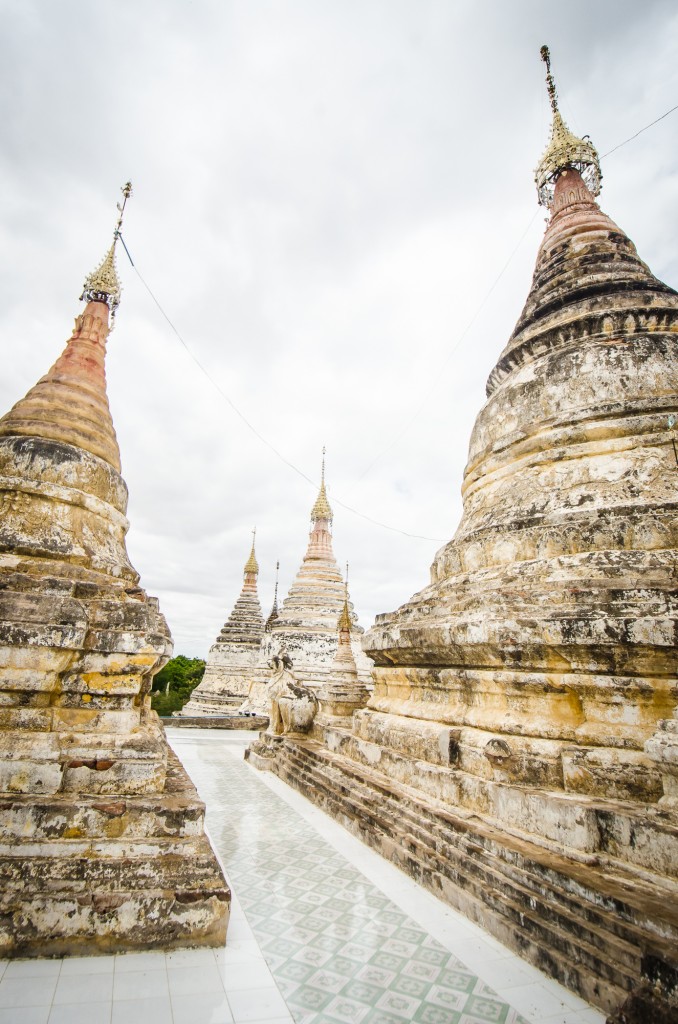 The bright, white stupas from across the road had caught my attention early on as the contrast and colour was very different from everything that I had seen before. There was a line of Palmyra Palms (
Borassus flabellifer
) lining the front of the temple and just behind them was a wooden veranda and walkway that lead up to the pagoda.As I walked from the walkway onto the raised platform, I felt that the white marble tiles were cool under my bare feet - a sharp contrast to the heat of the sun that was now high in the sky. The impressive stupas that were guarded by 'chinthe', the half-lion and half dragon from Hindu-Buddhist mythology, now towered over me. I walked around them and towards the rear end of the platform taking in the wonderful vista of temples before me as the little bells that adorned the tips of the stupas tinkled as they swayed in the wind.The heat began to become unbearable after a while so I was forced to return to the bicycle and seek shelter. I found an area of shacks that were selling food not too far away so decided to stop by one for some Burmese amber nectar, which was
USD2 (MMK2650)
per bottle, the perfect beverage for the blistering heat!As I sat down I noticed a group of men that were sitting around a table that was piled with liquor bottles. They seemed a little rowdy at first but went quiet as soon as they noticed me. They stared at me for a while before starting up their tumultuous din once again as I helped myself to some oily peanuts that were sprinkled with sesame seeds and spices.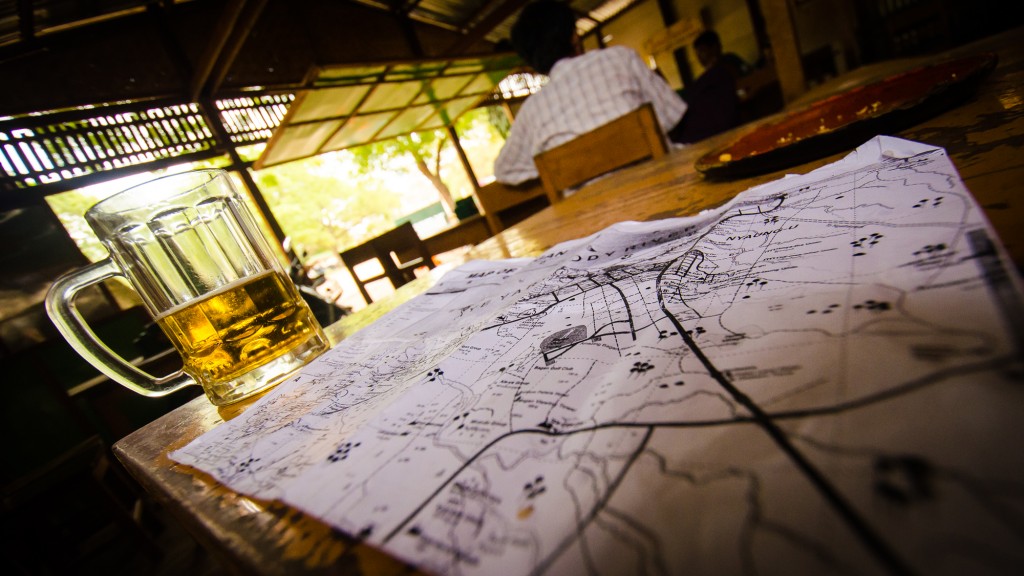 I ended up staying there for a while patiently waiting for the sweltering midday sun to pass. It struck me then that it felt nice to not do anything for a change, something entirely different from my usual cramming of the day with activities and reading. I also found it very humbling watching the locals go about their daily lives, the children running around playing made-up games and giggling with glee, still happy and seemingly unconcerned with the blatant poverty that surrounded them.That is one thing that I noticed that seemed to be very prevalent around South-East Asia. There was a purity and honesty of sorts with the people, whether it be in Cambodia, Vietnam, or the Philippines. They weren't bogged down by capitalist materialism and the wasteful, profligate lifestyle that consumerism brings. Things here were fixed if they broke and were not just replaced with something new, things like the motorbike that had just passed that had a bicycle wheel as a front tyre. 'Does money really buy happiness?' I wondered. I really should have asked that to the man who had just watered down his beer with mineral water to make it last just a little bit longer...As my mind wandered, I realised that the lack of sleep and the searing midday heat was leaving me feeling a little drowsy. I slowly stood up and made my way back to the bicycle.
Ananda Temple
Type of monument : Temple based - Indian Style Structure
Location : Southeast of Tharabar Gate
Region : Old Bagan
Built by : King Kyanzittha
Date : A.D 1105
Monument Number :

Ananda temple is considered to be one of the finest, largest, and best preserved of all the Bagan temples. The temple houses four 9.5 metre standing Buddhas that are supposed to represent the four Buddhas who have attained nirvana, with each one of them facing one of the cardinal points of the compass. The Buddhas that face north and south are both original and are in the position of 'dhammachakka mudra', which is a hand position that is supposed to represent the Buddha's first sermon. The Buddhas that face east and west however are replacements of statues that had been destroyed by fires. The former holds a small sphere between the thumb and the middle finger and is said to represent an offering of dhamma as a cure for suffering. The latter however is in the position of 'abhaya mudra', with the hands outstretched to indicate a lack of fear.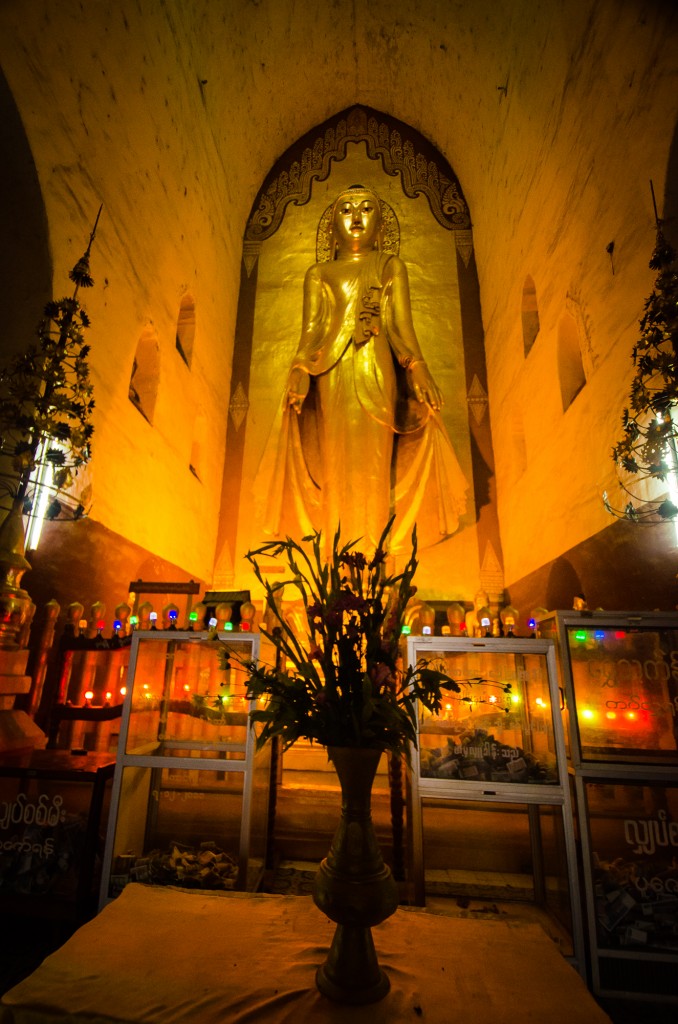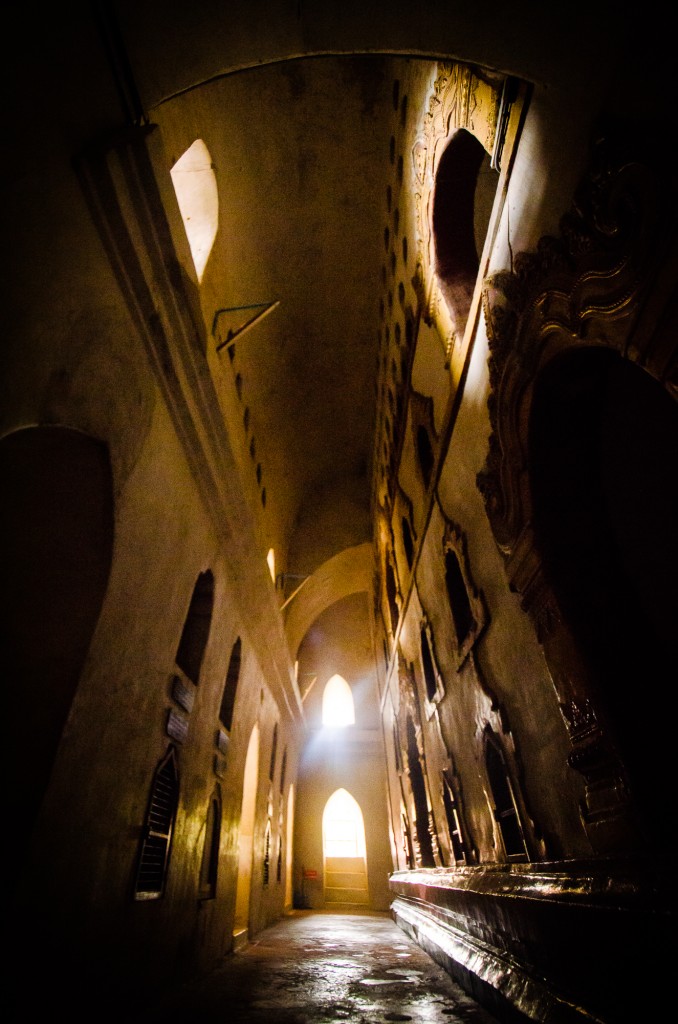 Each of the chambers that housed the Buddhas are connected to each other via long passageways in a jataka-adorned base that is 53 metres long. I found the chambers to be too crowded and the statues to be very ostentatious so spent a lot more time along the passageways instead. The passageways were filled with fascinating Buddha statues of all shapes and sizes looking down upon you perched up in niches along the walls. There were also plenty of other side tunnels and passageways that I would have loved to explore that intertwined and criss-crossed the main passageway that I was walking along.According to local legend, there were 8 monks who came to the palace begging for alms (what else?). They told the king that they had once lived in the Nandamula Cave temple up in the Himalayas. The monks apparently had special powers that were able to show the king the mythical landscape that they spoke of. This went on to inspire the king to build a temple that would be cool in the middle of the searing Bagan plains. It is also said that the king executed the architects after the building was constructed just so that the temple would remain unique.
Shwesandaw Pagoda
Type of monument : Type II Pagoda (Zedi)
Location : Northeast of Old Bagan
Region : Old Bagan
Built by : King Anawrahta
Date : A.D 1057
Monument Number : 1568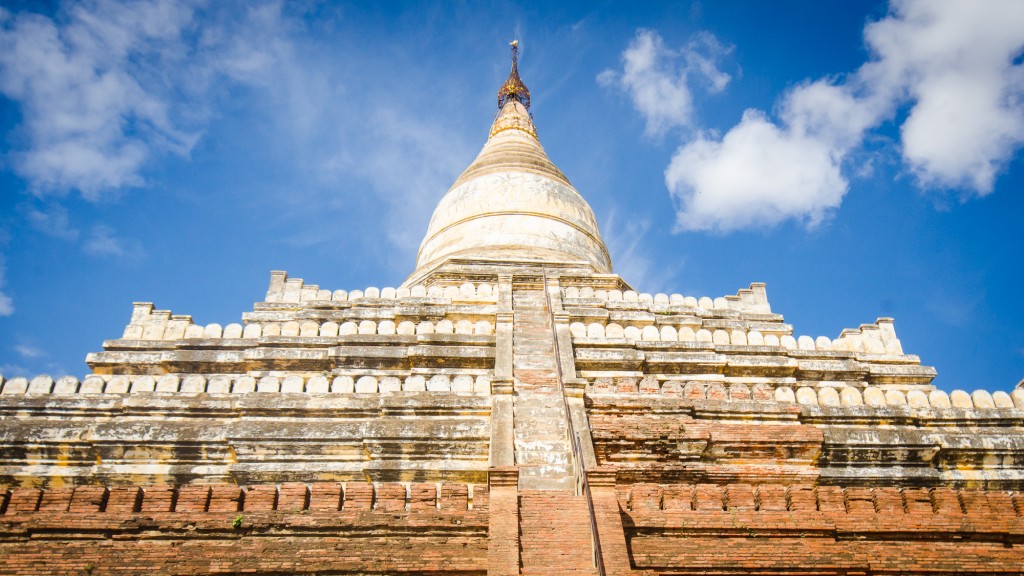 Shwesandaw Pagoda was the first pagoda in Bagan to feature stairwells that lead up to the base of the pagoda from the bottom. As such, it is a good spot to watch the sun set and is even occasionally referred to as the 'sunset pagoda'. I arrived there at 15:15 and found the pagoda to be completely deserted. I climbed the narrow stairwell, some stairs being twice as high as they are deep - definitely not for those who are acrophobic, and found the entire periphery of the round base of the pagoda to be an excellent viewpoint of the vast fields of pagodas stretching out into the distance.
After a while, the blistering sun proved to be too much in such an exposed spot so after walking around the entire periphery once again, I made my way back down and started to cycle to Todhammayangyi. Along the way, I came upon a pleasant bamboo platform that was in the shade of the canopy of a large tree. The heat and the weary state that I was in made it far too enticing to pass up.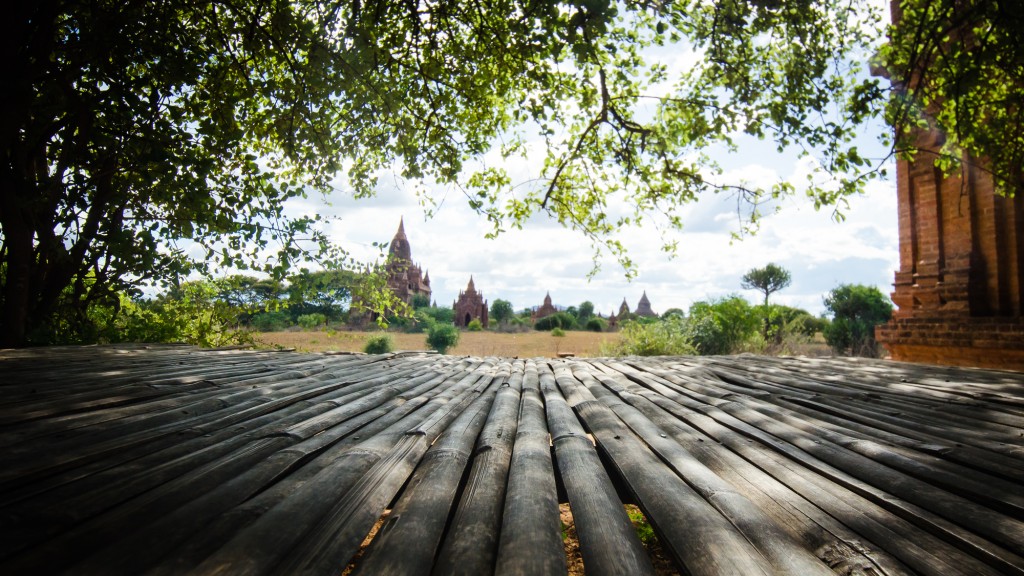 I woke up to the cry of a flock of House crows (
Corvus splendens
) that had gathered in the tree above me and were looking down at me in fascination. Still bleary-eyed, the sun ducked behind the clouds and a gust of wind whistled through carrying away any remnants of sleep that still lingered. Approximately an hour had passed, but that one hour had made a huge difference in the intensity of the sun. Feeling a little refreshed, I decided then to head back to Shwesandaw Pagoda and to set up my camera for a sunset timelapse before the bus-loads of crowds began to arrive. I realised soon after that this was a good move as the entire platform had been overrun by people by 17:30!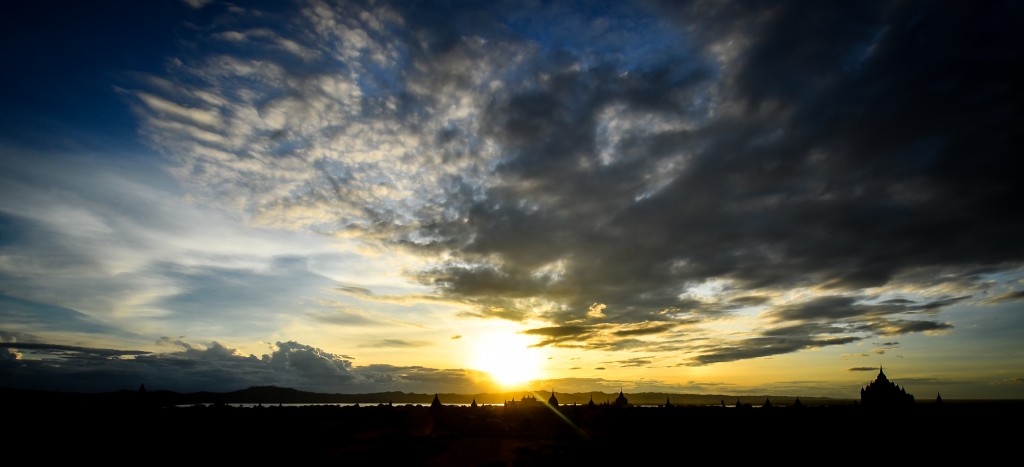 ...and here is the timelapse!
The Ride Back
The bike ride back to the hotel was a short 5 kilometre ride through absolute darkness along Anawar Road. I took extra care to stay well out of the way of cars considering that I had absolutely no lights on the bicycle to speak of. The harsh sun had also left me pretty sunburnt which, compounded with the lack of sleep and the full day of cycling, had left me absolutely exhausted. I also found myself to be pretty famished by then since I had not had lunch so I made my way to a small restaurant called 'Spice' and ordered some fried rice (
MMK2000
) before heading back to the hotel.I personally find that restaurants that are recommended by tourist guidebooks like
Lonely Planet
are always filled with tourists and that the rates tend to go up because of the popularity. I tend to prefer eating at places that seem to only have locals as I don't really see the point of travelling when you are still surrounded by languages and cultures that you are already familiar with. Don't you agree?
*I spent just over

MMK100000

for the entire day out in Bagan - Coffee

MMK200

, beverages x2

USD4 (MMK5300)

, fried rice x2

MMK4000

, accommodation

USD35 (MMK46430)

, bicycle rental

MMK1500

, entrance fees

MMK15000

, and the express bus from and back to Yangon for

MMK30000

. This is much higher than my normal daily expenditure when travelling and I have to admit that I could have saved quite a lot on the accommodation had I looked around a little more.
Suunto Movescount Stats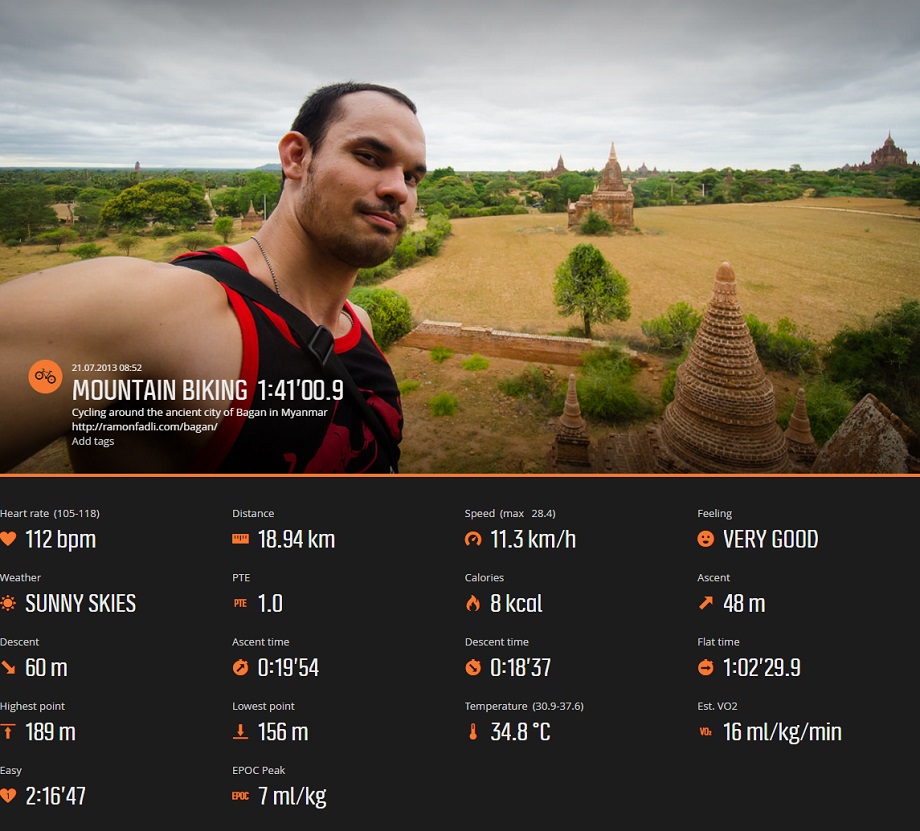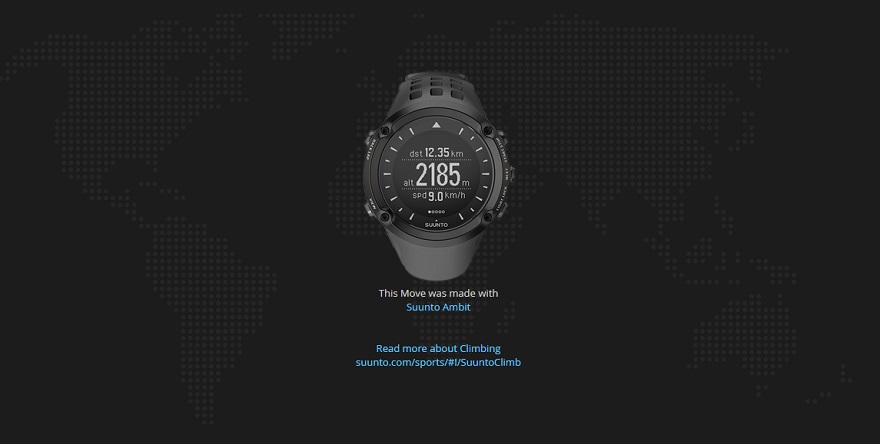 Download file:
Bagan.gpx