April 14, 2013
Posted by
Ramon Fadli
in
Budget
,
Climbing
,
Coastlines
,
Karsts
,
Kayaking
,
Krabi
,
Mangrove Forests
,
National Parks
,
Thailand
,
Tropical Monsoon
Krabi Day 05 & 06 - Kayaking & Thaiwand Wall
Krabi Day 5
Ao Phang Nga National Park
I made my way to Railay West a
fter having purchased my two cans of daily Birdie robusta coffee (

THB20

each) with Cass and Jamie who were both eager to kayak having missed out the chance the year before. The weather was overcast with barely any sun visible which in my opinion is perfect for a day of kayaking since being in a kayak leaves one so exposed. The rates for kayak rental were

THB200

for the first hour with an additional

THB100

for every hour after that (same for both double and triple-seaters).
News
April 20, 2016
4 years ago
Railay
, I found, to my dismay, that all Deep Water Soloing (DWS) had recently been banned! DWS is a thrilling way of climbing that entails free climbing (without a rope and harness) up a cliff and jumping or falling off the rock into the deep water that lies below!
Read more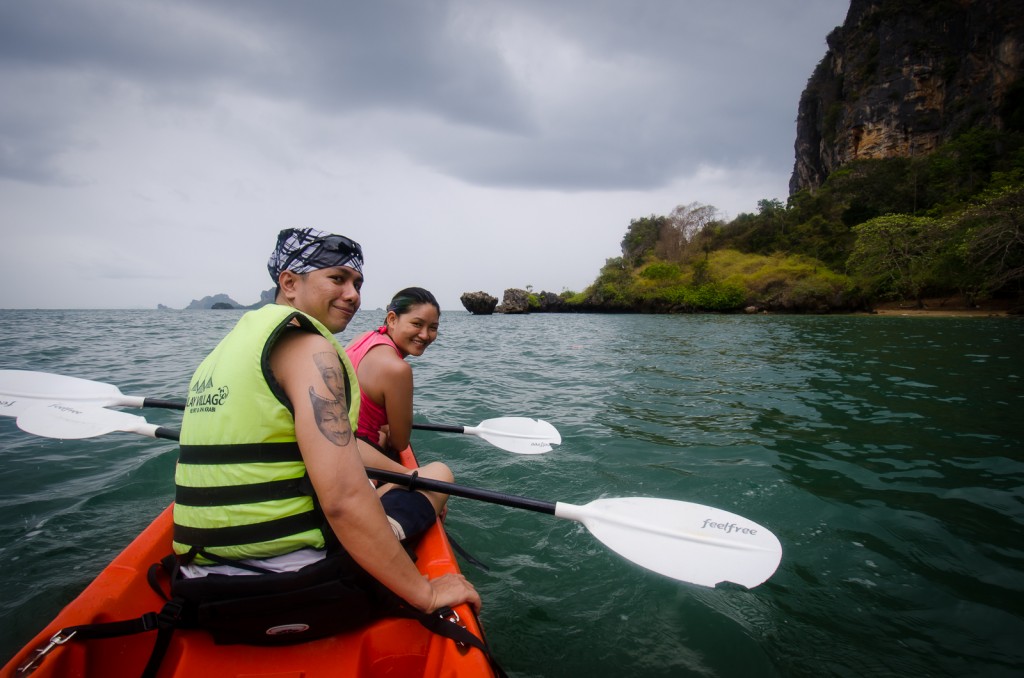 We rowed our way past
Tonsai beach
and around the cove towards Ao Nang, which was the exact same route that I had taken two years ago with Jeremy, and passed a slackline that had been set up for waterlining between two rocky outcrops. Everything was well and fine at first as we explored the rock formations and contemplated stopping for some slacklining and some deep water soloing but as we were rounding the rocks heading back the way we came however, a wave from a passing long tail caught the side of the kayak and made it overturn. I perceived the passing of time at that instant to completely slow down and can vividly remember the action of the kayak flipping almost as if it happened frame by frame. It happened so fast that trying to shift ones body weight to counter the movement was entirely for naught. All that I could do was to reach for the bag that contained my
Nikon D7000
, my
Nikkor 10-24mm AF-S f/3.5-4.5G DX ED
lens, the holder for my passports, and my wallet, and grab it to prevent it from getting submerged.
360 Panorama
After treading water whilst holding the bag high overhead, I decided to swim to the nearest rock in order to secure the bag and regain my bearings. Climbing the rock was quite painful however as it was razor sharp and it left me with cuts all over my feet. Only then did I realize to my utmost dismay that the GoPro Hero3 Black Edition that I had been using to record the trip had not been secured and was probably at the bottom of the ocean by then. The sheer incompetence at not having secured the GoPro was very unlike me and the sheer magnitude of the repercussions of such a simple oversight was to affect me heavily over the next few days. I tried some simple freediving to try and retrieve the GoPro but it was futile as the horrible visibility and the sheer depth stymied any attempts that I made.
Back to the Shore
I reluctantly returned to shore somewhat capricious, since a part of me wanted to salvage what remained of the trip whilst the other was infuriated by my incompetence.
The Railay scuba diving shop was closed for the Songkran festivities so I was unable to inquire about the rental rates of diving gear so we instead proceeded to go meet Bermet and Almaz, who had just arrived in Railay, at Rapala for lunch. I had chilli chicken with tom yam and lots of rice for THB200 but left them shortly after as they had yet to secure their accommodation for the night.
Climbing 1-2-3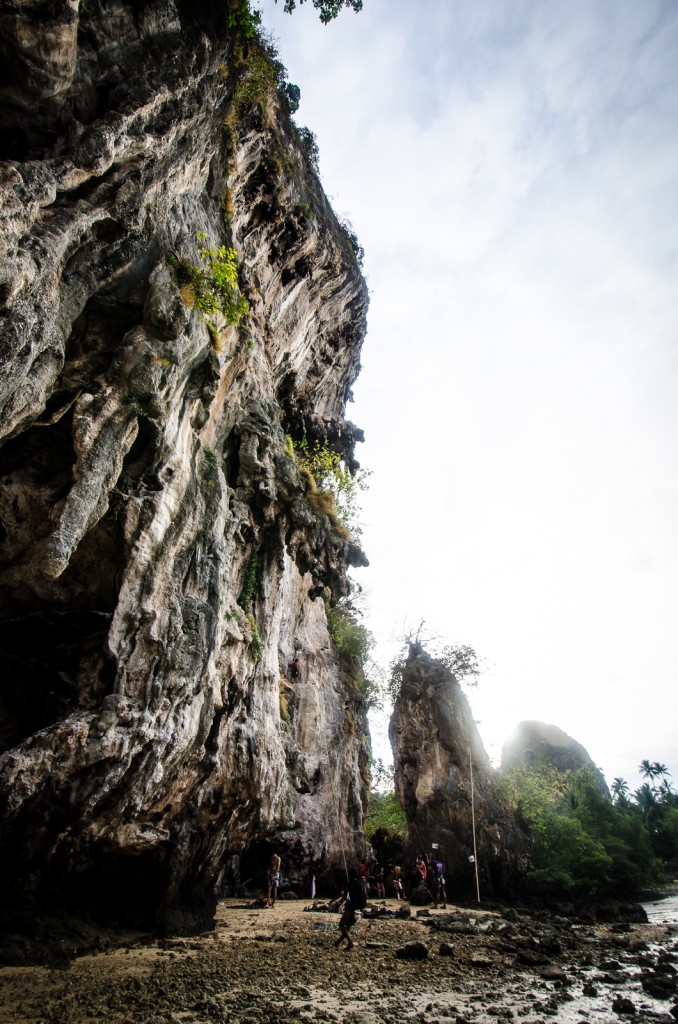 Cass and I made our way to the '123' wall since the tide had gone down by then and I attempted to lead climb the route named 'We Sad', 6a+ as I had been intrigued with the route since I helped the other climber up the day before. This route was the one that began with the classic boost start which I was able to campus up the first few holds but was unable to secure any good footing. Later was I to find out from Michael that the trick to progressing was a kneebar. I also think that there was a considerable mental aspect that was holding me back as there were a lot of people watching me try to get up including Fareeda and Puntarika, who were both Thai national climbers that I had met in a climbing competition two years before. My entire body was also completely parallel to the ground as I tried to get my feet up on the rock, leaving my back extremely exposed and vulnerable to a fall.
We instead moved on to a route named 'Sameboy', 6a+ which was a route at the far left side of the wall well away from the crowds (which was the main reason why I chose it). The rock here was sharp but I managed to lead climb the route and set up the anchor, which helped to restore some of the confidence that I had lost from the previous debacle at 'We Sad'.
Climbing is far more a mental game than a physical one.
After Cass top-roped the route the sun had already set and as we headed back, I couldn't help but feel disappointed with my performance. I ashamedly tried to justify it by shifting the blame on the GoPro incident that morning, an event that I was still lamenting. Dinner was at Yam Yam again with Almaz, Bermet, Jamie and Cass (THB140).
Thaiwand Wall
The incredibly heavy rain the night before had seemingly left behind a lethargic feel of sorts that seemed to permeate the air (or was it just me?). Around 02:00, a storm hit that was so violent that every time lightning flashed, the booming thunder that would immediately succeed it would cause the entire structure to reverberate and shudder. The drone of the rain smashing into the rafters and the howling wind outside would also have drowned out any attempt at a conversation.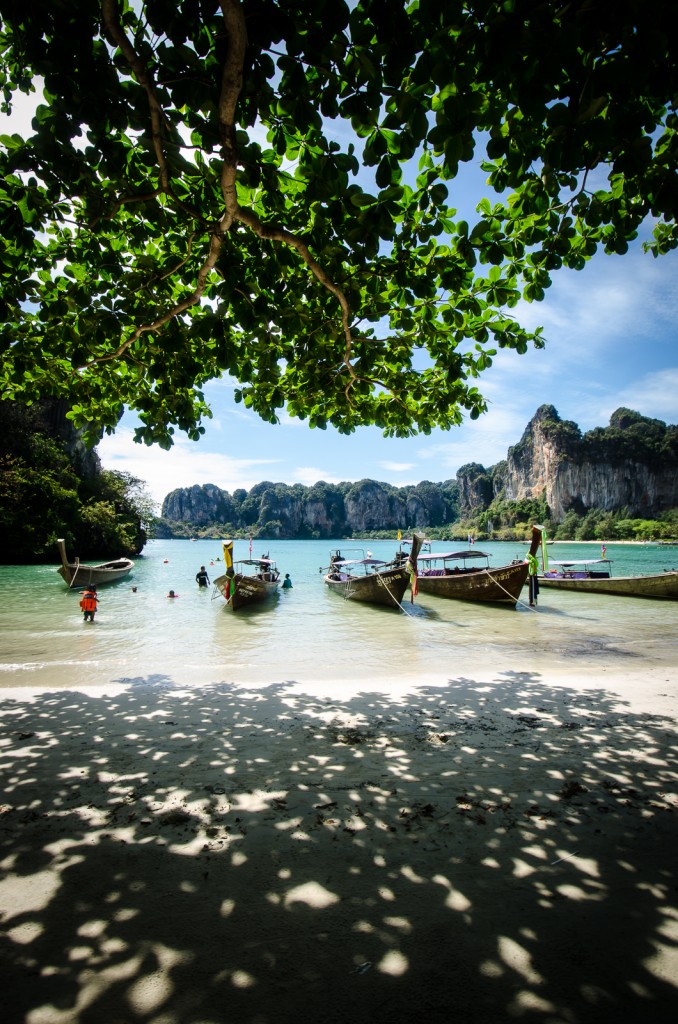 After purchasing my two cans of Birdy coffee (THB20 each), we made our way over to Walking Street on West Railay beach but found to my dismay that the Railay diving center was still closed. We instead proceeded to inquire about the rates for island hopping at the long-tail boat counter on the beach. The rates that we were given were THB1700 for a long tail boat that would take the group to four different islands that lay nearby including Ko Poda and Chicken Island, both of which Jamie, Cass and I had been to before. We were also told that it would cost THB350 for a one way trip to Ko Phi Phi Don per person on a larger boat. They said that we wouldn't be able to rent a long-tail to go to Phi Phi Island as it was just too far.
I ended up eating four packets of fried chicken shavings with sticky rice (THB40 for all four) that was sold by a man with a rather large wheelbarrow packed with food and fruit that walked down the alleys in Railay East every morning. Bermet, Almaz, Chopa, Cass, Jamie, Michael and I then proceeded to met up at a restaurant called Mangrove that we had decided to try, which was located in the middle of the pathway that joined East and West Railay. I had sweet and sour chicken and more amber nectar (THB170) before heading down Walking Street on our way to Thaiwand wall.
The trek to Thaiwand Wall began at the South end of West Railay beach where a path opens up and immediately begins to ascend. The rocks here are fairly sharp but the trek is easy enough to be navigable with even slippers. The path ascends for about 40 metres but only covers a distance of around 200 metres or so and takes about 15 minutes to complete. 
Trekking to Thaiwand

As soon as we arrived at the base of Thaiwand wall, Michael began to lead climb my nemesis, 'Monkey Love' almost straight away and ended up making it look pretty easy. This route is fairly easy for the most part until one gets to the crux which requires one to really commit. The crux is extremely exposed as one has to almost do a diagonal traverse on an overhang where a fall could cause potential injury. I managed to lead climb it two years ago but was not able to pass the crux last year as the frequency of my climbing had decreased by quite a bit at that point leaving my mental state in a bit of a disarray.
I ended up belaying Bermet who stopped a few quickdraws from the top and then Chopa right after who topped out. Chopa unclipped the last two quickdraws however in order to proceed to the anchor which meant that I would have to lead the route (or rather attempt to). As I climbed 'Monkey Love', 6b I found the first three-quarters of the route to be fairly straightforward although my history with this route had left me somewhat intimidated. All that was quickly brushed away closer to the top however as the views were absolutely stunning, making for perfect picture taking opportunities with my Nikon D7000 which I had brought up with me. Everything went well from there until I hit the crux and no matter how much I tried to convince myself, I just could not commit. I lowered myself down rather shamefully before Michael went on to finish off the task that I had failed to complete. I then went on to top-rope the route fairly easily.

Cass, Jamie and Chopa had climbed a route off to the top of the path (far left of Thaiwand wall) that was called 'Primal Scream', 6a+ but I didn't have an opportunity to climb it as there was not much daylight left. As Michael headed back down, Chopa, Bermet, Almaz and I equipped ourselves with two slings each attached to locking carabiners in order to make our way up the ladder for the traverse that lead to several routes on the far right of the wall. We weren't planning to climb any of them however and just stayed there for a while taking in the breathtaking views as the sun began to set. It was a bit too late to head through the cave that lead to Escher wall so we decided to do that on another day.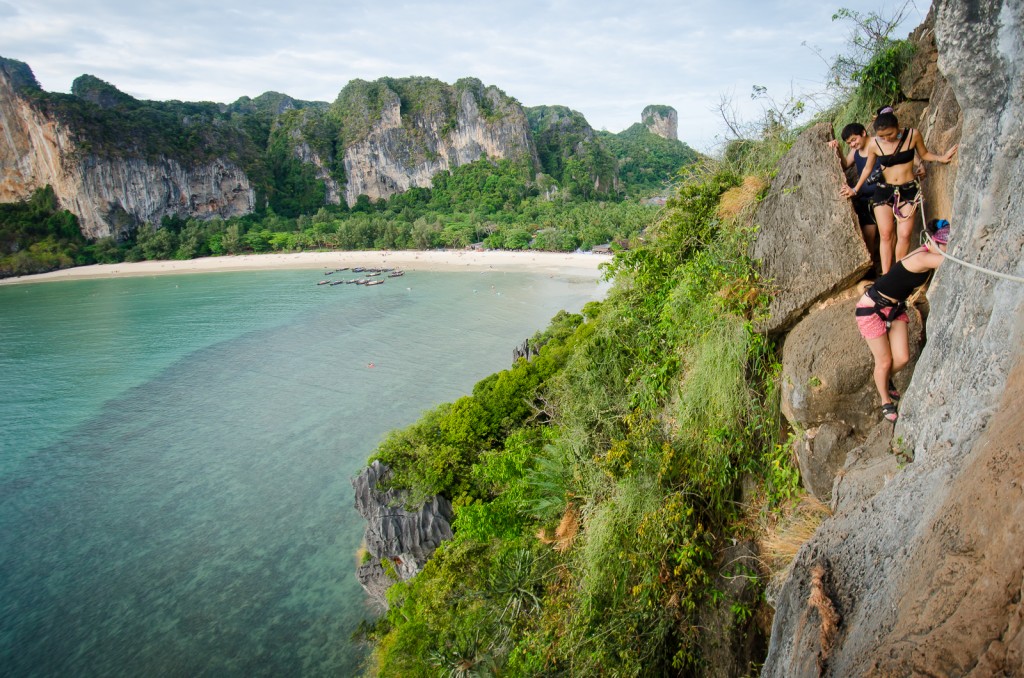 On the way back, we stopped by the Railay scuba diving shop once again and this time found that it was actually open. After explaining my conundrum, I was quoted a deplorable price of THB7000 which was ridiculous considering that the location was close enough to kayak to, and that I was already a PADI-certified Advanced Open Water Diver. Since the amount that I would have to spend for the retrieval was practically half the value of the device itself basically ruled it out as an option especially considering that a successful retrieval was not guaranteed. I gave in to my voracious appetite later on with 3 plates of rice with shared fried beef, tom yam and sweet and sour chicken that amounted to THB170 before calling it a night.