Krabi Day 03 & 04 - Muay Thai Wall & Songkran
Krabi Day 3
Ao Phang Nga National Park
After my compulsory dose of caffeine (
THB20
for each can of Birdy robusta coffee), we made our way towards the pathway that takes one to Phra Nang beach but turned left at the end instead to the climbing walls of 'Muay Thai' and '123'. It was high tide at the time however which meant that the '123' wall was not accessible so we instead walked up the short incline to '
Muay Thai
'. We found the area to be fairly crowded at first but the crowds slowly moved down to '123' once the tide started to go down.
News
April 20, 2016
4 years ago
Railay
, I found, to my dismay, that all Deep Water Soloing (DWS) had recently been banned! DWS is a thrilling way of climbing that entails free climbing (without a rope and harness) up a cliff and jumping or falling off the rock into the deep water that lies below!
Read more
Getting There
Location of Muay Thai Wall
Cass began the climbing session by leading a simple route, appropriately named 'Take It Easy',
5
with Jamie seconding the route right after. A route had also been set up by Leng, a local Thai climbing instructor that kept us entertained with his goofy antics. Leng threaded the rope through the anchor when lowering his own which then allowed me to climb the route, called
'Alone'
,
6b+
. I found it fairly easy at first and actually wondered why I hadn't just attempted to lead it from the beginning until I came to the cave with the crux of the route located right above it. I managed to pass this section however but only once I had located a nice undercling located inside the cave out of sight. Cass then proceeded to top rope the route.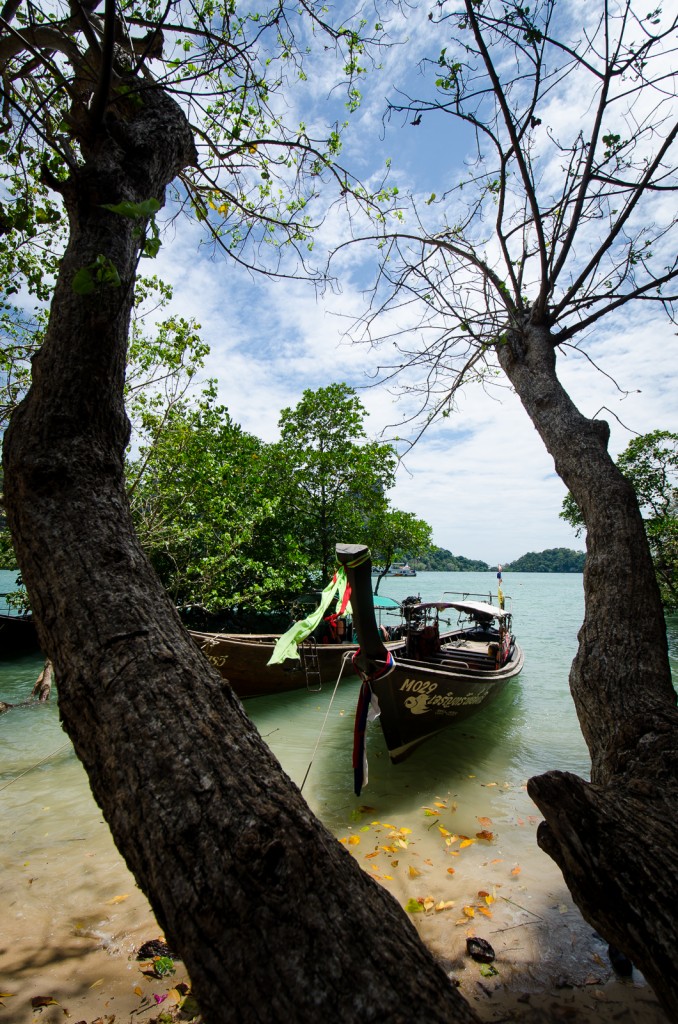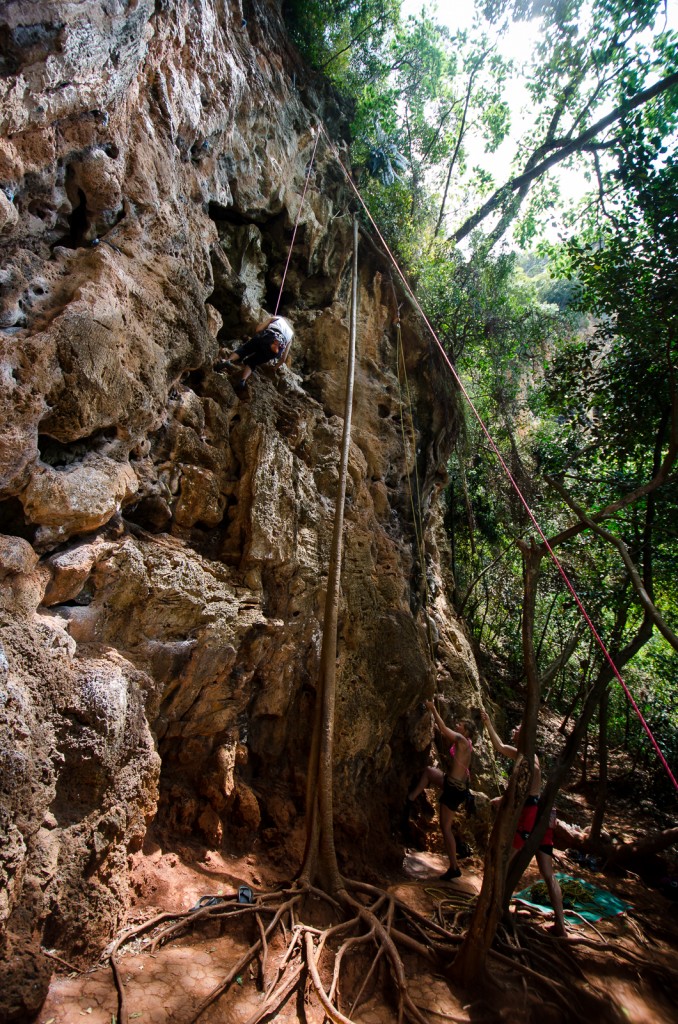 I then went on to lead climb 
'Hello Christine'
,
6a
. The difficulty I faced at the crux for the previous route had left me a little uncertain and more so since it had been a year or so since I had done any form of lead climbing. It turned out to be much easier that I had anticipated but I spent some time rigging the system just to be sure. As the old (and very wise) adage goes "It's better safe than sorry".
By 14:00, the Austrian group that we had been climbing alongside left to '123' as the tide had gone down leaving us to ourselves. As Jamie and Cass top-roped the route however, rain clouds began to loom above so we decided to call it a day before it began to rain. Before heading back, we made our way to '123' to have a look. There was a climber climbing a route that began with a boost start that was quite high above the ground, maybe 2.5m to the  first hold – just enough to jump to, on a bulbous stalactite. The route was called 'We Sad' and was graded 6a+. I had to give the guy a boost to help him up before we left for lunch. The climbing instructor with a head full of dreds who was belaying the climber said "no pain, no gain, no food, no power" as we departed.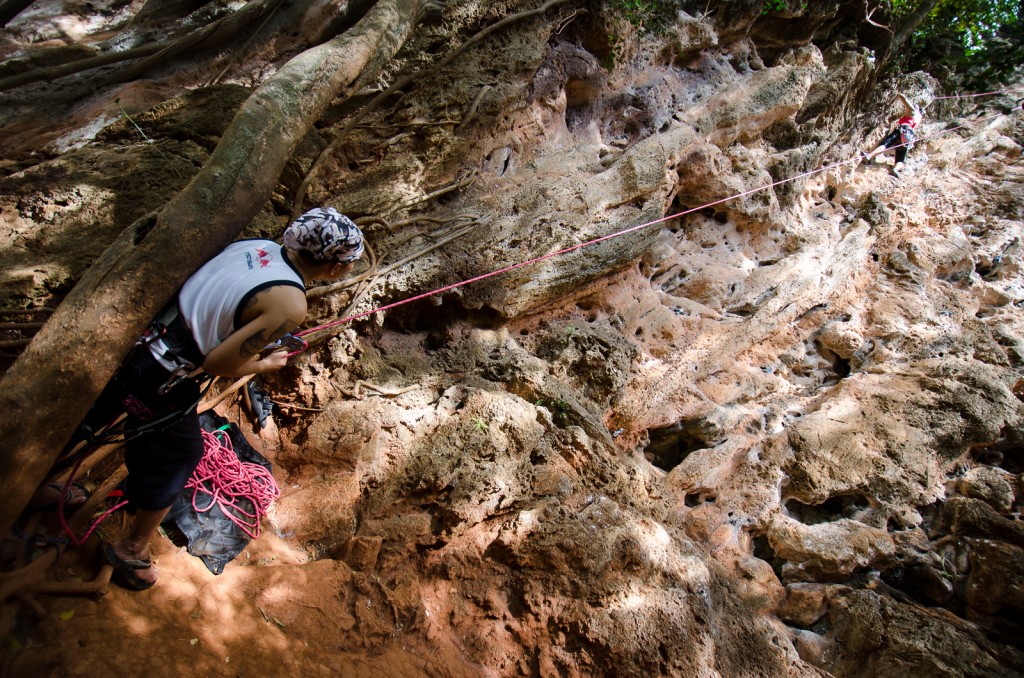 We decided to walk around to see if we could find some other places to eat and actually ended up walking all the way to Yaya Bar near Diamond Cave, passing by the tsunami evacuation point that we had been evacuated to last year. There didn't seem to be much available however so we instead made our way back to Rapala for some Omelette Chicken Rice that cost THB90 with rice. We passed the new location for the climbing shop Hot Rock on the way back but since there was still no sign of Saralisa, Luang, Liam, or Tuva, we just carried along on our way.
That night we went for a long overdue massage at the Viewpoint Resort massage parlour where an hours-worth of full-body oil massage only cost a measly THB250. I considered getting a Thai massage instead until I realised that it had been a while since I had indulged myself. The massage turned out to be much needed as the masseuse smoothed out all the knots she found in my neck and back. Right after that we went out for dinner but this time to Yam Yam instead where the price of the food was slightly higher (THB100) than Rapala but they made up for it with the free wifi.
We then went to Bamboo bar where we met up with Michael before digging in to the THB180 worth of meat balls that I had bought for the group that was rather nicely accompanied by some 12-years old Chivas Regal. We were graced with Michael's girlfriend, Emilie's presence shortly after. Emilie had been in Thailand for 3 months and was due to head back to Montreal in two days. But in hindsight, I can wonder if my irreverent criticism of the supernatural and the belief in pseudoscience had made her wish that she had left sooner!
Songkran Festivities
We made our way back to Ao Nang (boat ticket cost THB100 per person) for the Songkran festivities as the celebrations in Railay paled in comparison. We quickly realised that Ao Nang seemed to be a lot quieter than it had been the year before but things started to pick up as we walked through the streets amidst groups of tourists armed with colourful water-guns of all shapes and sizes, pubs and bars with speakers set up blasting music, as well as platforms having been erected for the sole purpose of dancing. There were also countless numbers of barrels of water (a lot of them iced) that lined the streets to help those with water guns (or cannons) reload and those who didn't would just resort to lying in wait ready to ambush you with their minted powder as you passed them by. The stalls selling the wonderful barbecued meat on sticks (THB10 each) and Thai pancakes (THB30) kept us going. Funnily enough, we would occasionally come across tourists who were trying to make their way down the street attempting to stay dry and would seem somewhat antagonized once they realized that this was ultimately futile.
The word Songkran means 'to pass' or 'to move into' in Sanskrit and the celebration is known to be as one of the largest water fights in the world. The custom of the throwing of water originated from a cleaning ritual as images and statues of Buddha were cleaned with water. Using so-called 'blessed' water is also a way of paying ones respects to another and is also supposed to herald good fortune. The chalk on the other hand was originally used by monks to mark blessings and strangely enough, the combination of chalk with water seems to be somewhat similar to the festivities of Holi (India) and Śmigus-Dyngus (Poland, Czech Republic and Slovakia) that also occur around the same time.
Unfortunately, the festivities tend to be marred by huge death tolls every year as alcohol, driving and riding without helmets do not make a good combination. This year the cumulative road death toll for only the first two days reached 101.
Happy Island
After we got back to Railay East, we decided to walk around to pass the time. We made our way to Happy Island from Phra Nang beach where we met Emilie once again. She decided to join us as we made our way around the entire island but we found out soon after that the longer we spent wading in the shallow waters, the deeper the water seemed to get. The rocks were also fairly sharp and there were quite a few sea urchins (Diadema setosum) scattered about. I decided to keep on going when the rest decided to head back as I was stubbornly adamant on circumnavigating the island.
There were a few points where things did become a little precarious, not for my own physical well-being but rather for my Nikon D7000's.  This realization became especially pronounced when I happened upon two sections that required large leaps across deep channels of water with slippery, algae-covered rocks on the other side that seemed to just beg for the slightest misstep. After this point however, the side of the island became so sheer (since the stronger currents from the open ocean met the island here) that wading around became an impossibility. It was somewhere around this point where I realized that I would have to do some traversing. Doubt in my abilities began to enter my mind before I began however and I alarmingly realized that this seems to be occurring more and more frequently recently. The thoughts have turned out to be somewhat inhibiting, causing a great deal of reluctance and ultimately hindering any progress.
I managed to push pass the mental reluctance however and risking a fall into the ocean, pressed on with the traverse. The traverse itself was not easy as the overhanging rock was sharp with most of the holds being crimps. Footholds were also made slippery due to the waves that were breaking onto the side. After some time it became almost impossible to proceed with the traverse but since I had already gone too far to turn back, I decided to press on by swimming on my back with the DSLR bag held high above my head.
I eventually found the others on the other side of the island somewhat concerned and worried due to the time that I had taken. By then the sun had set so we walked back to Railay East in the dark before grabbing a well deserved dinner (
THB130
).
360 Panorama