0
January 29, 2017
Posted by
Ramon Fadli
in
Aceh
,
Budget
,
Caves
,
Coastlines
,
Diving
,
Indonesia
,
Islands
,
Reefs
,
Tropical Coral Reefs
,
Tropical Rainforest
Weh Island
Weh island ('Pulau Weh' in Bahasa Indonesia) is a small island just off the northern tip of Sumatra, and is located directly north of Aceh city ('Banda Aceh'). Since Sumatra is the northernmost of Indonesia's large islands, Weh island has been bestowed the honour of having the (so-called) most northern point of Indonesia, a point that is called '
Kilometer Nol
' (Kilometre 0). There are however, a few other rocky outcrops and small islands further north (such as Rondo Island), so I suppose that Kilometer Nol should more accurately be known as the most northern point of Indonesia that is connected by road!Before we go any further though, let me tantalise your taste buds with this terrific teaser of Weh island, filmed and edited by a close friend of mine,
Andy Saiden
:Weh island is most often referred to as 'Pulau Weh' but you will on occasion find locals who refer to the island as 'Sabang', the name of Weh island's largest town. The island is famous for the magnificent scuba diving sites that are scattered around the north-western tip, but the island remains relatively uncongested despite this. This is most likely because of two reasons: the area has had to be rebuilt from scratch after the devastating tsunami of 2004 (triggered by the magnitude of 9.3
Sumatra–Andaman earthquake
, the epicentre just off the west coast of Sumatra); as well as the relative difficulty in getting to Aceh province from Malaysia prior to AirAsia opening up routes to Banda Acheh from Kuala Lumpur (despite being right next door).
Getting There
Once you manage to make your way to Banda Aceh, you'll need to get to the Ulee Lheu Port (Banda Aceh jetty) for one of the ferries that goes to Balohan Port on Weh Island. You basically have two options: a fast ferry (Pulo Rondo or Express Bahari) that will take you about an hour and costs IDR80k, departing at 09:30 and 16:00 (08:00 & 14:30 from Balohan Port); and a much slower ferry for vehicles that will take you two hours and costs IDR25k, departing twice a day with the times of departure changing depending on the day in question. I strongly, strongly recommend the former as the latter is absolutely agonising. Both of them tend to be very packed but the fast ferry is obviously much quicker, smoother, and has (very cold!) air-conditioning, which means that you won't end up suffocating from secondhand cigarette smoke. Be sure to board the boat half an hour before departure as there are no announcements at the jetty.
Please purchase your tickets directly from the ticketing booth in order to avoid scams, or ask your taxi driver if he could assist in getting them for you - I'd recommend Usman ( +62 813-7709-7760) if you are looking for a friendly taxi driver to get you from the airport to the jetty and back, or just to take you around the city itself. If you book a diving package with one of the dive resorts, they will normally sort all this out for you--the taxi from the airport, the ferry to the island, and the pickup from Balohan to your hotel. Just make sure you confirm all of this with them beforehand.
Transportation from Balohan to Iboih is either secured by the dive resort or hotel, or after tedious negotiations with the drivers. Expect to pay around IDR50k each for shared transport. The drive itself takes about 45 minutes, and you will find that the narrow, windy roads will showcase the hidden beauty of this small island. Keep your eyes open about 15 minutes into the journey as you will pass some dramatic landscapes over on the right.
Directions from Balohan jetty to Iboih beach
Nearest Hyperbaric Chamber
RSAL J. Lilipory Sabang Jl. T. Chik Ditiro, Sabang (Pulau Weh) 23511 Email: liliporyhyperbaric@yahoo.com Telephone: +62 (652) 21302 Sulthon Hakim, Handphone: +62 87 739 510 520
Polsek Sukakarya
Sukakarya Province Police
Telephone: +62 (852) 6154 9946
Iboih is home to
Rubiah Tirta Divers
, the first dive centre to be established on the island. The dive centre was founded by the late Mr. Dodent way back in the 70s, and is now run by his tree sons: Iskander, Yudi, and Isfan. Mr. Dodent was one of the first to advocate for the protection of Weh's marine environment, and helped Iboih to achieve Recreational Park status and Weh island to achieve Marine Park status, ensuring the protection of the area. Mr. Dodent was even given awards in recognition of these efforts. Rubiah Tirta has a very relaxed and jovial atmosphere and is pretty affordable, offering very reasonable prices for both
fun dives
as well as
PADI courses
. Bear in mind that there is no diving permitted on Thursday nights and Friday mornings!
Rubiah Tirta Divers
Contact Person: Isfan or Yudi Address: Jl. Pantai Iboih, Pulau Weh, Kota Sabang, Aceh 23518 Telephone: +62-652-3324555 Whatsapp: +62-823-60002100

There are plenty of eateries around Iboih to choose from, my all-time favourite being

Deedee's Kitchen

, a small restaurant that is run by Nurdiana and her family. The restaurant itself is set right on the beach, and the ambient sounds of the lapping of the waves against the shore just below leave a very relaxed atmosphere. The food from there takes a bit of time to arrive but it is well worth the wait as the food is fantastic! While waiting for your food, be sure to give their free WiFi a shot as it seems to be much faster than most other places around Iboih.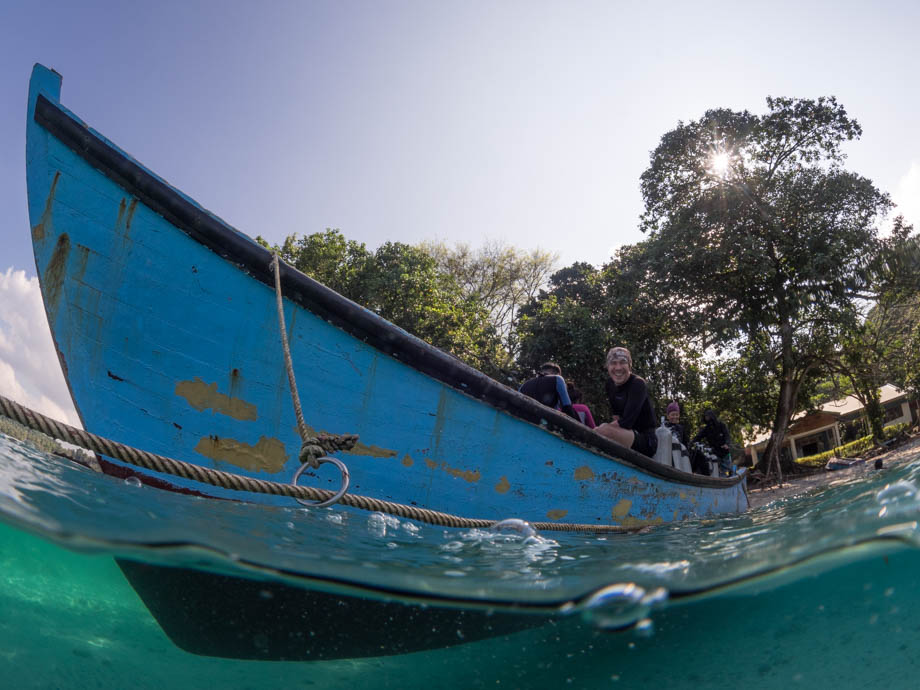 Getting ready to head out for a dive from the beach just in front of the Rubiah Tirta dive center
Weh island is located in the Indian Ocean, so shares the same diving season as other islands along the west coast of Malaysia and Thailand. Peak season runs from November to April, since winds tend to be calmer and there is less chance of rain, but diving is definitely possible all year-round. The types of diving are very diverse here and range from spectacular reef and wall formations that have humongous gorgonian sea fans (Gorgonia spp.) scattered around, relaxed and slow macro dives, to strong drift and decompression dives for the more experienced divers.
The massive gorgonian sea fans (Gorgonia spp.)
1. Batee Tokong
Batee Tokong seems to be everyone's favourite dive site in Weh island and once you dive here, it is very easy to see why that is. Batee Tokong consists of a huge rocky pinnacle that breaks the surface of the ocean and drops steeply down to the seafan-littered underwater plateau 25 metres below. The scenery is spectacular and the marine life is very diverse and extremely rich, with cute yellow boxfish swimming around (Ostracion cubicus), plenty of lionfish (Pterois volitans) and scorpionfish hugging the reefs, a seemingly infinite number of redtoothed triggerfish (Odonus niger) always surrounding you, and baracudas, bluefin trevallies (Caranx melampygus), and tuna occasionally spotted in the distance.
Nudibranchs and moray eels are very common here, with almost every crack and crevice filled with either a giant moray (Gymnothorax javanicus), a fimbriated moray (Gymnothorax fimbriatus), a honeycomb moray (Gymnothorax favagineus), or a blue ribbon eel (Rhinomuraena quaesita). The occasional octopus (Order: Octopoda), other cephalopods, and peacock mantis shrimps (Odontodactylus scyllarus) can be also be glimpsed here. Shark Plateau is next to this dive site so be sure to keep your eyes peeled for blacktip reef sharks (Carcharhinus melanopterus) too!
2. The Canyon
The Canyon is known for its spectacular caves, swim-throughs and magnificent rock formations. Gorgonian sea fans can be found scattered everywhere as you follow the steep walls of the canyon in, surrounded by all sorts of marine life from the occasional peculiar robust ghost pipefish (Solenostomus cyanopterus), massive jacks and wrasses, to lionfish and scorpionfish way down below. Plenty of redtoothed triggerfish (Odonus niger) and solitary titan triggerfish (Balistoides viridescens) are normally found here. A lot of pelagics can also be spotted when the conditions are right-I have spotted several reef mantas (Manta alfredi) here. Don't forget to swim through the swim-through!
3. Pantee Penauteung
The rock formations of Pantee Penauteung are as spectacular as its sister-site, the canyon, with a series of vertical drop-offs and steep walls that enclose you on both sides. Large gorgonian sea fans (Gorgonia spp.) are abundant here and make a dramatic backdrop when glimpsing larger pelagics like sharks or the ocellated eagle ray (Aetobatus ocellatus). Once you reach the channel with a sandy bottom, keep an eye out for whip coral shrimps (Pontonides unciger) hiding on strands of whip corals. There are plenty of blackspotted pufferfish (Arothron nigropunctatus) and gem sea slugs (Goniobranchus geminus) scattered around here, as well as the occasional titan triggerfish (Balistoides viridescens) and clown triggerfish (Balistoides conspicillum).​
Sophie Rickmers is a coral-covered wreck that is 134 metres long and has a bow that lies 55 metres deep in the Pria Laot bay. The ship was confiscated by the Dutch on the 10th of May 1940 at the onset of the Battle of the Netherlands, which is the name of the German military campaign for the invasion of the Low Countries and France during World War II. The crew of Sophie Rickmers made their way down to the vessel's water pumps and managed to reverse the pumps in time. The crew had decided that it was better to sink the ship than to allow the Dutch to take possession of it! Because the wreck lies so deep, the dive is a decompression dive by experienced divers only.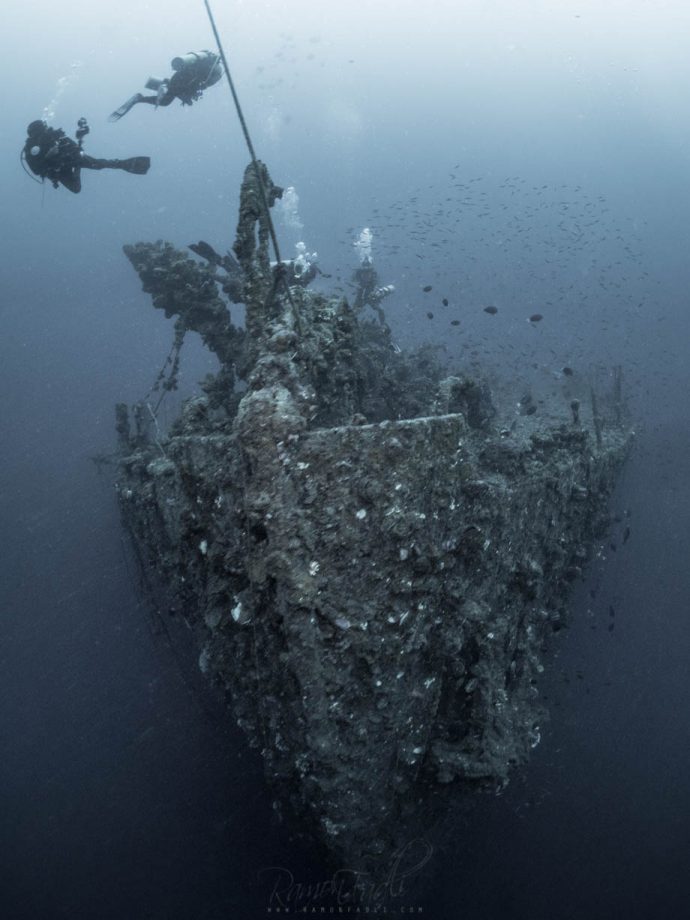 The impressive straight bow of the even more impressive wreck of Sophie Rickmers.
Weh island is located where the Andaman Sea in the north meets the Indian Ocean, so there is a staggering diversity of marine life that can be found in the waters around the island. One thing that you'll notice fairly quickly when you dive here is the sheer abundance of the redtoothed triggerfish (Odonus niger), that seem to completely surround you as you enter the water, their characteristic oval shape silhouetted against the deep blue backdrop, and seem to stay with you as you descend all the way down to the bottom. Red lionfish (Pterois volitans), and other ubiquitous coral fish like the powderblue surgeonfish (Acanthurus leucosternon) and moorish idols (Zanclus cornutus) are a few of the other fish that you are guaranteed to see on almost every dive here.
When the water temperature begins to drop around the beginning of October, larger, far more uncommon pelagics begin to arrive, with schools of devil rays (Mobula spp.) and solitary manta rays (Manta spp.) occasionally seen when the conditions are just right. If you are very lucky, you might even spot a whale shark (Rhincodon typus) or even an ocean sunfish (mola mola)!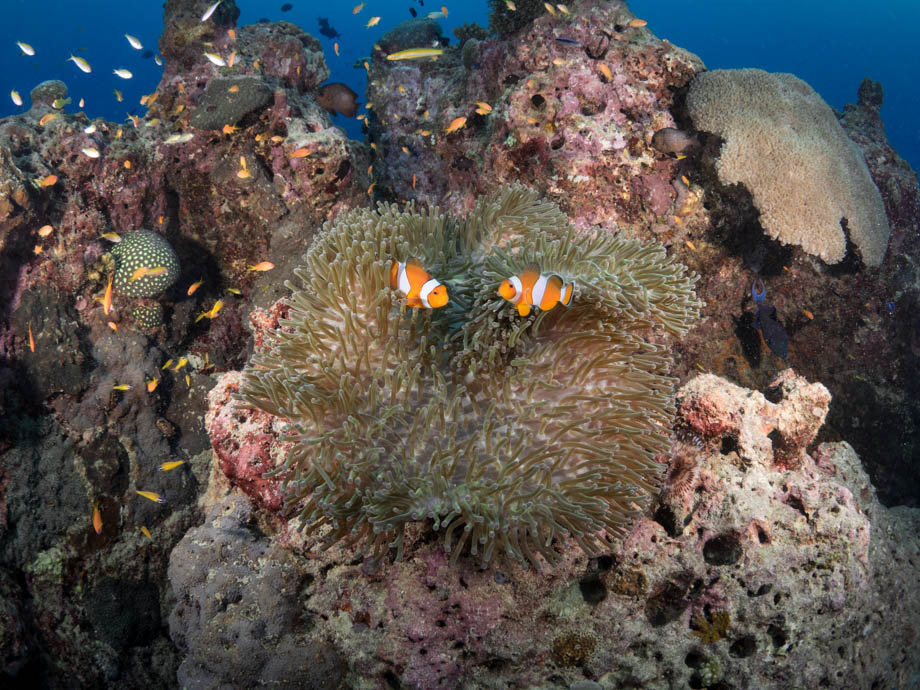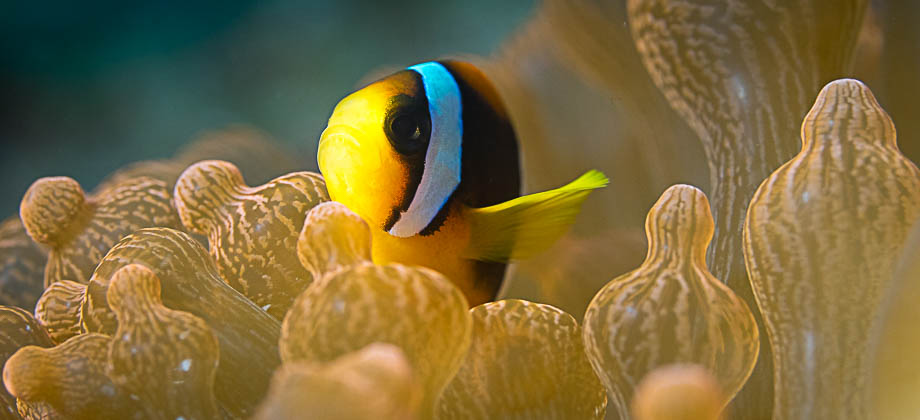 A yellowtail clownfish (Amphiprion clarkii) inside one of its symbionts, bubble-tip anemone (Entacmaea quadricolor)
Nudibranchs are also quite common around the island, with some of them having mantles that seemingly flap in the underwater 'breeze'. This act of 'mantle-flapping' can sometimes be quite rhythmic in certain species, where the edges of the mantle both rise and fall simultaneously. Both the Goniobranchus geminus and the Goniobranchus coi take part in this act of 'mantle-flapping'. Some species of nudibranchs are also known to dispose of this mantle in order to evade predators, in a process known as autotony. There is even at least one species of nudibranch that disposes of its own genitalia after mating and then regrows another in order to mate again! The nudibranchs that you are most likely to see around Weh island are Phyllidia ocellata, Phyllidia varicosa, Phyllidia pustulosa, Goniobranchus geminus, and Doriprismatica atromarginata.
A gem sea slug (Goniobranchus geminus)
When one goes macro hunting, one tends to pay attention to every single detail, no matter how small. On the last trip I noticed that certain nudibranchs always seemed to be surrounded by certain types of sea squirts (tunicates): the black-margined glossodoris (Doriprismatica atromarginata) with white speck sea-squirts (Didemnum conchyliatum), and the pustulose wart slug (Phyllidia pustulosa) with green reef sea-squirts (Didemnum molle). Were these tunicates the preferred meal of the nudibranchs, or was it just a coincidence? These tunicates (commonly called sea squirts) are invertebrates that are fascinating in their own right. Most of them are sessile, meaning that they are permanently attached to hard coral or rocks on the floor of the ocean, and have to resort to filter feeding because of this immobility. Tunicates do this by pumping water through their bodies using a siphon, and then proceed to discharge it via another siphon after all the plankton and oxygen has been filtered out.
A gem sea slug (Goniobranchus geminus) on the left, and a black-margined glossodoris (Doriprismatica atromarginata) on the right
Certain dive sites around Weh island, like Batee Tokong for instance, seem to have copious numbers of moray eels packed into cracks and crevices everywhere. The morays that you will encounter will tend to be either giant morays (Gymnothorax javanicus), fimbriated morays (Gymnothorax fimbriatus), or honeycomb morays (Gymnothorax favagineus), although blue ribbon eels (Rhinomuraena quaesita) can also occasionally be seen. You are far more likely to see the blue male variants if you do encounter a ribbon eel though, as ribbon eels are sequential hermaphrodites. All of them are born male and turn into females (turning yellow) towards the end of their life spans (meaning females are far less common). They then mate, lay their eggs, and die within a month or so.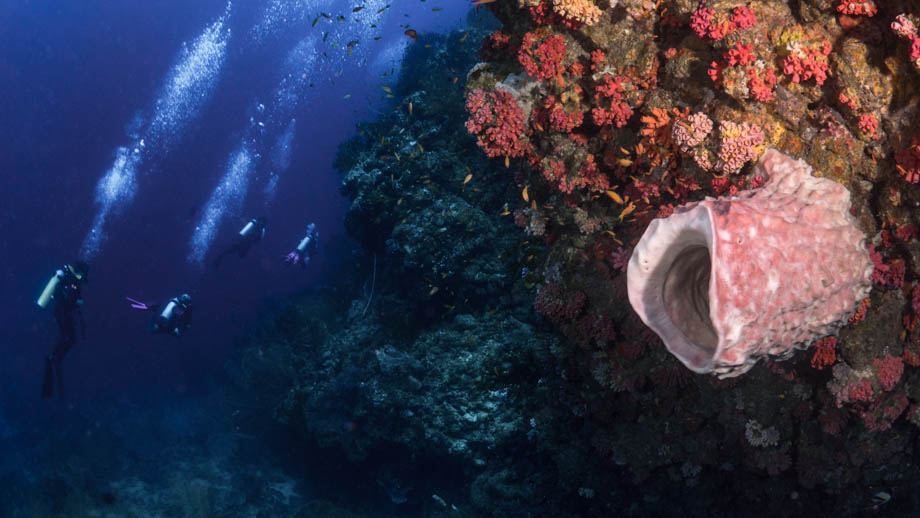 A fimbriated moray (Gymnothorax fimbriatus) on the left, and a pair of male ribbon eels (Rhinomuraena quaesita) in the same burrow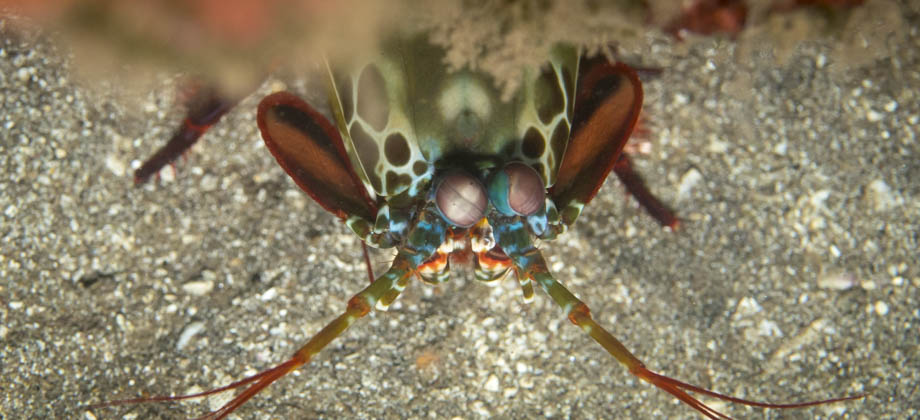 A peacock mantis shrimp (Odontodactylus scyllarus)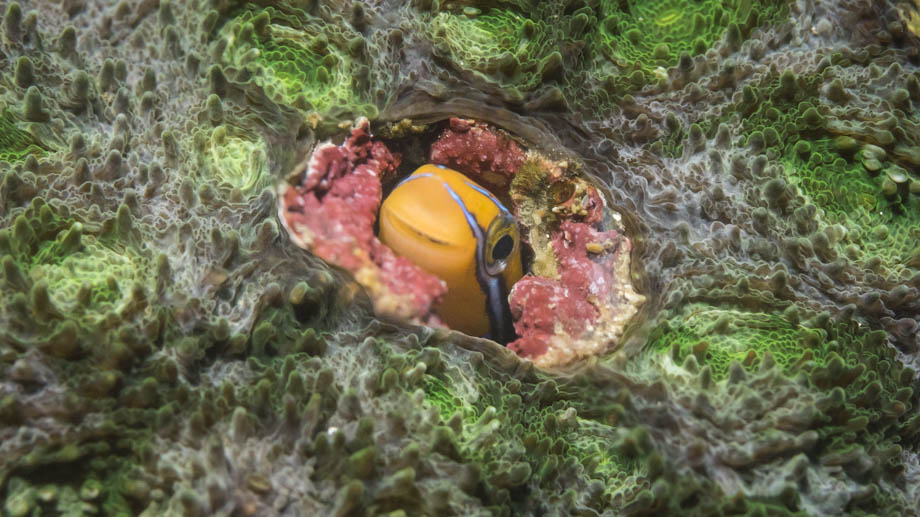 A bluestriped fangblenny (Plagiotremus rhinorhynchos) amidst a backdrop of fluorescent coral
When you are not beneath the waves (most likely when Friday morning comes along), there are plenty of other activities that you can do around the island. You can ask around for motorbikes to rent and you should be able to find one for IDR80k-100k for half a day. Most of the locals would recommend that you head to 'Kilometer Nol', the 'most northern point of Indonesia that is connected by road', about 15-20 minutes north of Iboih beach. I personally do not understand the attraction though as the only things you will find there is a very large and gaudy monument and a few stalls selling food and souvenirs scattered around. There is a small beach called Long Beach that is on the way to Kilometer Nol however that is quite nice, but if I had to recommend one place, it would have to be Gua Sarang.
Long beach
Getting There
To get to Gua Sarang from Iboih beach, head back up to the main road and turn left at the gate and on to the road that leads south to Gapang. Right before you reach the mosque, turn right down the narrow road and just follow it past the army base (komplek TNI) and all the way to the end. After 15 to 20 minutes (depending on your speed), you should see signs for 'Gua Sarang' by the side of the road. Park your motorbike here before paying the IDR5k entrance fee.
Directions from Iboih beach to Gua Sarang
Gua Sarang is a set of caves located along the the western coastline of Weh island. Looking down on the coastline is pretty breathtaking so be sure to take a moment to just sit down on the swing that you will find there in order to take in the magnificent views.

In order to get to the caves, you have to descend down a long flight of steps before turning left to cross a stony beach. The caves are famous for the edible nests of the brown-rumped swiftlet (Aerodramus vestitus), a bird that the locals call 'burung walet'. The nests themselves are made of the saliva of the swiftlets and are steamed in water to create soup that is said to have medicinal qualities. There is a narrow opening to get into the cave but the only thing of note inside the cave itself are the colonies of intermediate roundleaf bats (Hipposideros larvatus) that you can find perched upside-down on the ceiling.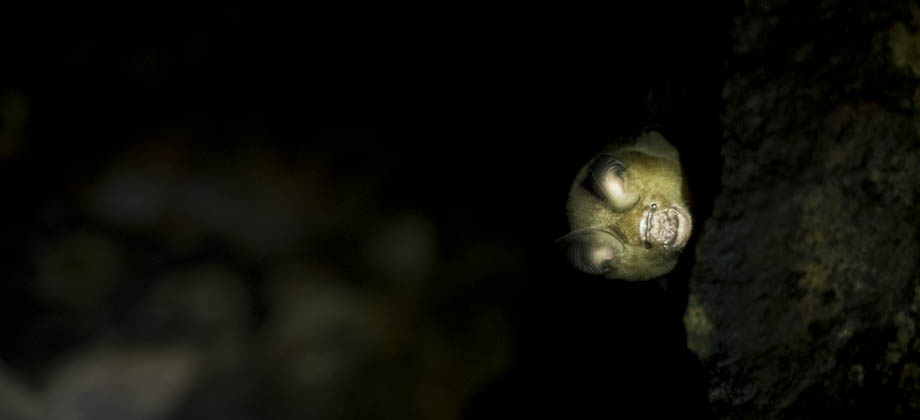 An intermediate roundleaf bat (Hipposideros larvatus)
If renting a motorbike to explore the surroundings doesn't sound appealing to you, Iboih beach is a lovely place to put your feet up and just unwind after a long, tiring day of diving.