0
Similan Islands
Similan Islands
PROTECTED STATUS :
The Similan Islands (
Thai: หมู่เกาะสิมิลัน
) are a group of nine small islands that are located in the Andaman Sea, just 70 kilometres off the coast of mainland
Thailand
. The number of islands are what give them their name, as 'sembilan' means nine in the
Malay
language. These islands are encompassed by the Mu Ko Similan National Park, which was expanded in 1998 to include two islands located a little further away, Ko Bon and Ko Tachai. The world-renowned Richelieu Rock, on the other hand, is part of the Mu Koh Surin marine park which lies just north of Mu Ko Similan alongside the border of
Myanmar
. All these islands and their surrounding regions are collectively considered to be the location of some of the best
scuba diving
in all of Thailand, and the region is even sometimes listed as one of the best for scuba diving in the world. Before we go any further, here is video of the Similan Islands, filmed and edited by a close friend of mine,
Andy Saiden
: One distinct feature of the islands are the large stacks of granite boulders that can be found scattered around some of the islands' coastlines. Unbeknownst to most, these boulders continue on even beneath the waves. These stacks of underwater granite boulders can form an assortment of large structures that scuba divers can explore, from tall pinnacles, tunnels and swim-throughs, to deep canyons. Some of the dive sites that are known for these structures are the pinnacles of Ko Tachai, 'Elephant Head' and 'Deep Six' between island 7 & 8, and 'Christmas Point' just north of island 9.

The iconic 'Sail Rock' and the stacks of granite boulders are an indication of the type of formations that divers can expect to find at some of the dive sites that surround the Similan Islands. The short walk up to this rock will also reward you with some panoramic views that look over Donald Duck Bay
What scuba divers can expect to see beneath the waves
All these granite boulders began their formation millions of years ago, deep within the crust of the earth. Plumes of bulbous masses of magma rose up from below and, over time, squeezed their way through the layers of sedimentary rock. Because these plumes of magma took millions of years to rise up, they were able to cool down and crystallize very slowly, and eventually formed large granite structures known as 'plutons'. Immense pressure broke down the plutons into smaller blocks, and years and years of weathering from the wind and the waves sculpted them into what they are today.
Overcrowding
These islands and their white, sandy beaches are sometimes sensationally referred to as 'secret' or are 'unexplored', but this is very far from the truth. Day trips by speedboat from Phuket and other nearby regions such as
Krabi and Ao Nang
are very common, and they shuttle large swarms of thousands of tourists to the islands on a daily basis. These boats tend to be small vessels and are quite often crammed to the brim, so they can be a very unpleasant ride when the sea gets even a little bit choppy. The day trip packages normally include a pickup directly from the hotel in Phuket and the two-hour or so shuttle to the pier at the small fishing village of Thap Lamu. For scuba divers, the best and by far the most rewarding choice is a liveaboard. Sleeping on the boat means that your first dive of each day is shortly after sunrise, and your last not too long after sunset, which means that up to four dives can be squeezed into each day. When this post was written, there were roughly three to four boats even at the most popular sites, but apparently there had been many times that number in pre-pandemic times. The sheer number of tourists that have visited the area in the past has certainly left a toll. So much so that the government of Thailand has had to take several steps to not only allow the area to recover, but perhaps also to increase the chances of their planned 2022
UNESCO heritage site
bid:
All the islands are closed to tourists during the Monsoon season, from May to October
Islands 1-3 are off-limits due to turtle nesting sites and reef conservation efforts
Ko Tachai is closed to tourists indefinitely, although scuba diving around the island is allowed
There is no longer any overnight accommodation on any of the islands
The limit of day trip tourists is now 3325 people per day
The limit of scuba divers on liveaboards is now 525 people per day
Camping on any of the islands is prohibited. The only way you can sleep in the national park is on a liveaboard
Fishing is prohibited in both Similan and Surin National Parks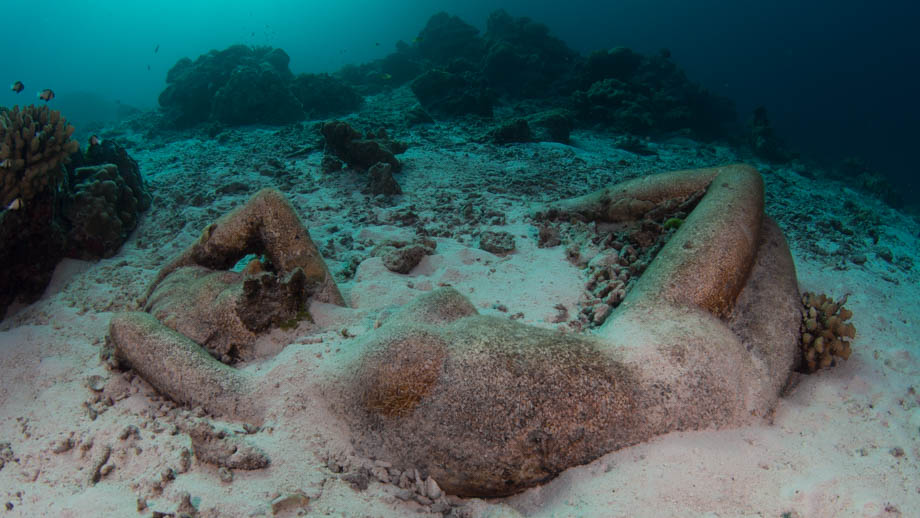 The dive site 'Hideaway' has an assortment of statues of mermaids, of the Thai Zodiac, and monuments for victims of the 2004 tsunami
Diving Similan
The dive season in the Similan islands usually runs from November to April, which is essentially the entire dry season. However, later on from February to April, nutrient-rich upwellings cause plankton blooms, which unfortunately do reduce the visibility, but also tend to attract much larger filter feeders--the manta rays
(Manta spp.)
and whale sharks
(

Rhincodon typus

)
. These gentle giants are normally seen much further north of the Similan Islands, at Ko Bon, Ko Tachai, and Richelieu Rock--all dive sites where the currents tend to be stronger. Don't fret, however, if the gentle giants remain elusive, as there is plenty of other marine life to enjoy. The ubiquitous granite formations around the islands make the underwater landscapes very dramatic. Steep valleys, pinnacles, and swim-throughs are covered with all manner of bright and colourful coral. Fields of table coral, staghorn coral, and the occasional giant barrel sponge
(

Xestospongia testudinaria

)
are interspersed around numerous bommies, whilst enormous Gorgonian sea fans
(

Gorgonia spp.

)
are found at the dive sites that have stronger currents. Some sites, like those found at Ko Tachai, can have swirling, omni-directional currents, and the sea fans there appear almost mutated, as their parallel layers of growth face several different directions.
Nearest Hyperbaric Chambers
Hyperbaric Services, Patong : (076) 342518 Vachira Hospital, Phuket City : (076) 211114 Bangkok Phuket Hospital, Phuket City : (076) 254421
Interactive Location Map
Hover over the dive sites

below to uncover their names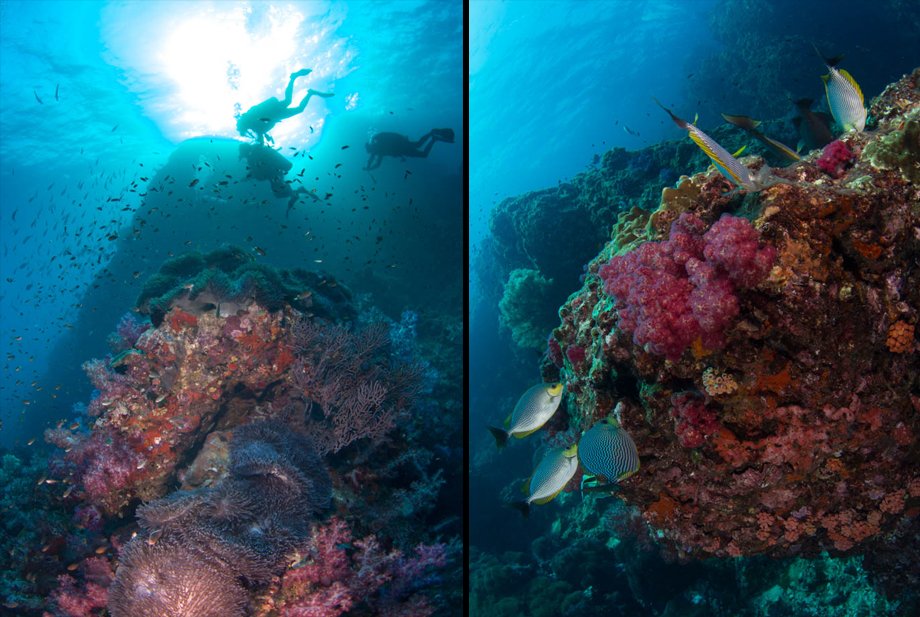 Java rabbitfish (

Siganus javus

) can be seen nibbling on benthic algae in the image on the right
The diverse and healthy mix of both hard and soft coral undoubtedly attracts a large amount of marine life. Bursts of vibrant colours can be seen above the reef as shoaling butterflyfish, angelfish, and surgeonfish chomp down on coral polyps and pick away at filamentous algae and tunicates. Triggerfish are also frequently encountered, the most common species being titan triggerfish
(

Balistoides viridescens

)
, clown triggerfish
(

Balistoides conspicillum

)
, and Indian triggerfish
(Melichthys indicus)
. Scuba divers may also encounter non-schooling, solitary fish like pufferfish or porcupinefish, or even the odd-looking scrawled filefish
(

Aluterus scriptus

)
, its lips permanently puckered as if it were swimming around looking for something (or someone) to kiss.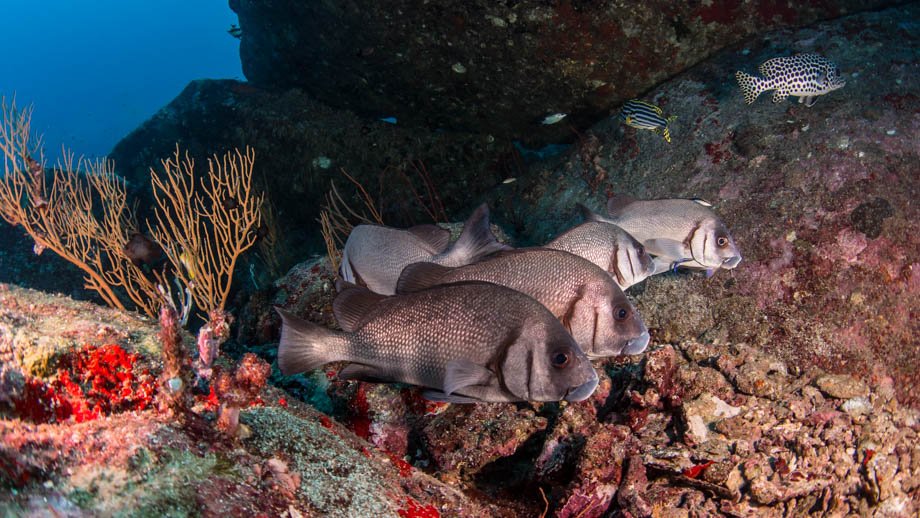 Brown sweetlips (

Plectorhinchus gibbosus

) 'parked' at a cleaning station. Bluestreak cleanerwrasse

(Labroides dimidiatus)

can be seen cleaning the gills of the individual at the back. An oriental sweetlips

(Plectorhinchus vittatus)

and an Andaman sweetlips (

Plectorhinchus macrospilus

) can also be seen