0
Pauh Campsite
The Sungai Pauh Campsite
The Sungai Pauh Campsite is located at the Forestry Department (Jabatan Hutan) in the residential area of Taman Sedia, which lies in Tanah Rata in Cameron Highlands and is one of the only camping spots that is readily available in this area.
Before we go on, please jot down the numbers that are listed below. If you do see any suspicious behaviour when out hiking, encounter things like traps and snares, or even see protected animals or their parts that are sold as either collectibles, pets, or for (so-called) medicine, then please do not hesitate to contact the wildlife crime hotline. Be sure to try and document it as best you can with photos or video without putting yourself in danger, and take note of the details: descriptions of those who are involved, as well as when and where it took place.
"The Wildlife Crime Hotline, managed by the Malaysian Conservation Alliance for Tigers (MYCAT), provides YOU an avenue to report offences involving endangered wildlife in Malaysia. We protect the identity of all informants, only key info of the reports are forwarded to the authorities."
Emergency Numbers
Wildlife Crime Hotline 019-356 4194 Wildlife Department 1800 885 151 Cameron Highlands Forestry Department 09–3551 060 Cameron Highlands Hospital 05-4911 966 Cameron Highlands Bomba 09-4911 003 Tanah Rata Police Station 05-4915 443 Ringlet Police Station 05-4956 222 Kg. Raja Police Station 05-4981 222 JKR Cameron Highlands 05-4911 105
Getting There
In order to get there, you need to make your way north from the main area of Tanah Rata and just after the Smokehouse Hotel (just before the Cameron Highlands Golf Course), you will reach a junction where you will need to turn right that has a huge sign that says 'Iris House Resort'. The road will lead to a tiny roundabout where a right turn there will bring you to the Forestry Department (Jabatan Hutan) on the left fork of the road. Go past the guard booth and make another left turning that winds its way down a narrow road until you can go no further. Park alongside the road as the campsite is just a short walk from this point.
Getting to the Sungai Pauh Campsite from the 'Iris House Resort' junction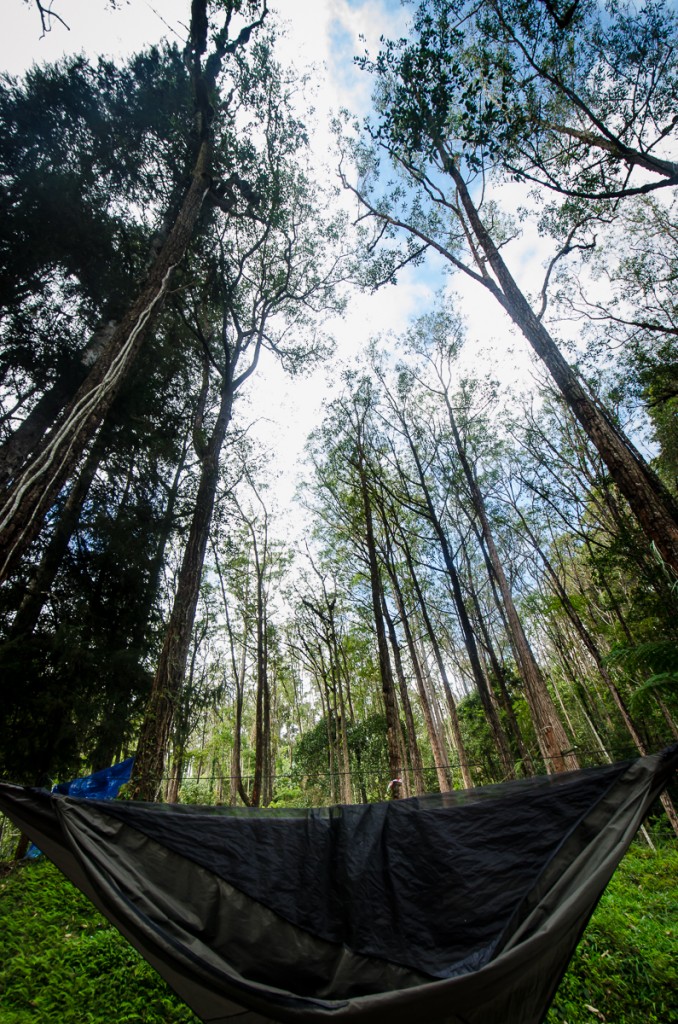 You will end up feeling quite spoilt here if you are used to camping in the rough as you are surrounded by amenities. There are barbecue pits that lie under sheltered gazebos, toilets with cold running river water, as well as (fairly dirty) shower rooms. There are plenty of trees around for those who use
hammocks
and a large number of tent pitching blocks for those with tents. I found the water from the shower to be bearable although there were those in the group who claimed that the water was freezing. There is also a river that runs through the campsite if you would like an alternative place to wash up. The campsite is also conveniently lit by fluorescent tubes that are hung from some of the trees. I found the campsite to be relatively clean and pleasant although there were large groups of other campers who made a lot of noise and were inconsiderate enough to blast loud music from speakers. I would recommend that you make bookings in advance (either by calling the office at
+605-491 1384
or Aimimhazli at
+6017-208 3189
) to confirm a spot if you plan to make your way there either over the weekend or over school or festive holidays. Even though this campsite can accommodate large groups of campers, it can still end up quite full. The entry fee is
MYR2
and the camping fee is
MYR5
per person per night, both payable at the booth at the campsite itself.
A

Nemo Galaxi Tent

and a

Hennessy Hammock

strung up behind it.