0
November 21, 2012
Posted by
Ramon Fadli
in
Alpine
,
Alpine, Arctic & Antarctic Tundra
,
Budget
,
Class 6
,
Glaciers
,
Hiking
,
Lakes
,
Mountains
,
Nepal
,
Peak Labels
,
Pradesh 1
,
Solo Hike
EBC Day 14 – Gokyo & Gokyo Ri
Gokyo Ri
*Click here to learn more about the difficulty rating.
As I gazed out of my room window at the Cho Oyu Guesthouse, slight movements caught my eye as plump snow cocks
(Tetraogallus himalayensis)
scuttled around in the near distance, dashing from cover to cover. The views here were absolutely stunning as the guesthouse overlooked Gokyo Cho, and had a common room that was decked out with large windows to showcase this. I thought to myself that the
NPR200
that I was spending to stay the night was serious value for money!
The Perilapche peaks (

elevation : 6017 & 5839 m

) overlooking Gokyo Cho

(hover over the image to change the lighting)
I still felt a little weary but decided to give the short Gokyo Ri (Nepali : गोकयो री)
hike a shot anyway. As I made my way up the 45-degree incline, a rather depressing realization hit me--there were other hikers that seemed to be much fitter than I was. This had not been so obvious before as the few who had passed me over the last two weeks had mainly been porters, and they had always seemed as if they were in a great rush. I tried consoling myself with the thought that most of these other hikers had started the Gokyo Ri hike fresh that day, and had probably made their way to Gokyo via Machermo, so had only been hiking for a week or so. Most of them had also employed the services of porters to carry their heavy bags for them. Nothing I told myself seemed to console me though, and the pain that had begun to shoot up from my feet due to my worsening blisters did not help matters in the slightest.
Countless cairns tarnishing the landscape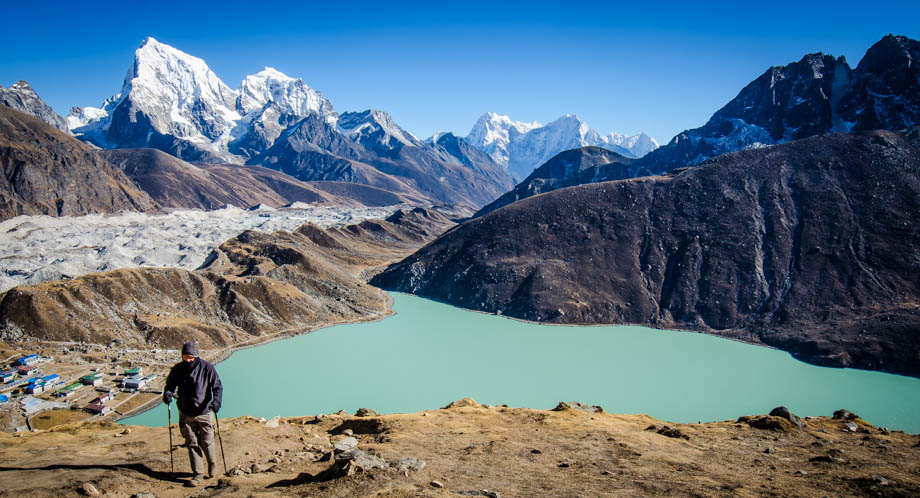 Looking back during the ascent to Gokyo Ri
The incline just did not seem to let up. I realised then that I should instead have hiked to the
4th and 5th lake
, and only hiked up to Gokyo Ri the next morning after I had gotten some decent rest. My cough had been exacerbated by the effort so I decided to just stop where I was (
elevation : 5244 m
) and just enjoy the views all around me. The views at the
Renjo La pass
were bound to be as good, if not better, than whatever Gokyo Ri could offer at the top anyway. Nonetheless, I reminded myself that I should eat lunch before a hike like this in the future.
An almost 180-degree view from Gokyo Ri looking south-east

(hover over the image to see the labels)
I met Florian and his mother on the way down from Gokyo Ri. It turned out that they had the same itinerary as me but had managed to cross the Kongma La pass. They told me that other guides and hikers had tried to dissuade them from attempting the passes but that they had gone ahead and done them anyway. I was very glad that they did, and even more glad that they had been reunited with each other!

The peaks of Kang Taiga (

elevation : 6685 m

) and Thamserku (

elevation : 6608 m

) framed nicely by the Ngozumpa and Perilapche moraines
By the time I reached the lodge, the sun was setting and I found myself to be completely famished. I ordered dhal bhat (
NPR500
) and a fried egg (
NPR200
) for dinner. It seemed that my body must have been craving electrolytes as the salt on the egg was absolutely scrumptious. I ended up having a chat with a Japanese hiker that I had bumped into on the way to
Dzongla
about his Buddhist mask that he brought everywhere with him. A fairly strange way to end the day!
Suunto Movescount Stats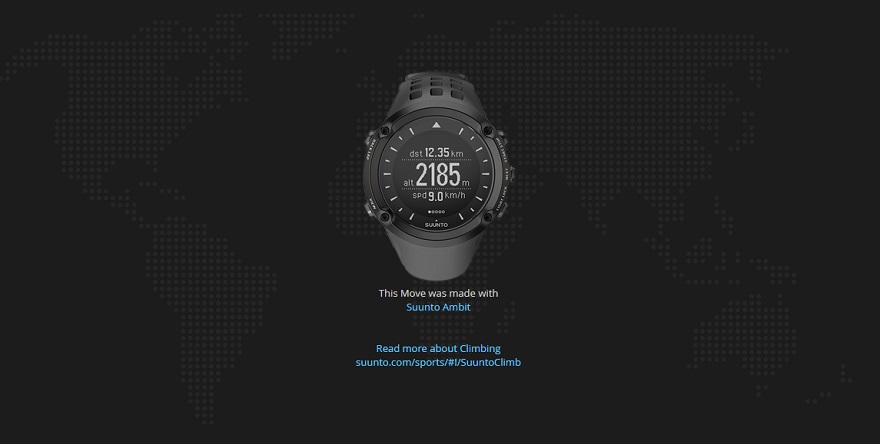 Download GPX file here (right click and save link as)