0
November 20, 2012
Posted by
Ramon Fadli
in
Alpine
,
Alpine, Arctic & Antarctic Tundra
,
Budget
,
Glaciers
,
Hiking
,
Mountains
,
Nepal
,
Passes
,
Pradesh 1
,
Solo Hike
EBC Day 13 – Cho La Pass
Leaving Dzongla

It was still chilly that morning but the perfectly clear skies were an indication of good weather. I added an extra layer to keep me warm but began to perspire as soon as I started walking, so was forced to quickly take it off. Sweating in cold weather can be quite dangerous as sweat that is not wicked away can freeze and will end up lowering one's body temperature. The trail was fairly flat at first as it made its way north-west, and had an elevation gain of only a hundred metres in the first two kilometres or so. There were a few frozen stream crossings, and also a few sightings of unidentified rodents that bounded away, surprised by my sudden appearance. This extra speed and stealth is one of the great things about solo hiking, but the best thing by far is the ability to completely immerse oneself in the sights and sounds of nature. I decided to stop for a quick simple breakfast of a gluten-free muesli bar and ensured that I was sufficiently hydrated before continuing on. The next two kilometres had an elevation gain of almost 400 metres, and I knew that the altitude and the weight of my pack would soon start to weigh me down, so I decided to pace it and target for just three similar short stops before hitting the village of Thagnak (
elevation : 4700 m
).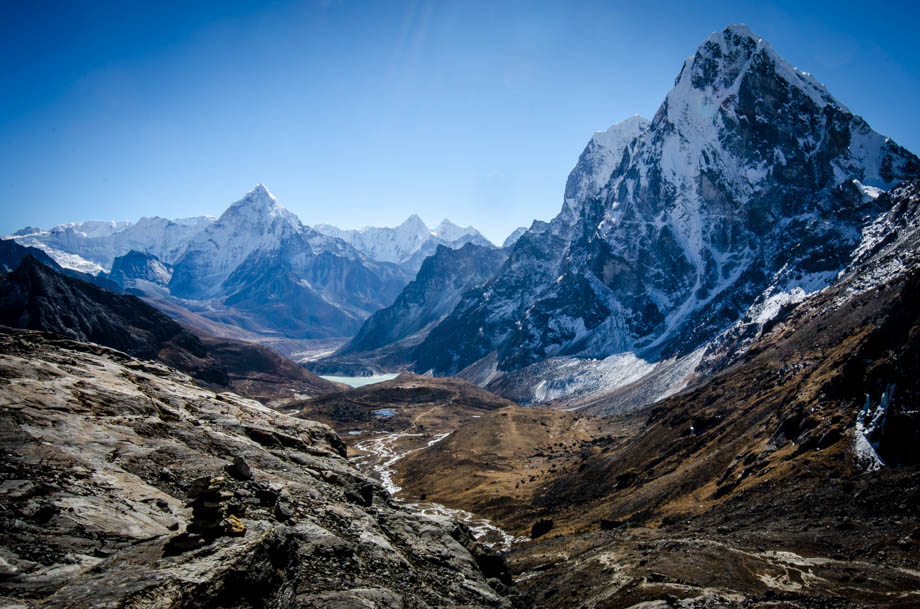 Cholatse (

elevation : 5643 m

) on the right with the triangular peak of Ama Dablam (

elevation : 6812 m

) in the distance, framed by the valley.
About three kilometres in, the trail swerved northward and made its way up a couloir that was filled with gigantic boulders, and seemed to be directly aimed at the little gap between the peaks. Porters seemed to appear out of nowhere, scurrying upwards seemingly oblivious to the beauty that surrounded them. I wasn't quite sure why they were in such a rush and did not understand how anyone could ever get used to these kinds of views. The scale of the mountains that surrounded me made me feel so small and so insignificant, and the thought of the eons that had to pass for these shapes to take form and the sheer amount of mass that had to be moved to make them just seemed so impossible to grasp. Alpine choughs
(

Pyrrhocorax graculus

)
flew way above me in the air currents, their shrill cries permeating the air, almost as if they were wondering why we were trespassing in their domain. I couldn't not take my time to appreciate all of this, as well as take numerous photographs along the way. After a while, I caught sight once again of those porters that had passed me earlier, as they sat resting on some boulders. As I passed them, they seemed to be quite fascinated with my Nikon D7000 and my GoPro for some reason. Looking upwards, I saw tiny figures emerging over the hill who were coming from the other direction. Before that, I had found it hard to know where I was heading as the Cho La pass itself could not be seen from down below, and all I could do was to just follow the trail in front of me. Those figures turned out to be runners of the Solokhumbu Trail Run, and the Nepali-looking runner in the lead was so hasty that he almost lost his footing as he passed by.
Cho La Pass
As I rounded the top of the climb, a blast of wind suddenly hit me. The valley below had been relatively sheltered but up here things were left very exposed. The magnificent glacier lay just in-front of me, its beauty and raw enormity both inspiring and terrifying at the same time. The thickness was very evident when looking at the terminus of the glacier--a column of ice pushing up vertically 10 metres, maybe even 20, off the rocks below.
The terminus of the Cho La glacier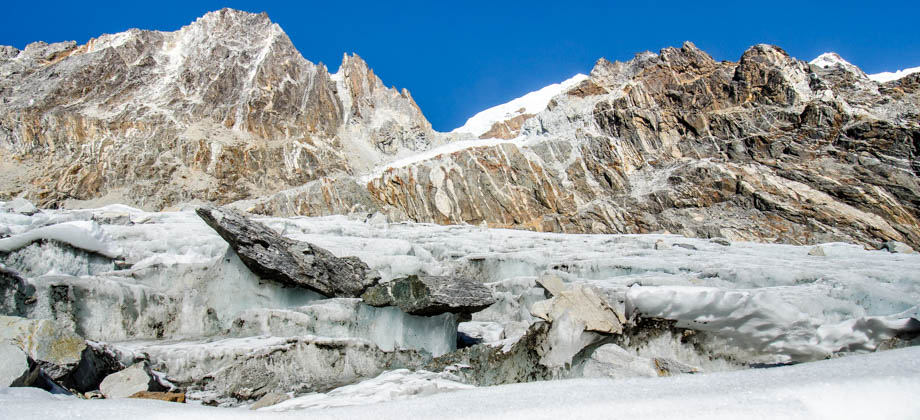 Cho La glacier
From there, the trail followed the left side of the pass very closely for a while, and kept a good distance from the treacherous and crevasse-filled glacier to the right. The shoulder ran out soon enough though and I was forced to make my way out onto the snow-covered glacier itself. It seemed to be a lot more stable in the middle section, but instead of following a trail here, I followed a succession of footprints that had been left in the snow. There were sections that were incredibly slippery and made me wish that I had brought along micro-spikes, but they were definitely passable with just hiking shoes just as long as care was taken. A large French group then passed me by as I made my way over to the other side of the glacier and began the last climb up towards the prayer flags at the top of the pass
(
elevation : 5420 m
).
The French group blocking the view as I looked back south from whence I came