0
Doi Inthanon
Determined to make it to Doi Inthanon, Thailand's highest peak, we made our way north to the
Chang Pheuk Station
first thing in the morning. Locating a songthaew that was bound for
Chom Thong
district was very straightforward as they were apparently fairly frequent. The songthaew departed almost immediately for the two-hour journey south and only ended up costing
THB35
per person. The journey was along route 108 which was a main road, so I kept my eye on the
maps.me
app to ensure that the 'stop' button was pressed just before we reached the (
Wat Phra That Si Chom Thong
) temple.
Directions
To get to the base of the mountain by car or motorbike, one needs to head southwards towards the district of Chom Thong. Route 108 lies parallel to the airport runway and is the most direct way to get there but this road can get quite congested so it may not be the fastest way. There are a few other options that may be faster, so be sure to check google maps for road congestion before you depart. The right turn to route 1009 that heads up the mountain lies just under 1 kilometre before Wat Phra That Si Chom Thong. From the junction, following route 1009 heading north-west for about one hour will bring you to the peak of Doi inthanon.
Getting to the base of the mountain
Songthaews that were waiting to bring tourists up the mountain were to be found just outside the temple. We quickly nipped into the temple grounds in order to use their restrooms, and then came straight back out again to compare prices. The journey up to the peak would have cost us
THB140
one way, and
THB280
for a return trip. To charter the entire vehicle with four stops cost
THB1500
, so splitting the cost between the four of us would amount to
THB375
each, a no-brainer if you ask me.We departed for the peak at 10:20, the songthaew making its way around the outskirts of Chomthong town before winding its way up the narrow mountain road. We reached the first toll fairly soon after and I had to hop out the pay the
THB300
/pax park fee for foreigners (
THB50
/pax for Thais) and the
THB30
entry fee for vehicles. Touts quickly ran up to us to try and sell their wares, which were basically snacks and drinks. The entire journey to the peak from Chomthong town took us an hour, culminating at the base of a very wide stairwell that lead up to the mossy forest on the peak of the highest of the four ultra-prominent peaks of Thailand (
elevation : 2565m
).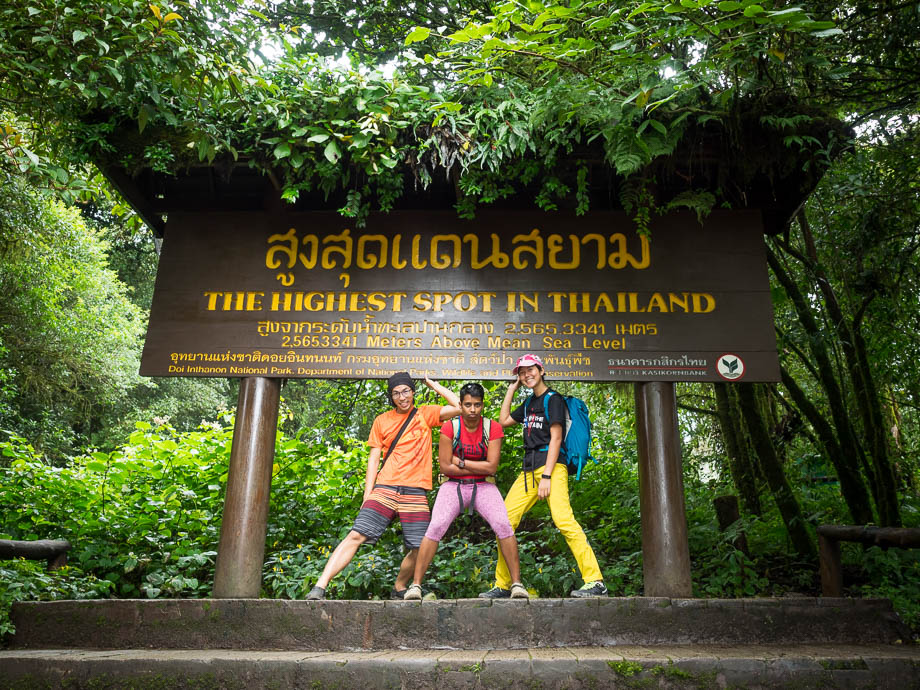 Doi Inthanon's summit sign
The path continued along towards the monument of King Inthawichayanon, who was born Prince Inthanon (เจ้าอินทนนท์) and was one of the last kings of Chiang Mai and the penultimate King of Lanna. He was particularly concerned about the northern forests of Thailand and made efforts to preserve them, which is why the name Doi Inthanon was given to the mountain in his honour. The short walkway lead back to the carpark via the mossy, epiphyte-filled grove, and back to the carpark and the Summit Cafe. We crossed the road and made our way to the Ang Kha Nature Trail (อ่างกา).
The monument of King Inthawichayanon
The mossy forest of Doi Inthanon