0
November 19, 2012
Posted by
Ramon Fadli
in
Alpine
,
Alpine, Arctic & Antarctic Tundra
,
Budget
,
Class 5
,
Glaciers
,
Hiking
,
Mountains
,
Nepal
,
Peak Labels
,
Pradesh 1
,
Solo Hike
EBC Day 12 – Kalapattar
Kalapattar
The day before had been the first day of the entire trip where I would actually have considered myself to have been exhausted. Perhaps that is why my dreams at that point were so vivid.. or maybe it was just the elevation? The dream that I had that night was strange and very muddled, yet was somehow very clear. Some researchers think that the decreased oxygen levels at high elevations somehow affect the recollection of dreams, whilst others think that the shorter sleep cycles make us more likely to wake up during the REM phase. Whatever the reason was, the dream was about time, and I recall watching myself talk to myself about time, as well as discuss the effects and consequences of it. It was also very cold that night, so cold that I had to put off going outside to the outhouse, as anywhere outside my sleeping bag was simply freezing. Fortunately, I did not have to hold it for very long for I was up by 04:00, fresh and ready to tackle the highlight of the EBC trip: Kalapattar
(
elevation : 5643 m
)! It turned out that there were a few others who were awake who had had the same idea, so I joined up with another hiker called Jasni, accompanied by his guide Binod, as we made our way out of the lodge. It was completely pitch black and the only things that could be seen were whatever that fell within the cone of our headlight beams. The magnificently clear winter skies ensured that the stars were also out in their blazing glory, the ancient astrological beings suspended up above us watching as we plodded along the dry lake-bed, stumbling about in the darkness.
*Click here to learn more about the difficulty rating.

The trail began gently enough with an inclination of around 30 degrees, but it became steeper and steeper as it switch-backed up the hill, closing in to close to 50 degrees or so later on. Jasni's pace had slowed dramatically as we hit the steeper sections, so rather than slowing down (and cooling down) too, I decided to continue on alone. He was safe with his guide after all. My
Suunto Ambit
was clipped to the outside of my jacket at that point so that the warmth of my body would not interfere with the temperature readings, and the display showed that it was only -10 degrees. There was a brisk wind in the air then and its windchill effect made it feel so much colder. I realised that I had also made a silly mistake, having decided to wear just light cross-trainers since the entire walk would only take two hours or so. But as the wind picked up as I made my way forward, I realised that not only was my face numb, but that my toes were getting quite numb too. Fortunately I was fairly close by then, so I dashed up to the prayer flag-festooned summit as quickly as I could, making it just in time for some sunrise shots. I realised then that this would be the highest point of the entire trip as the high-altitude passes that lay in store for me over the next few days would not surpass an elevation of (
5500 m
).
The magnificent view from Kalapattar

(hover over the image to see the labels)
Close-up of Mount Everest (

elevation : 8848 m

) and Nuptse (

elevation : 7861 m

)

(hover over the image to see the labels)
As the sky began to lighten and the tips of the mountains began to glow, more and more hikers began to arrive, so I decided to turn back around and make my way back down to the lodge. The entire hike took me two hours and fourty minutes. I took my time at the lodge before setting off for Dzongla (
elevation : 4830 m
), and decided to order cheese egg fried rice (
NPR490
) with two mugs of lemon tea (
NPR160
) for brunch first.
Suunto Movescount Stats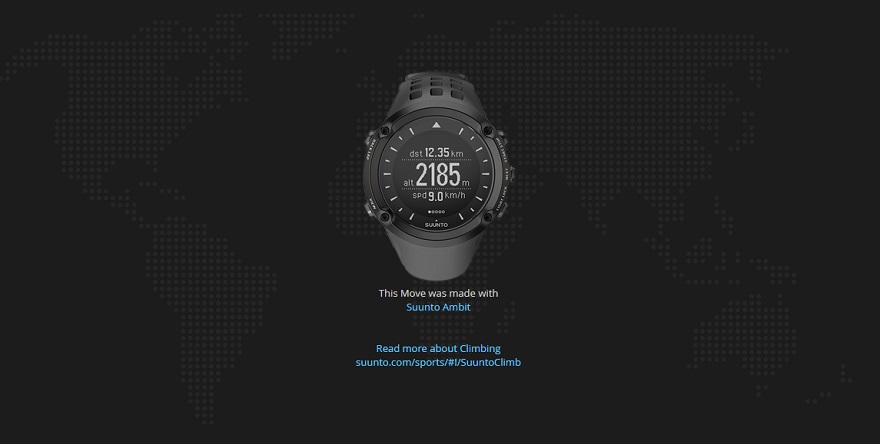 Download GPX file here (right click and save link as)