0
July 19, 2017
Posted by
Ramon Fadli
in
Astronomy
,
Class 1
,
Coastlines
,
Day Hike
,
Diving
,
Hiking
,
Indonesia
,
Islands
,
IUCN Protected Category 2
,
Looped Hike
,
National Parks
,
Nusa Tenggara Timur
,
Reefs
,
Tropical Coral Reefs
,
Tropical Savanna
,
UNESCO
Komodo Island
Gili Lawa Darat Hike
Sometimes divers decide to take a short break and go for a sunset hike instead. One of the best places to do this (probably second only to Padar Island) is on the island of Gili Lawa Darat. The island lies in-between Gili Lawa Laut and the north-east tip of Komodo island. Between all these islands, you'll find the locations of fantastic dive sites: 'The Cauldron' (a.k.a 'Shotgun'), between Gili Lawa Laut and Gili Lawa Darat; and 'the Golden Passage' (a.k.a 'Darat Passage'), between Gili Lawa Darat and Komodo Island. The Gili Lawa Darat bay on the southern side of the island provides shelter from the strong currents that can be found around the Komodo National Park, making it perfect for calm night dives and as a place for boats to moor (anchoring is not allowed here).
*Click here to learn more about the difficulty rating.
Since the corals are fairly healthy here (makes for good snorkeling conditions), and the start of the trailhead begins at the beach, you may on occasion find crowds of people. Unfortunately, the beach itself is full of rubbish both from those who discard them there, as well as from jetsam that has been washed ashore.
The view as one ascends the trail, looking down on Gili Lawa Darat bay
The trail itself forms a loop, with a steeper section that ascends straight up to a viewpoint (Elevation: 160 m) that begins a little further east from the beach. The hike from the beach up to this point takes about 15 minutes. From there, the trail continues along in a counter-clockwise direction along a contour that eventually begins to descend back down to the beach. There is a junction before this however, that gives you the option of keeping right in order to head up to the cairn on the peak of Gili Lawa Darat (Elevation: 210 m). It takes approximately 20 minutes to get to the summit from the first viewpoint. Both of these elevated vantage points truly showcase how barren the islands are during the dry season, especially when contrasted with the long white sandy beaches and the turquoise water down below.

The view gets better the higher you go!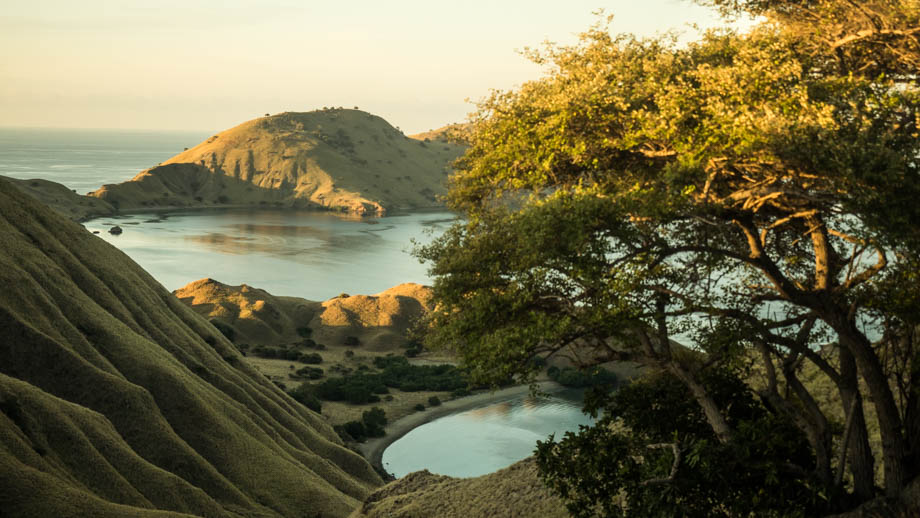 The rugged, barren terrain of Gili Lawa Darat
The summit of the island offers the best views when sunset inevitably comes along. The twin-peaks of the Sangeang Api volcano (Elevation: 1949 m and 1795 m) lie far off to the west, and are accompanied by the much closer headland of 'Toro Batu Moncong'. As the sun sets behind the peaks of Sangeang volcano, the details begin to fade, and the silhouette of the volcano and its smoke plume seem as if they were cut out from the blazing sky.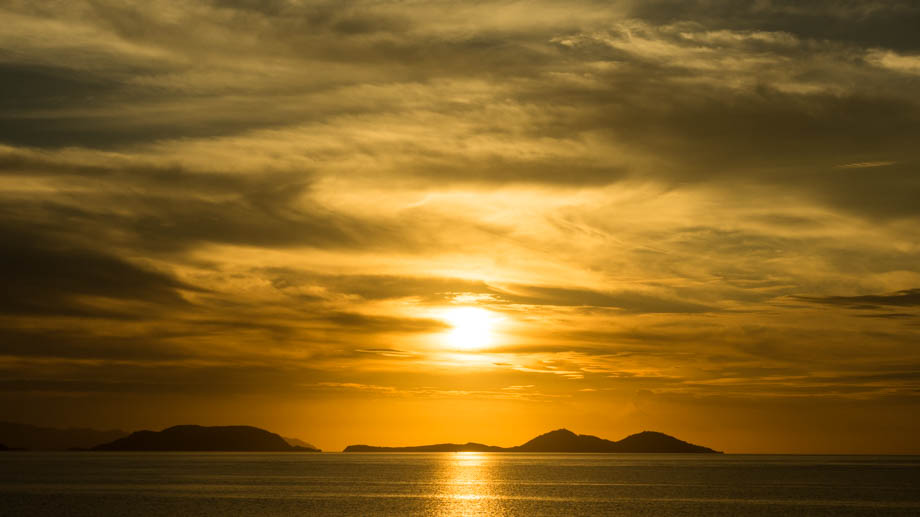 Komodo Sunset
Suunto Movescount Stats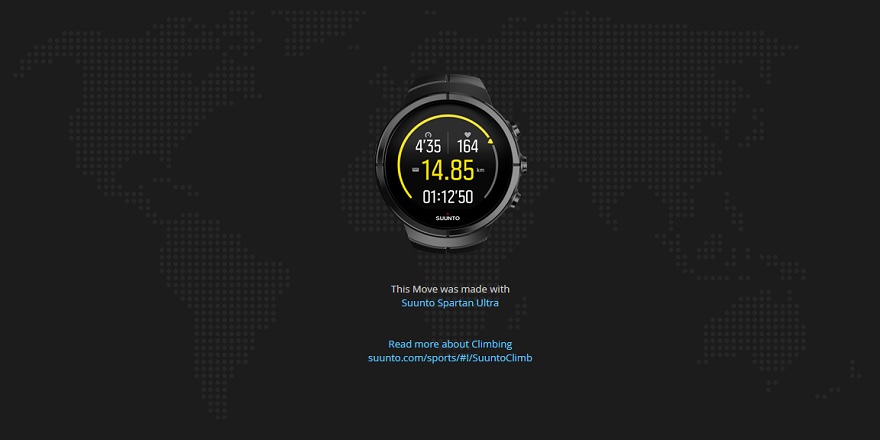 Download GPX file here (right click and save link as)