0
Personal Emergency Preparedness
Access to Survival Kits
Physical Conditioning
Knowledge Acquisition
Mental Fortitude
After scouring the posts, comments and articles by the online survivalist
community
(and a lot of help and ideas from Youtube's
Nutnfancy
), I have decided to build what I like to call a Personal Emergency Preparedness Kit. This kit will be somewhat similar to a lot of Bug-out Kits that can be found out there but will have a more modular design comprising of 2 main kits (Medical and Survival), that can also be broken down into smaller, more specialized, modules. I decided to expand the Medical Kit to a larger 'Level 2' kit that would be able to allow myself (and others) to provide First Responder Assistance to not just myself but also to those around me.
Kit Contents
These are the items that I plan to include :
MEDICAL KIT
PROTECTION MODULE Surgical Masks, Gloves, CPR Face Shield
IRRIGATION MODULE Alcohol Swabs, Hand Sanitizer*, Irrigation Syringe, Saline Solution, Dry Powder Spray
BANDAGE MODULE 1 Antiseptic Plasters, Non-antiseptic Plasters, Butterfly Strips, Blister Pads
BANDAGE MODULE 2 Gauze Swabs 10x10, Gauze Swabs 7.5x7.5, Eye Pad, Paraffin Gauze Dressings, Waterproof Film Dressings
BANDAGE MODULE 3 Elastic Conforming Bandages, Medical Tape
SUPPORT MODULE Cravat Bandage, Crepe Bandage, SAM Splint*
SWABS MODULE Cotton Buds, Insect Bites Swab*, Burn Swab, Muscle Ache Swab, Tiger Balm*
PHARMACEUTICAL MODULE Ultracarbon, Alucid, Diarrhea Medicine*, Paracetamol, Ibuprofen, Antihistamine
BLOOD STOPPER MODULE Blood Clotter*, CAT Tourniquet
MEDICAL TOOLS Digital Thermometer, Flat-head Tweezers, Scissors
DOCUMENTATION Notebook & Pen, Field Guide of Wilderness & Rescue Medicine
MISCELLANEOUS Emergency Blanket, Rehydration Tablet, Rash Relief Cream
SURVIVAL BELT
POWER MODULE

Olympus OM-D E-M1

, Extra Batteries, Powerbank & Cables,

Kindle Paperwhite

LIGHT MODULE Black Diamond ReVolt Headlamp,

LED Lenser P7.2

, Blinker, Candle*, Flare*
SAFETY MODULE

Leatherman Freestyle

,

Suunto Ambit

,

Adventurer Opti Water Purifier

, GPS unit, SPOT Connect Satellite Communicator
CPR MODULE Gloves, Alcohol Swabs, CPR Shield
SURVIVAL KIT
TOOL MODULE

Survival knife

, Multitool, Rescue Cutter, Wire Saw, Suunto A-10 Orienteering compass, CRKT Mini Spork
SIGNALLING MODULE Whistle, Signalling Mirror, Permanent Marker
FIRE MODULE Flint, Flintbar Firestarter, Lighter
PROTECTION MODULE Emergency Blanket
HYDRATION MODULE Water Treatment Tablets*, Non-Lubricated Condoms, Twist Ties
REPAIR KIT Duct Tape, Cable Ties, Safety Pins, Sewing Needle, Thread, Paracord Bracelet
FISHING MODULE Fishing Line, Fishing Hooks, Swivels, Sinkers, Bobbers*
COMFORT MODULE Eye covers, Ear plugs
*Items that have yet to be obtained
Personal Emergency Preparedness Kit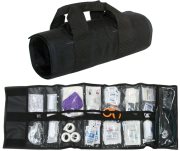 I have decided to get the
Blackhawk Medic Roll
that was recommended by
Nutnfancy
as it provides quick access to the contents of the kit when needed. The pouches are also transparent which allows you to get a good look as to what is inside. According to the reviews I have read, the capacity is more than sufficient for what I will be needing. The roll is apparently also very, very durable. I was also looking for something that could match the modular black military rucksacks that incorporate molle webbings. I ordered the Medic Roll through
OpticsPlanet
and it cost USD$29.49.
Next : Personal Emergency Preparedness II