11
Topo: Batu Caves
Damai Crag
The limestone formations that make up the Batu Caves (Tamil: பத்து மலை) complex are said to be hundreds of millions of years old. The complex itself is mainly known for the Hindu temples (the main one dedicated to Lord Murugan), and the heavily publicised annual Hindu pilgrimage that takes place during Thaipusam (Tamil: தைப்பூசம்). Batu Caves derives its name from Sungai Batu (Stone River), the river that runs past the limestone complex.
Less known to the world is Batu Caves' significance to local rock climbers and the weekend pilgrimages that they make to its beautiful walls. There are plenty of limestone walls to be found around the complex, many of them decorated with overhangs and tufas, that offer some fantastic rock climbing for climbers of all levels. The more popular crags like Damai tend to be more "maintained" and don't have the dense vine- and tree-cover that inevitably tends to build up on the rockface over time.
Getting There
Getting to the Damai crag can be fairly tricky if you have never been there before as it is hidden deep within the narrow, tangled roads of 'Kampung Wira Melayu' village. There are a few bus options available (Rapid KL U1 & U10) that will stop at the Pinggiran Batu Caves bus stop, but this stop is still fairly far from the crag itself and requires a bit of walking to get to. The best way by far is to drive there or to get in contact with some local climbers and hitch a ride with them (directions from the main temple can be found below). The Damai crag lies just next to a football field and a small mosque and can be clearly seen from a distance.
Directions to the Damai Crag from the main Batu Caves temple (and KTM train station)
There is a small shop located right next to the crag that rents out climbing gear from harnesses and shoes to sets of quickdraws. If you have no lead climbing experience and are looking to learn the basics, or are experienced and just need a climbing partner and/or a guide, you can contact Alif from
Verticale
for guided tours.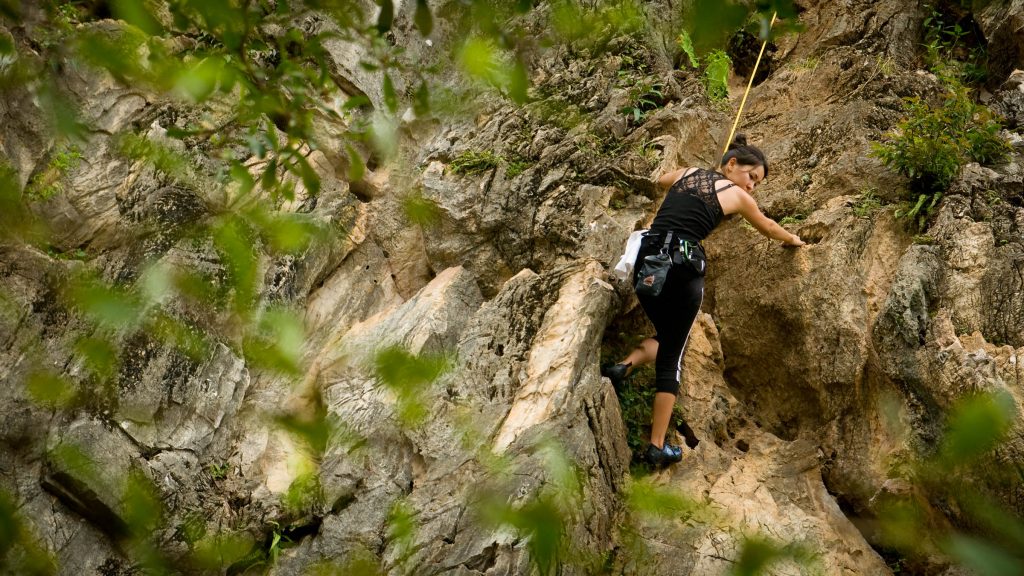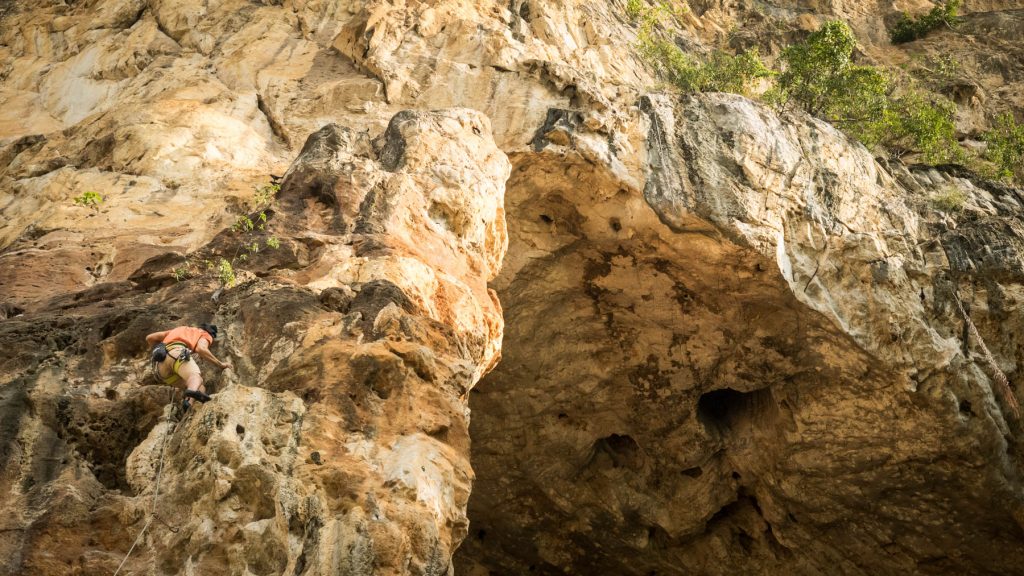 You can find the topo for the main wall and the left wall below. Please bear in mind that there is another wall off to the right that is still being developed and the names and grades have yet to be released. I will update this post once they are.
Damai Left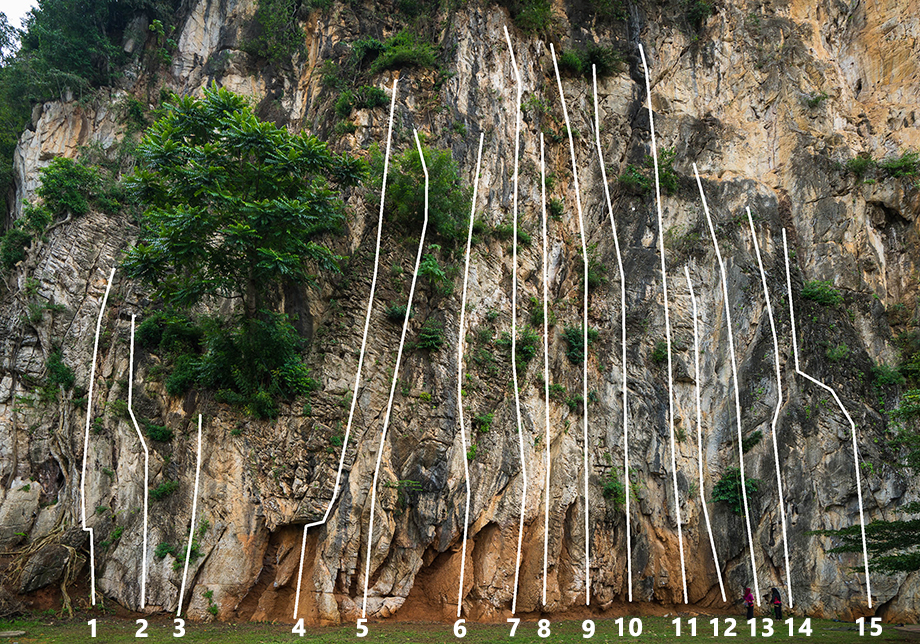 | # | Route | Type | Length | Difficulty |
| --- | --- | --- | --- | --- |
| 01 | Akar Molek | Sport | 15 m | 5c |
| 02 | Muji* | Sport | 14 m | 5c+ |
| 03 | Puteri | Sport | 9 m | 5c+ |
| 04 | Unknown | Sport | 26 m | 6a+ |
| 05 | Unknown | Sport | 28 m | 6a |
| 06 | Base Jumper | Sport | 26 m | 6a |
| 07 | Sunday | Sport | 35 m | 6a |
| 08 | Mesin Jahit (Sewing Machine) | Sport | 26 m | 6a+ |
| 09 | Senang Gila (Real Easy) | Sport | 35 m | 6a |
| 10 | Tq Doyork | Sport | 35 m | 6a+ |
| 11 | Singing Wall | Sport | 32 m | 6a |
| 12 | 3 Brothers | Sport | 24 m | 6b |
| 13 | Jah Love Climbing** | Sport | 24 m | 6b |
| 14 | Water on the Rock | Sport | 22 m | 6a+ |
| 15 | Sasau | Sport | 22 m | 6a+ |
Damai Main (Left)
Damai Main (Right)
| # | Route | Type | Length | Difficulty |
| --- | --- | --- | --- | --- |
| 10 | Reservoir Doggin' | Sport | 10 m | 5c+ |
| 11 | Ghana Power | Sport | 10 m | 5c |
| 12 | Lead Man | Sport | 12 m | 5c |
| 13 | Lightning Grip* | Sport | 25 m | 6b |
| 14 | Golly Gully | Sport | 18 m | 5c |
| 15 | Rainman | Sport | 16 m | 6a |
| 16 | Thunder | Sport | 15 m | 6a |
| 17 | Monsoon** | Sport | 25 m | 6a+ |
| 18 | Bad News | Sport | 25 m | 6a |
| 19 | Virgin Climb | Sport | 15 m | 6a |
| 20 | Crack X* | Sport | 20 m | 6a |
| 21 | Dry Season* | Sport | 25 m | 6c |