0
Topo: Mountain Quarry
Mountain Quarry
PROTECTED STATUS :
Mountain Quarry is located in Greenmount National Park and is one of the most well-developed outdoor sports climbing crags within Perth's vicinity. There are numerous bolted routes spread out over several walls. There are also a few trad routes located here. There is a combination-locked gate that leads from the carpark into the quarry. The code for the combination lock can be obtained from the Department of Parks and Wildlife (DPaW) by calling 08 9290 6100. If you either can't call or can't get through to DPaW, the quarry is still accessible by foot and is just a short walk from the car park.
Getting There
The quarry is located on the north side of Coulston Road, which (when coming from Midland) you turn into from Scott Street just before the Goat Farm MTB Park. Shortly after passing the turning into Hudman Road, you should see the entrance to the car park on your left.
Directions to Mountain Quarry
The bolted sport routes in Mountain Quarry (as well as in most sport climbing crags in Australia) use what is known as 'Carrot Bolts'. These bolts are basically your standard 10mm machine bolts with a slight taper at the end. In order to use them however, you need to bring your own bolt plates. The bolt plates are slipped over the bolt head and then swiveled so that the bolt is secured in the 'slot' of the bolt plate. Once your quickdraw is clipped into the hole that the bolt head was initially slipped through, the bolt plate is 'secured' and is unlikely to come off the carrot bolt unless you are using 'thin quickdraws'. The bolt plates are normally carried in the chalk bag for convenience. Bear in mind that you may need to bring a few extra bolt plates up as they are easily dropped, and don't lean out when using carrot bolts as they are known to not have good outward strength.
360 Panorama
...and a little planet just for fun!
Woomera Wall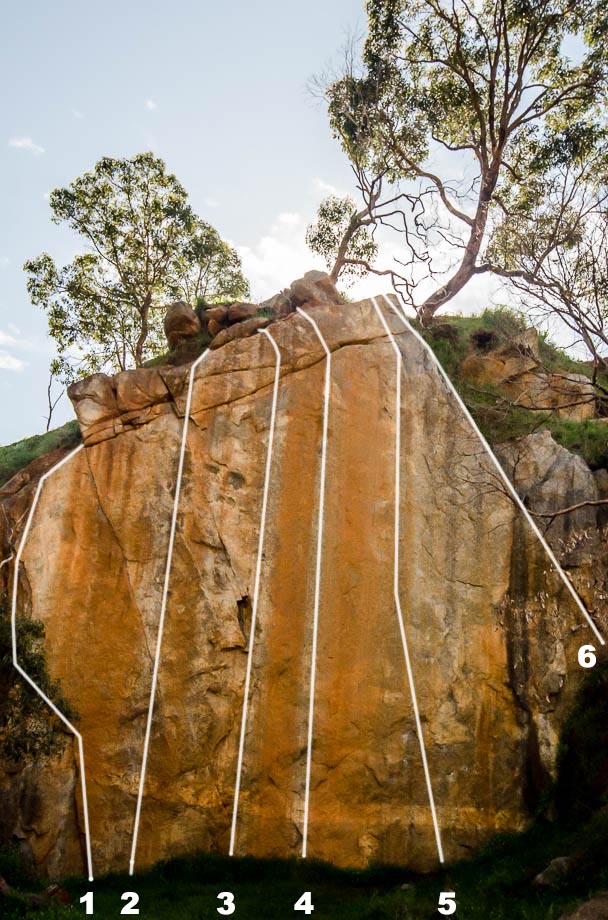 | # | Route | Type | Length | Difficulty |
| --- | --- | --- | --- | --- |
| 01 | City Limits* | Sport | 15 m | 26 |
| 02 | Project | Sport | 15 m | Project |
| 03 | Space Monkey | Sport | 15 m | 28 |
| 04 | Project | Sport | 15 m | Project |
| 05 | Choad Warrior** | Sport | 15 m | 27 |
| 06 | Going for Broker | Sport | 15 m | 19 |
Back to map