0
March 17, 2018
Posted by
Ramon Fadli
in
Class 7
,
Coniferous Forests
,
Gandaki
,
Hiking
,
Humid Subtropical
,
IUCN Protected Category 6
,
Looped Hike
,
Mountains
,
Multiday Hike
,
Nepal
,
Peak Labels
,
Solo Hike
Annapurna Base Camp & Poon Hill
Hovering your cursor over the image below will show you the numbers for the items.
Please note though, that the image does not include the food that I brought with me, as well as the camera that was used to take the photo (Olympus OM-D E-M1 with the Olympus M.Zuiko ED 12-40mm f2.8 PRO).
The full list of all the equipment that I own and use can be found on my '100 item list'.
Making things easier
There are many ways to make this trek easier, some of which are:
1 - Trek to Poon Hill and back, and skip ABC in the process.
2 - Trek to ABC and back, and skip Poon Hill in the process.
3 - Hire a porter. Trekking (or hiking in this case) with just a day pack will make the journey significantly easier.
4 - Get dropped off and/or picked up further up the trail. Doing so could reduce the 96km trek by up to 17km (7.5km to Hille and 9.4km from Sewai), which amounts to almost one-fifth of the total distance.
5 - Descend from ABC in three or four days instead of just two. Doing so will extend the total duration but will also shorten the distance covered daily, which will make it much easier on your knees.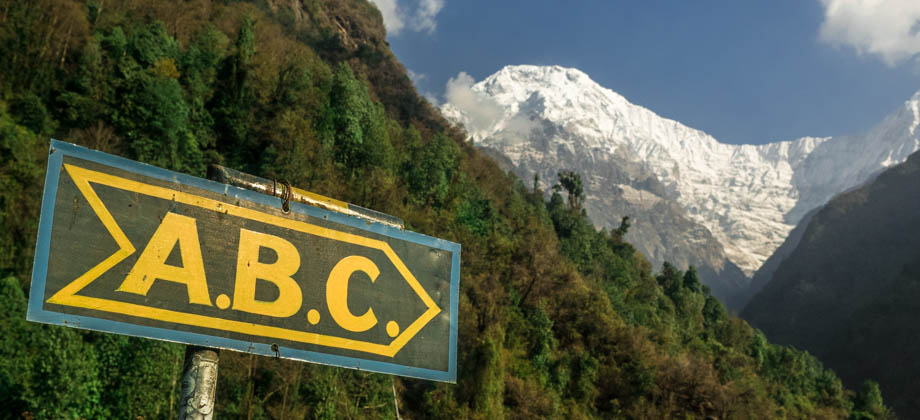 Tips & Tricks
1 - Do it yourself! The ABC and Poon Hill treks are very straightforward treks with very wide and well-trodden trails, and both the treks should prove to be no problem at all for those who have experience with navigation and the outdoors.
2 - Don't be confused by the names. There are two places called 'Banthanti' near Ghorepani, one in the east and another in the south-east. There are multiple places called 'Deurali', one near ABC, one near Pothana, and there is a Ghorepani Deurali, as well as a Deurali Pass. There is also a Chomrong and a Chimrong (which lies just north of Nayapul).
3 - The mobile reception around the Annapurna region is very good by mountain standards, and SIM cards are fairly cheap (Nepal Telecom is usually the cheapest).
4 - Stay at Machapuchare Base Camp (elevation : 3700m) instead of Annapurna Base Camp (elevation : 4130m). That way, you can leave your main pack at the lodge and take a daypack up to ABC. ABC is where the crowds gather, and MBC is practically empty in comparison. While the guesthouses at ABC are normally filled to capacity, I had an entire dorm room to myself at MBC.
5 - Head up to ABC the next morning for sunrise. Doing it twice (the first time right after you initially reach MBC) will allow you to enjoy the stupendous views of the mountains and glaciers at various times of the day.
6 - Do not hesitate to pass slower trekkers out when doing sunrise hikes (Poon Hill and ABC). Not doing so might cost you the sunrise!
7 - Ascend slowly to allow yourself enough time to acclimatise. Remember the mountaineering maxim, "climb high, sleep low", and the rule of not exceeding an elevation gain of 500 metres a day (when above 3000 metres). Even though the elevation of ABC is just above 4000 metres, I have heard stories from other trekkers about those who had trouble eating and sleeping due to insufficient acclimatisation. Rushing things could very well ruin your trip.