0
ABC Day 01 – Pokhara
Pokhara
After the 6 hour- and 200 kilometre-long near-death experience on the Prithvi Highway from Kathmandu to Pokhara the day before, I was very glad to still be able to walk around the roads of Pokhara. We had managed to secure a few empty seats in a friend's private coach before it had left Kathmandu, but doing so meant that we had to endure the crazy traffic that swerved in and out in order to overtake each other, with countless near-misses, on the curvy serpentine roads that lined the 'Mahesh Khola and Trishuli River. We paid the driver (who must have had a death wish) USD10 (
NPR1000/3
) for the three of us.
Getting There
There are a few options when it comes to transportation from Kathmandu to Pokhara. Apart from flying and private transport, you have a range of buses to choose from depending on your budget. Local buses depart from the Kalanki bus stand in Kathmandu, which lies on the west side of the Ring Road (approximately 10 minutes-drive from Thamel). The local buses tend to be much older and far more crowded but are much cheaper, with fares that are sometimes as low as NPR200 for the 8-hour journey! Tourist buses on the other hand tend to be a bit more comfortable and are normally equipped with air-conditioning and fans. They depart from Ratna Park bus stop on Kantipath Road (which is a few minutes-walk from Thamel) around 07:00 every day. Prices are normally around NPR500, but some bus companies offer packages that also include food and insurance that can cost up to 5-times more!
Pokhara is the second largest city in Nepal and is nestled right next to Phewa Lake, which is supposedly one of the most beautiful spots in Nepal. The city attracts mountain bikers, paragliders, white-water rafters, and trekkers from the world over. Since we were there to trek, our priority that day was to obtain the required permits. The only other permits, aside from the 30-day visa (
NPR4000
), that we needed to secure were the
Trekkers' Information Management System (TIMS)
card (
NPR2000
) and the
Annapurna Conservation Area Project (ACAP)
permit (
NPR2260
), both of which would be required at various checkpoints on the trail, and both of which could conveniently be applied for and obtained from the Pokhara Tourist Office.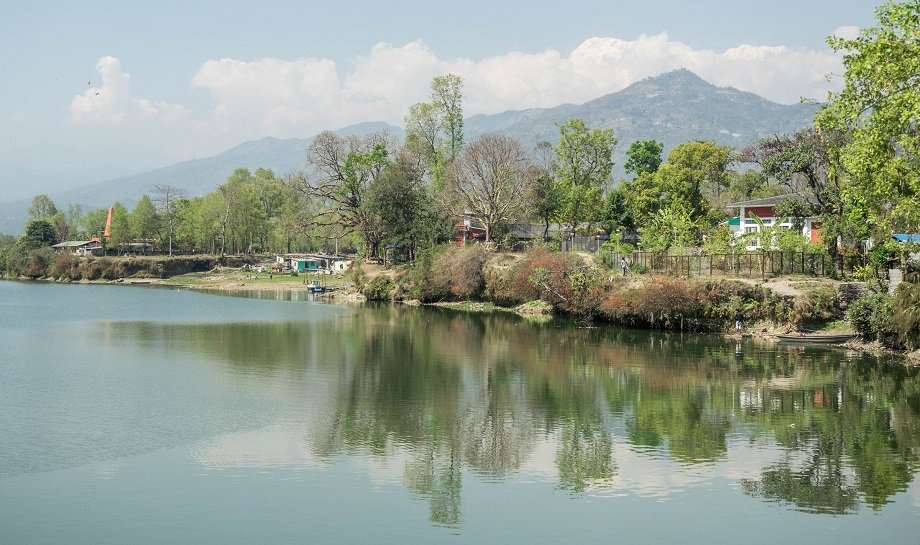 Phewa Lake from Damside Park
Emergency Numbers
Local Police 100 / 061-465087 Tourist Police 061-462761
Pokhara Tourist Office
The Tourist Office
was located at Damside, on the east bank of Phewa Lake, and we set off after a quick breakfast (momo and coffee,
NPR180
), but decided to stock up on some last-minute supplies on the way. I ended up purchasing a 230g propane-butane gas canister (
NPR700
), a silk sleeping bag liner (
NPR1000
), and a buff (
NPR100
) from one of the trekking gear shops; and a box of aquatabs (
NPR300
), two sheets of Acetazolamide tablets (
NPR400
), a bunch of strepsils (
NPR60
), and a course of Ciprofloxacin (
NPR135
) from one of the pharmacies.
Queues had begun to develop by the time we reached the Tourist Office. Fortunately, the entire process turned out to be relatively straightforward, and we only spent less than an hour there to get everything sorted. All we needed to do was to bring along four passport-sized photographs (two for each permit) and cash, to fill-in and submit the required forms, and then just wait for a short period whilst the forms were being processed.
Ypthima butterfly (

Ypthima sp.

)
Oriental garden lizard (

Calotes versicolor

)