0
EBC Day 10 – Dingbouche to Lobouche
The Memorials of Chukpo Lari
The trail from Dughla
continued up and along the steep slopes of the terminal morraine that had been carved over the years by the slow-moving ice of the Khumbu glacier. We trudged up these slopes slowly but surely and I caught myself wishing that I had relaxed for a while after the meal to let all the dhal bhat that I had eaten digest. After an hour or so of trudging, the slopes slowly rounded off and we caught sight of prayer flags, indicating that we were about to reach the memorials of Chukpo Lari
.
The memorials of Chukpo Lari
The memorials here were dedicated to all those who had lost their lives attempting to climb Mount Everest. The memorials for local Nepalis were on one side and the ones for foreigners on the other, some were small and some were large and completely engulfed by prayer flags. A heavy veil of silence seemed to descend on the hikers that were there as everyone made their way around the memorials, each plaque that was read was a sad and poignant reminder of the perils and dangers that unnecessary risks, unpreparedness, and unexpected weather can bring when high up in the mountains. The memorials of
Babu Sherpa
, who was famous for reaching the summit of Mount Everest ten times as well as spending 21 hours on the summit without auxiliary oxygen; and Scott Fischer and Rob Hall, who were unfortunate victims of the
1996 summit attempt
, a tragic expedition that inspired many books and
films
, were also here.
Lobouche
I crossed an icy stream as I descended down to the valley created by the shoulder of Lobouche East (
elevation : 6145m
) and the morraine of the Khumbu glacier, finding myself doing a little 'Khumbu dance' once again as I slipped around on the ice trying to regain my balance. Nuptse (
elevation : 7861m
) completely dominated the mountainscape in front on me as I hiked onwards. This magnificent peak left me entranced as it transformed right in front of my eyes - the white snow that lay on its steep slopes slowly morphing into a golden yellow as the dark shadows of the mountains behind me crept their way upwards, slowly engulfing the peak in darkness.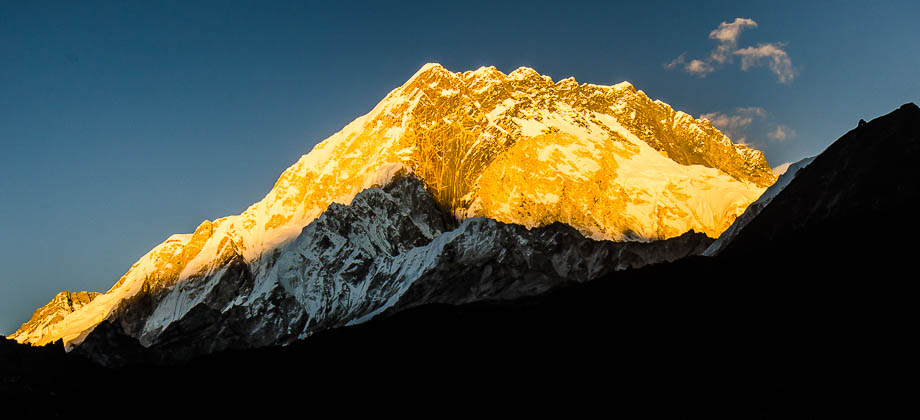 Sunset on Nuptse (

elevation : 7861m

)
The last glimmer of light began to fade as I made my way into the Himalaya Eco Resort lodge, a pleasant and cozy lodge in Lobouche
(
elevation : 4940m
) with super heavy-duty padlocks for the rooms. As I shut the front door of the lodge behind me and the grumbles and complaints of tired hikers around me slowly reached my ears, I began to stir from the daze that Nuptse had left me in. The daze had left me somewhat euphoric and I thought to myself then (perhaps mistakenly!) that I probably could have headed back out and repeated the entire day's trek all over again! I instead left my camera batteries at the front desk for charging (
NPR800
), and buried myself in a corner of the common room for a delicious warm meal of dhal bhat with meat (
NPR845
) and drinks (
NPR320
), before retiring to the room with my trusty
Kindle Paperwhite
.
Area Map
Suunto Movescount Stats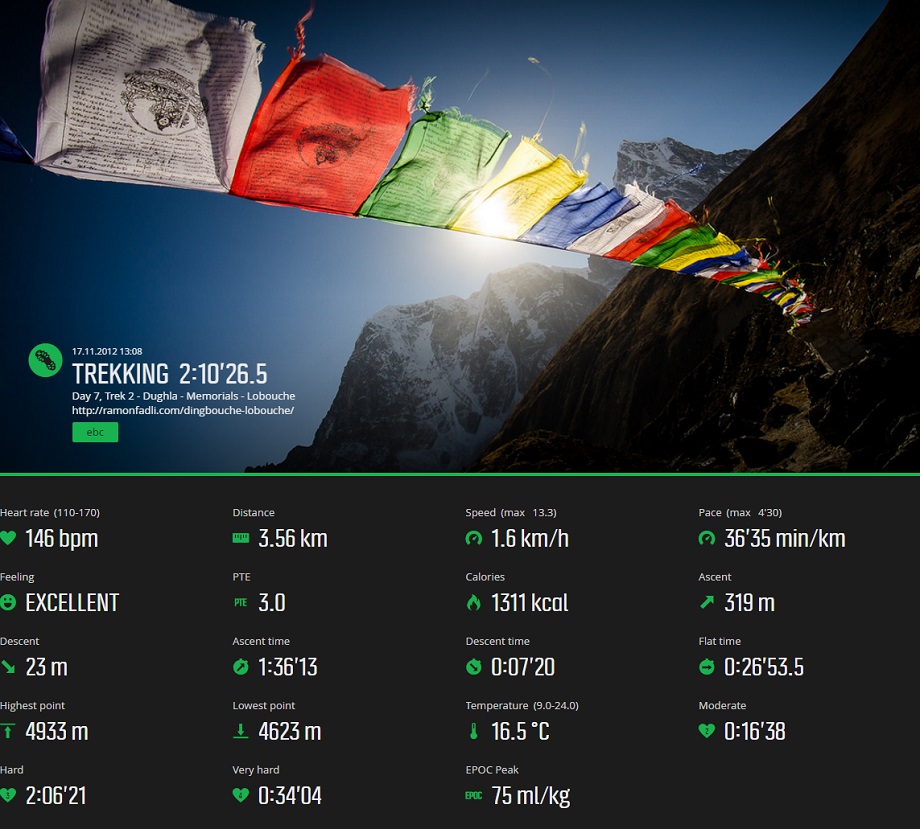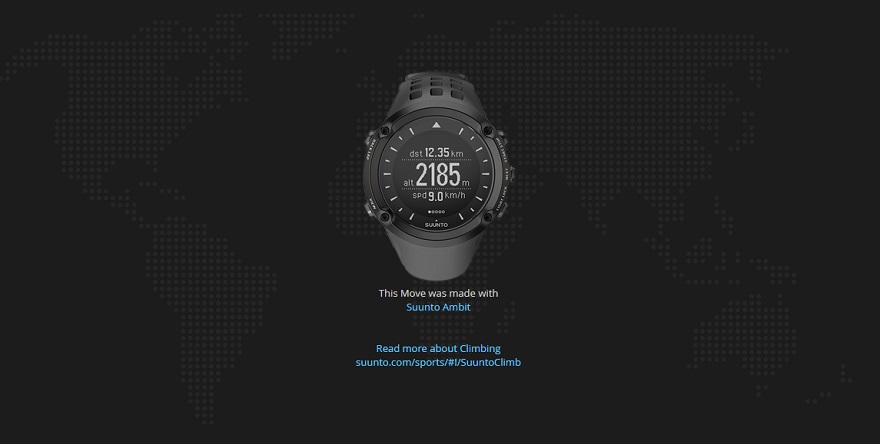 Download file:
EBC - Day 10 Part 2.gpx