1
Wilbinga 4WD
Setting Up Camp
The fleeting glimpses of the deep turquoise blue of the ocean became more and more frequent every time we rounded the peak of a hill or dune, indicating that we were getting closer and closer to the coastline. It did turn out to be a little tricky at times to catch those glimpses as we were jostled around the vehicle, but before we knew it we came across a few clearings that had paths that lead down to the beach. We decided to stop and set up camp on a hill overlooking the vast Indian Ocean. No one was happier than Stewie the Cocker Spaniel (Canis lupus familiaris), who bounded out as soon as the door opened.
As was expected, the area was very barren with no trees in sight - not the best environment for a hammock enthusiast to find oneself in, but the versatility of the Hennessy Hammock allowed us to park the vehicles in such a way that the suspension lines of the hammock could still be tied in to the bull bars at the front of the vehicles. The height of the bull bars meant that the hammock ended up much lower than usual so getting in proved to be a little awkward. The sand below the hammock never proved to be an issue however as a depression was able to be dug out that was deep enough so that the sand never made contact with the underside of the hammock.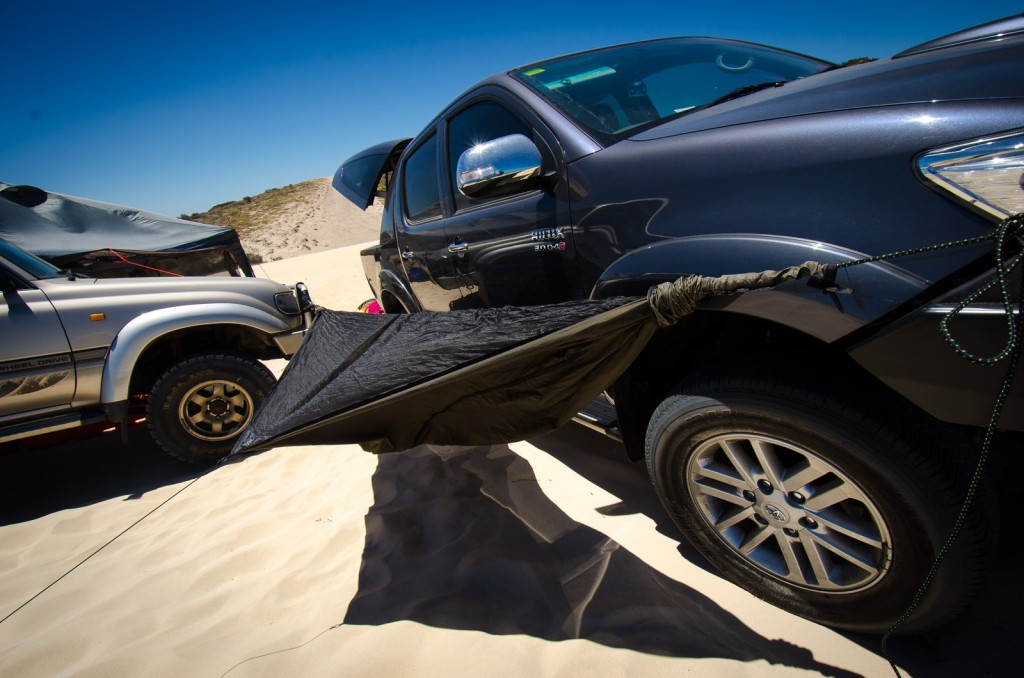 With the winds gusting, the set up of the tents on the other hand proved to be a far more tricky (group) endeavour. The tents and tarps kept on catching the strong wind and a lot of effort and bracing was called upon to prevent everything from flying away. Sand pegs came in very handy (practically mandatory in situations such as this!) and did well in keeping the tents secured to the ground.