0
June 12, 2016
Posted by
Ramon Fadli
in
Broadleaf Rainforests
,
Budget
,
Caves
,
China
,
Climbing
,
Cycling
,
Guangxi
,
Humid Subtropical
,
Karsts
,
UNESCO
Yangshuo Day 01 & 02 – Treasure Cave
Yangshuo
PROTECTED STATUS :

Yangshuo (Mandarin: 阳朔) is a
UNESCO World Heritage Site
that is well-known for the thousands of karst peaks that seem to have suddenly erupted from the flat plains that surround them. Unique karst landscapes like this are produced when soluble rocks (200 million-year-old limestone in this case) are dissolved by the carbonic acid that is present in rainfall. Normally, just caverns and fissures are produced, but when the surrounding bedrock is also removed, tall limestone towers remain. According to the geologist Ray Beiersdorfer, four conditions are required:
First, you need hard, compact carbonate rock. In Guilin, it is Devonian limestone. Secondly, you need strong uplift, in this case provided by the collision of India with Asia to form the Himalaya. Third, you need a Monsoon climate of high moisture during the warmest season. Finally, the area must not have been scoured by glaciers, which this region wasn't.
The Yangshuo region is also fairly clean and relatively pollution free, which makes it a great place to escape the hustle and bustle of
China's
major cities. The nearest airport is located in Guilin, but the bus transportation service departs from the airport directly and makes it very easy to cover the 75-kilometre journey to Yangshuo. The buses depart every few hours from 09:30 to 22:30, and all that one needs to do after collecting one's check-in luggage is to head to the bus ticket counter near the bus stop at the side of the airport, purchase the ticket for
CNY50
, and to wait for the bus to depart. After an hour and a half, the bus should stop at the Yangshuo North bus station. Before it does however, a wonderful yet almost ghostly visage should unfold before you that is framed by the windows of the bus. Mounds and mounds of hills and towers abound, so much so that they sometimes seem to be stacked on top of each other. The limestone towers can be seen as far as the eye can see, their sides still lush with vegetation, and their tops hidden within the low-lying clouds. Paddy fields are ubiquitous in the plains below, and buildings would occasionally be nestled at the base of the towers.
Climbers Inn
The little hostel that is known as
Climbers Inn
(Mandarin: 攀岩客栈), is fairly well-known amongst the
climbing
community, and the owner, Lilly, makes everything so much easier. She speaks fluent English and is a veritable treasure trove of local climbing information--from where to go climb when it is raining, to how to best get there. Read the
online reviews
if you still need some convincing.
Climbers Inn
Contact Person: Lilly Liu Address: 21 Guihua Road, 541900 Yangshuo Address: 广西阳朔桂花路21号 邮编: 541900 Telephone: 86-773-8814370 Mobile: 86-1387-8379347 WeChat: 1387-8379347 Email: climbers-inn@hotmail.com
Getting There
We disembarked from the airport bus at the junction of Pantao Road and Diecui Road. We then walked north-east along Diecui Road (Mandarin: 叠翠路), but cut in to one of the smaller roads on our right until we reached Guiha Road (Mandarin: 桂花路) that runs parallel with the small creek in-between Diecui Road and West Street. Following Guiha Road north-east will bring you back to Diecui Road and ultimately to the much larger Li River, but you will pass an alley (right across from Insight) on your right just before this. This alley leads to Climbers Inn (Mandarin: 攀岩客栈).
The day had already started to wind down, and after paying for our room for the 8d/7n stay (
CNY750/2
) and after a short rest, we only had enough time for a quick wander around to look for some food. We settled for stir fry (
CNY13
) for dinner, which was an assortment of vegetables and a few pieces of meat piled into a bowl and fried, that was then accompanied with steamed rice.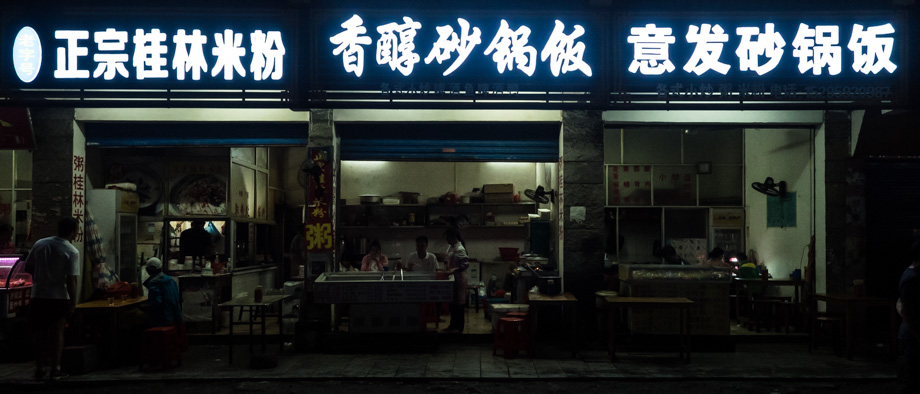 Our favourite stir-fry place! The sign says (from left to right): authentic Guilin noodles; Xiang Jiang claypot rice; Yi Fa claypot rice
After dinner, we decided to head to the very popular West Street (Mandarin: 西街) that was located just behind the inn. The street was absolutely crammed full of people. We pushed through the throngs as best we could, and were forced to raise our voices just to be heard over the loud din. In the end, we found a shop that sold a map (
CNY10/3
) of Yangshuo that we decided to share, and I decided to try three sticks of meat (Mandarin: 羊肉串 - Yang Rou Chuan,
CNY10
) and some noodles (
CNY6
) for supper!