0
March 1, 2013
Posted by
Ramon Fadli
in
Broadleaf Rainforests
,
Budget
,
Class 5
,
Day Hike
,
Hiking
,
Indonesia
,
IUCN Protected Category 2
,
Jawa Timur
,
Looped Hike
,
Mountains
,
National Parks
,
Tropical Rainforest
,
Volcanoes
Mount Bromo
Path to Pananjakan
I awoke the next morning at 04:00 in order to reach the viewpoint of Mount Pananjakan (elevation : 2770m) before sunrise. The trek up the mountain was somewhat eerie in the dark with only the narrow beam of my small torch lighting the way. I didn't happen upon anyone else who was walking up the trail but did have to step aside on occasion to allow for 'speeda motor' (motorcycles) and 4WD Toyota Land Cruisers (Model J40) to pass by carrying tourists up to the viewing platforms.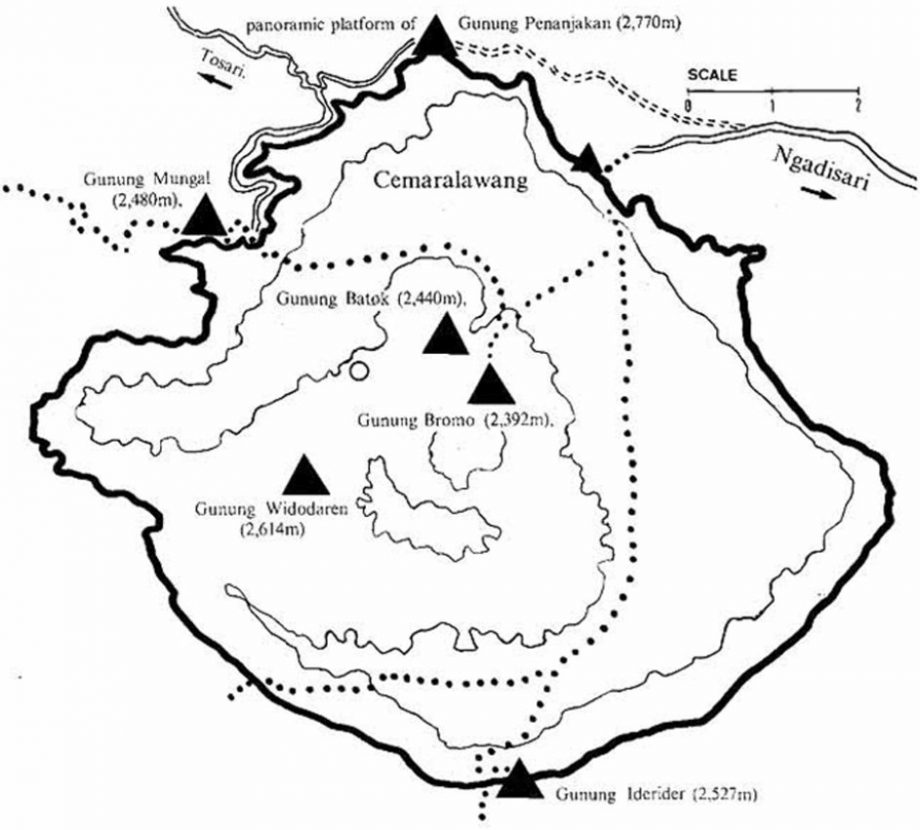 The path wound its way up the mountain and passed by several viewing points along the way. I had underestimated the time I had remaining till sunrise as I hadn't taken into consideration the 1 hour time difference between Indonesia and Malaysia. By the time the sun began to rise I had only reached 'Seruni Point' (elevation : 2361m) so decided to stop there. The viewpoint consisted of two rather large concrete platforms that were already filled with large crowds so in order to get a better view, I climbed up on the rooftop of one of the viewing platforms but to my dismay, the view was somewhat obscured by fog that had rolled in.
I came upon two other men who had also climbed up, one from Colombia and the other, Thomas, from France. It turned out that Thomas also had a Gopro that he was using for timelapses so conversation was easily struck up right from the start. Thomas was travelling with a few others and were planning to head to Crater Ijen before making their way to Bali.
The fog cleared up after a while so I proceeded to capture some timelapses of my own of the bestirring views. Mount Semeru would on occasion peak out from the clouds whereas Mount Batok (elevation : 2440m) was easily identified just to the right of Mount Bromo as there was green vegetation, reputed to mainly consist of Casuarina ('Cemara' in Bahasa Indonesia, latin : Casuarina junghuhniana) trees, lining the sides of this non-active volcano. Mount Bromo (elevation : 2392m) itself stole the show as it was constantly emitting white sulphurous smoke from its blown-off top. The sheer size of the massive Tengger caldera, with a diameter of approximately 10 km, was also apparent from here along with the very obvious 'Laut Pasir' (Sea of Sand) of volcanic sand that surrounded these volcanoes.