0
ABC Day 05 - Banthanti to Chomrong
Tadapani

The trail just after Banthanti (
elevation : 2210 m
) dropped steeply down the hill in very wide steps. It was just before 08:00 and the early morning light was still flattering, and we would catch the mountain views in a soft glow each and every time we would happen upon a clearing in the dense foliage. The descent down the slopes towards Bhurundi Khola went on for 600 metres or so, yet our descent took about 30 minutes as it was slowed down dramatically by all the foot traffic coming up. The trail climbed back up once again just under a kilometre in, before it followed a contour.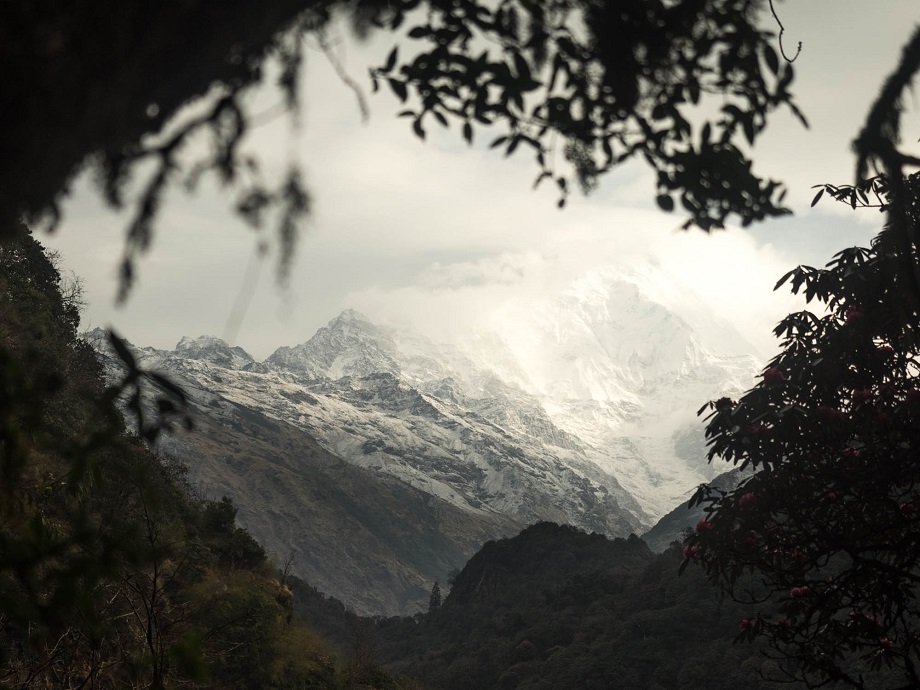 Annapurna South (

elevation : 7219 m

) through the foliage.
The mossy valley floor.
We reached crossroads shortly after: straight led to Tadapani, Ghandruk, and Chomrong; left to Panorama Hotel; whilst the right led to Magnificent Hotel. Soon after, we saw the brilliant views that looked out over the valley, and we knew at once that we had reached Tadapani (
elevation : 2630 m
). It was here that I said farewell to the rest of the group just before they made their descent to Ghandruk (
elevation : 1940 m
). I was now left completely alone. I left Tadapani at 09:40. The path to Chomrong (
elevation : 2170 m
) was on the left and it followed cobbled alleyways through the village and past a large array of other guesthouses. There were plenty of signs, markers, and sprayed graffiti that showed the way down. The trail dipped down and into the mossy rhododendron forest after 'Hotel Grand View Lodge', and can easily be missed by those who are less attentive. There tends to always be plenty of people around to ask if ever you find yourself uncertain.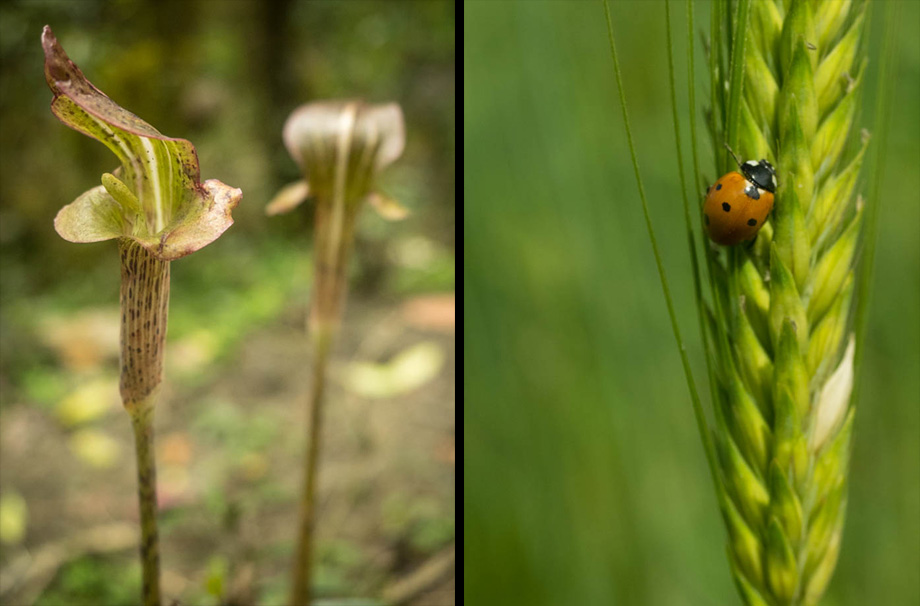 Pitcher Cobra Lily (

Arisaema nepenthoides

); Seven-spot ladybird beetle (

Coccinella septempunctata

) on barley (

Hordeum vulgare

), six-row variant
Despite the pace increase, I was still able to immerse myself with all the sights and the sounds. The whistling of the wind sounded clearer, and there was also the rustling of underbrush from time to time as critters were caught by surprise as I passed by. This extra speed and stealth due to hiking alone not only left me feeling far more relaxed, but also unburdened, as the only person I had to look out for was myself. I continued to descend past Chuile, a village that was surrounded by farms and several gates. The red-speckled, forest-covered slopes appeared on my left, and the mountains, notably Machapuchare (
elevation : 6997 m
) peeked out over the horizon. As I passed by the fern-fringed barley fields on my way down, I could see the trail tracing the sides of the hills that I knew I was going to be taking.
A kashmir rock agama (

Laudakia tuberculata

) basking in the sun. It would otherwise have been long gone had I still been in a group.