0
EBC Day 05 – Phakding to Namche Bazaar
Nature's Wonders

Today I witnessed the mountains come to life! I woke up at 04:30 and went outside to do some stargazing in the crystal clear mountain skies, braving the brisk temperatures that were as low as -10 degrees Celsius. After setting up the intervalometer on my Nikon D7000, I stood watching the constellation Orion and Jupiter (then situated just above the Hyades cluster in Taurus) slowly set behind the mountains.
The sun, with Venus just preceding it, began to rise in the east (Well, not quite - the motion of the sun across the sky is due to an optical illusion created by the Earth being a rotating reference frame); and as it did, the golden light (actually white light) that was emitted first lit up the tallest peaks and slowly worked its way down to the lower elevations. The consecutive lighting up of first the tallest peaks followed by those that were lower clearly showed our tendency to mistake mountains that are closer to be taller than those farther away. Since it is difficult for our senses to detect any parallax when dealing with scales and distances so large, our depth perception ends up affected. It also struck me then that I may need to dress warmer from here on as several hours in temperatures that low left my bare fingers tingling and my toes a little numb.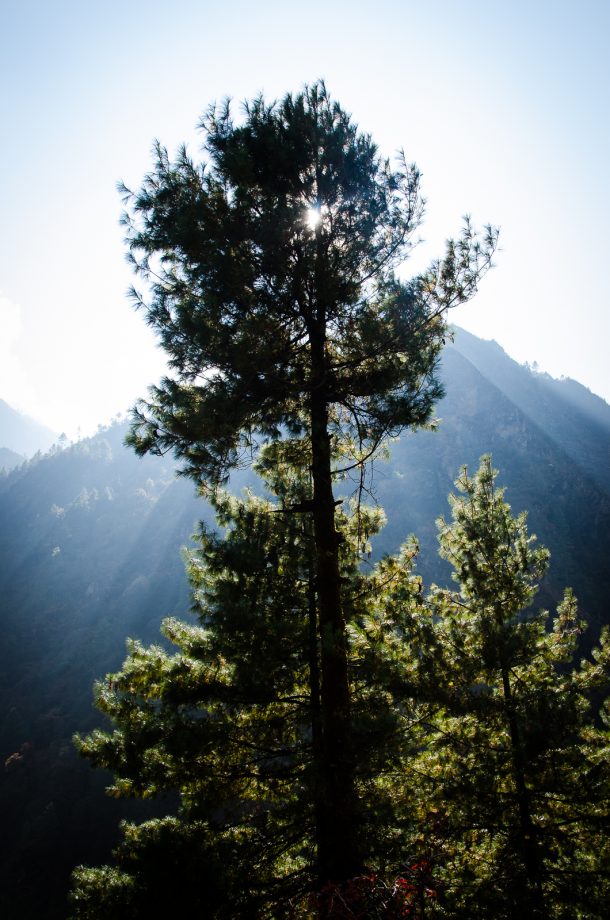 Departing Phakding
I set off from Phakding
(elevation : 2610 m) much later on in the morning (closer to 08:00) and crossed a suspension bridge shortly after, bringing me to the west bank of the Dudh Koshi River. The mighty river, that I had been following upstream since Lukla, drains the great Mount Everest massif and is also known as the 'Sapt Koshi' due to the seven rivers that make it up (the Sun Koshi, the Indravati River, the Bhola Koshi, the Dudh Koshi, the Arun River, Barun River, and Tamur River). The Dudh Koshi River begins just east of the deep turquoise oligotrophic lakes of Gokyo, the world's highest freshwater lake system; and emerges from the Ngozumpa Glacier, the longest glacier in the Himalayas - a glacier that I would soon be walking on.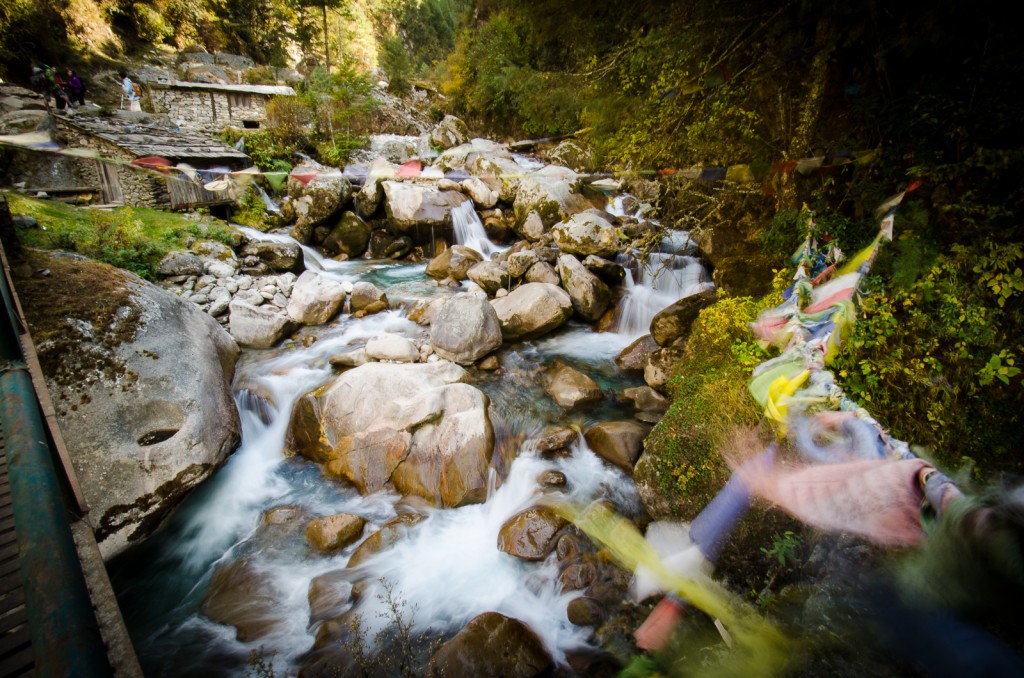 I crossed the bridge to the east bank of the river and entered the small village of Monjo. The tourist information centre was right in the middle of the path and I stopped for a while to purchase my permit (which cost me
NPR3000
), lining up with all the other guides who were obtaining all the permits for their own respective groups. The Sagarmatha National Park entrance gate (and check-point)
was also here since Monjo is located right at the edge of the boundary of the national park, with the town of Jesole located just on the other side. I reached Jesole (Nepali : जोरसल्ले)
shortly after and stopped for lunch. The lunch was pretty basic--Fried rice (
NPR350
) and masala and ginger tea (
NPR140
)--as was the trek up to this point (taking me approximately 3 hours).