0
GBB (CUS Connection) - Day 1
Ascent from Pos Balar
The day began with an arduous five-hour long journey from Kuala Betis
in the back of a 4WD vehicle. The destination was a small village called Dakoh
that was located within the Temiar settlement known as Pos Balar. The journey first took us deep inside palm oil estates along deeply rutted mud roads, and then into overgrown areas of fern and bamboo. Low-lying vines and branches arched over the road and occasionally created tunnels of vegetation that the vehicle trundled through. Crested serpent eagles
(Spilornis cheela)
screeched from above, their distinct white bands seen from below as they rode the thermal currents looking for prey. The screeches always drew my gaze, and that momentary lapse in concentration often exposed my face to a good whip from a passing branch. We stopped just before the bridge, and the curious locals of Pos Balar came out of their homes in droves to watch us as we went about our business. Pos Balar is a critical location for those who enjoy venturing off the beaten trail. The settlement lies in between two peaks, and is located right in the middle of the off-road circuit known as the 'Monsoon Circuit'. The settlement also functions as the location for food drops for those who hike the
Titiwangsa
v3 trail and who require extra rations. It was almost 15:00 by the time we were done with our lunch, and so we repacked our backpacks quickly before setting off for the trailhead.
The start of the trailhead at Pos Balar
The clear trail made its way westward and ran parallel to the river.
Ferns
of all types and sizes and their tall fiddlehead-topped stalks lined the sides of the trail. The brown of mud had melted away and had given way to an omnipresent green that was occasionally interrupted by splashes of vibrant purple as senduduk flowers
(

Melastoma malabathricum

)
peeped out of the dense foliage. We eventually arrived at a river and the suspension bridge that spanned it. From there, the path was relatively straightforward, at least until the junction that was located 3.3 kilometres into the trail. We took the right turn there and the sounds of the river that had accompanied us for the last few kilometres faded away. It was late afternoon by then, as the bulk of the day had been spent just getting to the trailhead. The sunlight was soft and the rays of light that cut through the canopy came in at a low angle. The twittering and the occasional squawks of birds were still heard, but by then their intensity had already begun to dwindle.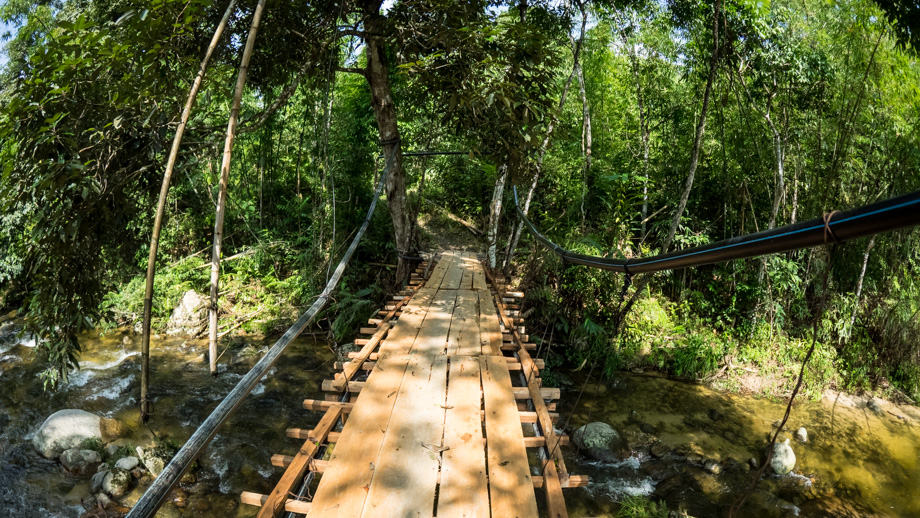 The suspension bridge
Tunnels of bamboo then began to appear along the trail and everything seemed to be dialed up a notch--things became sharper, more slippery, more tricky--and reminded me very much of the
bamboo sections
that we had to hike through the first time I climbed Mount Yong Yap many years ago. Not too long after at the 6.1 km mark, we arrived at '
Kem Tanpa Nama
', the campsite without a name. The campsite was small and quaint, and the soothing sounds of the tiny cascades from the river that ran along next to it imbued the air. It was a perfect place to stop for a short rest.
Senduduk flower (

Melastoma malabathricum

)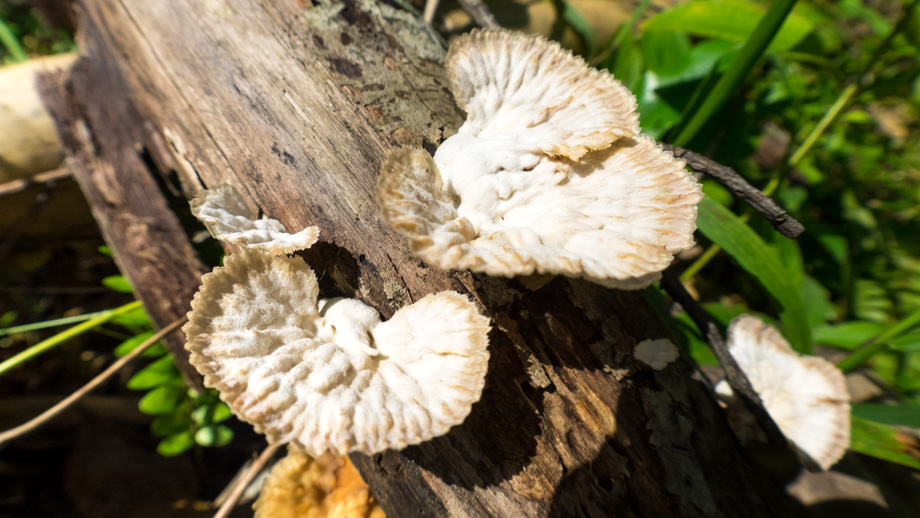 Ubiquitous mushrooms