0
ACT Day 12 - Yak Kharka to High Camp
The Valley
The morning mist was interspersed with drizzle yet again, but by then we knew that it would lift if we just waited. When the views gradually opened up after our breakfast--which was Tibetan bread (
NPR270
) and jam (
NPR60
/2) once again--they revealed the two towering mountains of Annapurna III (
elevation : 7555 m
) and Gangapurna (
elevation : 7454 m
) way down the valley to the south. The plan was to head all the way to High Camp
(
elevation : 4925 m
) that day as it would then mean that the elevation gain the following day would be practically halved, from 1000 metres to about 500. We had also stayed two nights at Tilicho Base Camp
(
elevation : 4150 m
) and had spent a full day at Tilicho Lake
(
elevation : 4920 m
), so were pretty well
acclimatised
by then. By the time we set off down the trail, the sun was out and its warm rays had lit up the barren triangular peak of Syagang (
elevation : 6026 m
) that lay just in-front of us. An assortment of flora, that included Jacquemont's cobra lilies
(

Arisaema jacquemontii

)
, were scattered here and there, but the flora that surrounded us was overwhelmingly yellow, and was made up almost entirely of the sunflower-like
Cremanthodium ellisii
and five finger cinquefoils
(

Potentilla cuneata

)
. Birds that twittered endless tunes flitted from bush to bush, and their endearing antics brought us to a complete halt on more than one occasion.
A male Himalayan beautiful rosefinch (

Carpodacus pulcherrimus argyrophrys

)
Milk parsley (

Selinum wallichianum

); larkspurs (

Delphinium kamaonense

);

Cremanthodium ellisii

; Himalayan onions (

Allium wallichii

)
Just after a kilometre-and-a-half in, we reached the bridge that spanned the melt-water of the glacier that flowed down the west face of Chulu West (
elevation : 6419 m
). The small hamlet of Ledar
(
elevation : 4200 m
) lay almost immediately after, and upon realising that the lodges that made up the hamlet had been open after all, a deep twinge of regret hit me, as I would much rather have made the extra 45-minutes hike the day before just to have been able to sleep 200 metres higher.
Blue Sheep
Our pace was slow and leisurely as we could not help but stop to appreciate the views and observe the wildlife. It was nice to take it nice and slow instead of pushing our way through, grunting and staring at the ground the way most trekkers did; we had plenty of time and absolutely nothing to prove, and as such were able to take in all the sights, sounds, and smells in their entirety. We came across a yak watering hole lower down the slopes, so we dropped our backpacks and climbed all the way down to observe them grazing and bathing for a while. Right after we climbed back up to the trail and just as I had put on my backpack once again, we spotted slight movements on the slopes above the trail. A herd of Himalayan blue sheep
(

Pseudois nayaur

)
, also known as 'bharals', were grazing on the ridge way above us. I quickly dropped my backpack once again and scrambled up the slopes to get closer. Despite their name, blue sheep are more closely related to goats. The brown coats of these deft rock climbers can sometimes look greyish-blue (hence the name) and help them to blend in to the surrounding rocks. They rely on their camouflage so much that they sometimes remain completely motionless when they are approached, in the hopes that they will not be seen.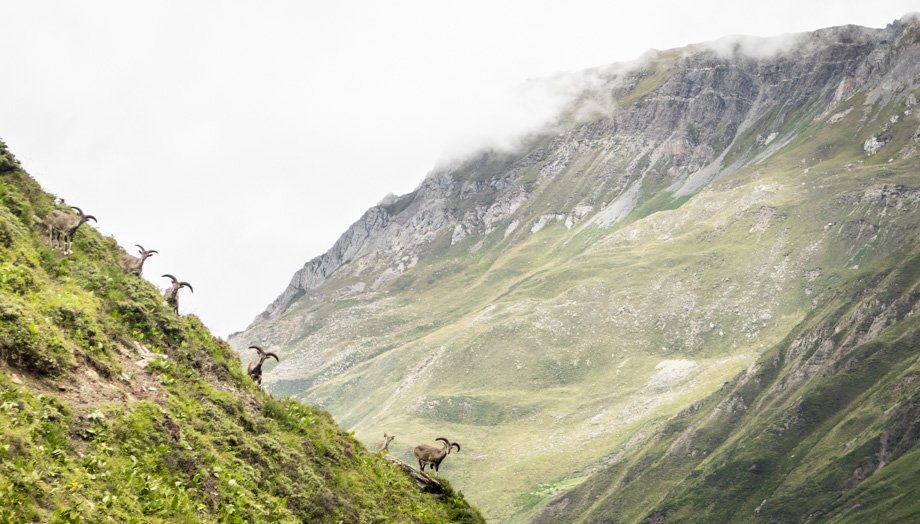 Himalayan blue sheep (

Pseudois nayaur

) peering across from the ridge
Looking north up the valley