0
ACT Day 11 - Tilicho Base Camp to Yak Kharka
Morning Run
The mountains finally revealed themselves as the sun rose that morning. As soon as I glanced out the window and saw the snow-covered peaks that surrounded Tilicho Base Camp
(
elevation : 4150 m
), I knew that I had to head up to the
ridge
above once again. My
Salomon X-Ultra 3 GTX
shoes (
reviewed here
) were low-cut and were light enough for a trail run, so I quickly put them on and grabbed my camera before heading out to the trail head.
The view from the bedroom window; Khangsar Kang / Roc Noir (

elevation : 7485 m

), its sides so sheer that they struggle to hold snow

Snow cover on the top of the ridge on the north-west of Tilicho Base Camp
It was still early and the morning chill lingered in the air. The temperature was perfect for a quick run and was low enough that a thin layer of snow could be seen on the normally bare and barren ridge that flanked the north-west side of Tilicho Base Camp. The 150 metre ascent was very brief and was practically over before it had even begun. As I rounded the top of the ridge, all three prominent peaks--Gangapurna (
elevation : 7454 m
), Tare Kang / Glacier Dome (
elevation : 7069 m
), and Khangsar Kang / Roc Noir (
elevation : 7485 m
)--appeared before me in all their glory. I ran up to the pinnacle viewpoint for some quick
360-degree panorama
shots and then immediately ran back down to the guesthouse. I had expected to be out of breath at such a high elevation as the oxygen was only 60% that of sea level (for a blood o2 sat of about 88%), but was surprised to find that I was not. This meant that I was fairly well
acclimatised
, most likely due to choosing the high route via
Upper Pisang
and doing an acclimatisation hike up to
Kang La
. My slow ascent had also meant that this had also been the case during my trail run at
Annapurna Base Camp
earlier in the year.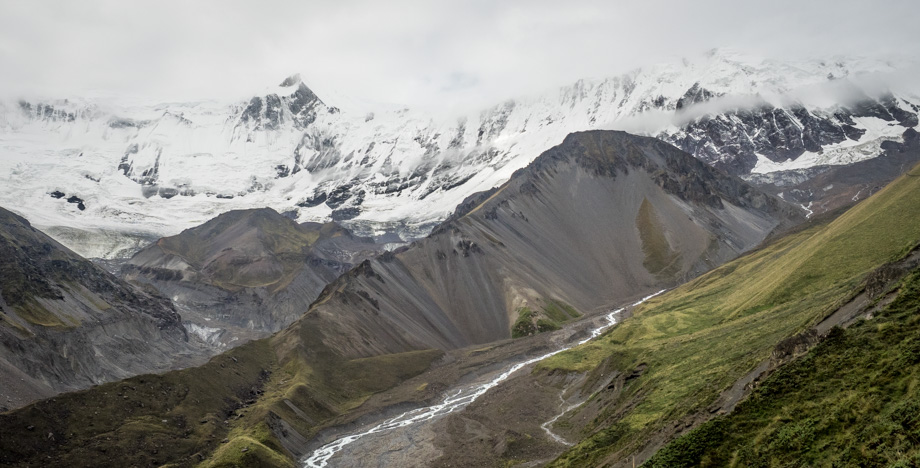 The lateral moraine of the glacier and the ridge that ascends from it to 'Peak 5126'.The triangle-shaped peak on the left is Kangsar Kang, or 'Roc Noir'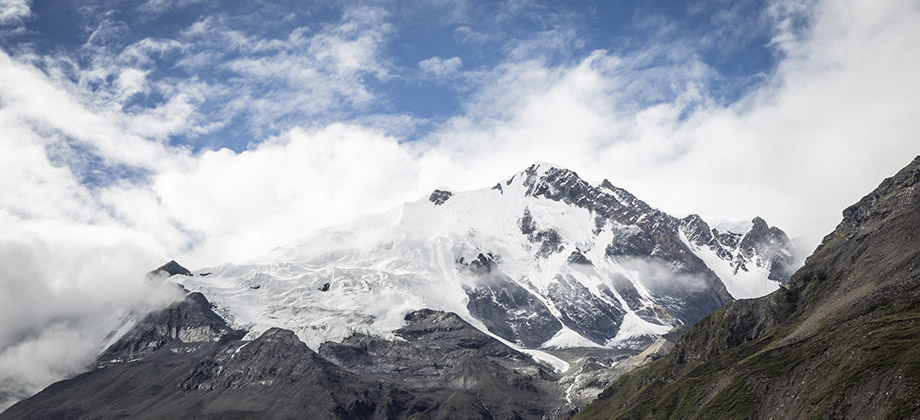 The northern face of 'Peak 6170'. The slopes of Om Myurpa (

elevation : 5039 m

) can be seen in the foreground on the right of the image
We were eager to start the day's hike as the weather was excellent, so we quickly ate breakfast, which was a piece of Tibetan bread (
NPR305
) each with a shared bowl of jam (
NPR105
/2). We then settled our bill before returning to the room to pack our backpacks.