April 14, 2013
Posted by
Ramon Fadli
in
Budget
,
Climbing
,
Coastlines
,
Karsts
,
Kayaking
,
Krabi
,
Mangrove Forests
,
National Parks
,
Thailand
,
Tropical Monsoon
Krabi Day 05 & 06 - Kayaking & Thaiwand Wall
Back to the Shore
I reluctantly returned to shore somewhat capricious, since a part of me wanted to salvage what remained of the trip whilst the other was infuriated by my incompetence.
The Railay scuba diving shop was closed for the Songkran festivities so I was unable to inquire about the rental rates of diving gear so we instead proceeded to go meet Bermet and Almaz, who had just arrived in Railay, at Rapala for lunch. I had chilli chicken with tom yam and lots of rice for THB200 but left them shortly after as they had yet to secure their accommodation for the night.
Climbing 1-2-3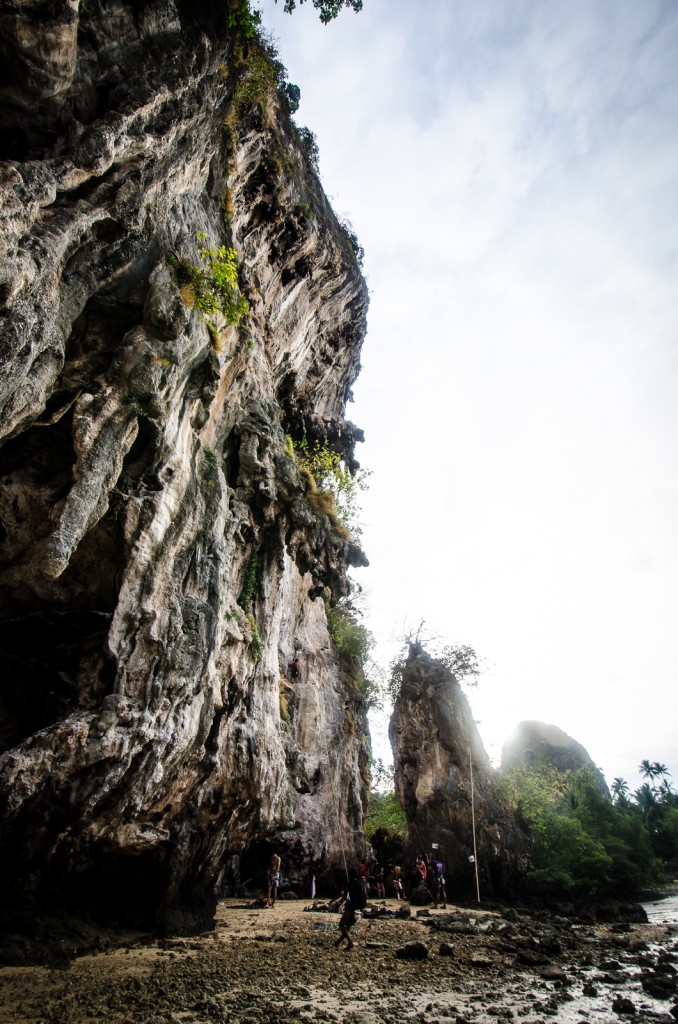 Cass and I made our way to the '123' wall since the tide had gone down by then and I attempted to lead climb the route named 'We Sad', 6a+ as I had been intrigued with the route since I helped the other climber up the day before. This route was the one that began with the classic boost start which I was able to campus up the first few holds but was unable to secure any good footing. Later was I to find out from Michael that the trick to progressing was a kneebar. I also think that there was a considerable mental aspect that was holding me back as there were a lot of people watching me try to get up including Fareeda and Puntarika, who were both Thai national climbers that I had met in a climbing competition two years before. My entire body was also completely parallel to the ground as I tried to get my feet up on the rock, leaving my back extremely exposed and vulnerable to a fall.
We instead moved on to a route named 'Sameboy', 6a+ which was a route at the far left side of the wall well away from the crowds (which was the main reason why I chose it). The rock here was sharp but I managed to lead climb the route and set up the anchor, which helped to restore some of the confidence that I had lost from the previous debacle at 'We Sad'.
Climbing is far more a mental game than a physical one.
After Cass top-roped the route the sun had already set and as we headed back, I couldn't help but feel disappointed with my performance. I ashamedly tried to justify it by shifting the blame on the GoPro incident that morning, an event that I was still lamenting. Dinner was at Yam Yam again with Almaz, Bermet, Jamie and Cass (THB140).