April 14, 2013
Posted by
Ramon Fadli
in
Budget
,
Climbing
,
Coastlines
,
IUCN Protected Category 2
,
Karsts
,
Kayaking
,
Krabi
,
Mangrove Forests
,
National Parks
,
Thailand
,
Tropical Monsoon
Krabi Day 05 & 06 - Kayaking & Thaiwand Wall
Kayaking Railay West
PROTECTED STATUS :
I made my way to Railay West
after having purchased my two cans of daily Birdie robusta coffee (

THB20

each) with Cass and Jamie who were both eager to kayak having missed out the chance the year before. The weather was overcast with barely any sun visible which in my opinion is perfect for a day of kayaking since being in a kayak leaves one so exposed. The rates for kayak rental were

THB200

for the first hour with an additional

THB100

for every hour after that (same for both double and triple-seaters).
April 20, 2016
7 years ago
Railay
, I found, to my dismay, that all Deep Water Soloing (DWS) had recently been banned! DWS is a thrilling way of climbing that entails free climbing (without a rope and harness) up a cliff and jumping or falling off the rock into the deep water that lies below!
Read more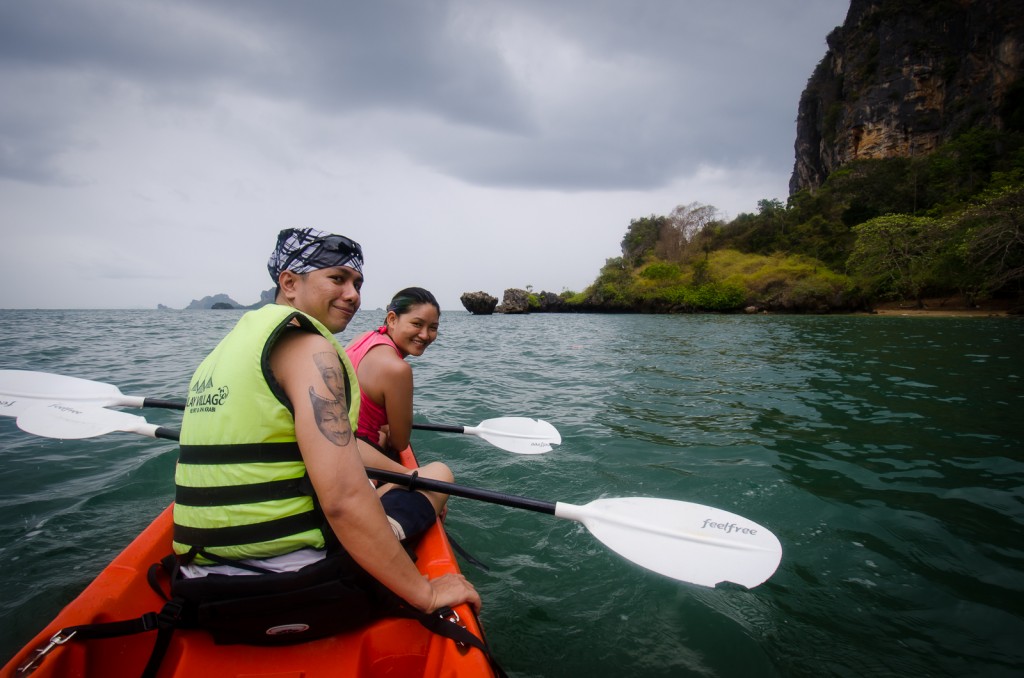 We rowed our way past
Tonsai beach
and around the cove towards Ao Nang, which was the exact same route that I had taken two years ago with Jeremy, and passed a slackline that had been set up for waterlining between two rocky outcrops. Everything was well and fine at first as we explored the rock formations and contemplated stopping for some slacklining and some deep water soloing but as we were rounding the rocks heading back the way we came however, a wave from a passing long tail caught the side of the kayak and made it overturn. I perceived the passing of time at that instant to completely slow down and can vividly remember the action of the kayak flipping almost as if it happened frame by frame. It happened so fast that trying to shift ones body weight to counter the movement was entirely for naught. All that I could do was to reach for the bag that contained my Nikon D7000, my Nikkor 10-24mm AF-S f/3.5-4.5G DX ED lens, the holder for my passports, and my wallet, and grab it to prevent it from getting submerged.
360 Panorama
After treading water whilst holding the bag high overhead, I decided to swim to the nearest rock in order to secure the bag and regain my bearings. Climbing the rock was quite painful however as it was razor sharp and it left me with cuts all over my feet. Only then did I realize to my utmost dismay that the GoPro Hero3 Black Edition that I had been using to record the trip had not been secured and was probably at the bottom of the ocean by then. The sheer incompetence at not having secured the GoPro was very unlike me and the sheer magnitude of the repercussions of such a simple oversight was to affect me heavily over the next few days. I tried some simple freediving to try and retrieve the GoPro but it was futile as the horrible visibility and the sheer depth stymied any attempts that I made.