April 10, 2013
Posted by
Ramon Fadli
in
Budget
,
Climbing
,
Coastlines
,
IUCN Protected Category 2
,
Karsts
,
Krabi
,
Mangrove Forests
,
National Parks
,
Thailand
,
Tropical Monsoon
Krabi Day 01 & 02 - Ao Nang & Phra Nang
Krabi Arrival
PROTECTED STATUS :
The return airfare for this adventure trip - so called as it involves a myriad of different outdoor activities such as hiking, rock climbing, kayaking, snorkeling and (potentially) scuba diving – had only amounted to a meagre sum of
MYR161 (THB1600)
as the airfare had been purchased during one of Air Asia's wonderful promotions sometime last year. The total cost was also kept low as no baggage allowance had been added despite carrying climbing gear (harness and climbing shoes), snorkeling/diving gear (mask, snorkel, and fins), as well as other bulky electronic gear like my Nikon D7000 and my Asus N55SF laptop in my 55 l High Sierra Explorer backpack.
April 20, 2016
7 years ago
Railay
, I found, to my dismay, that all Deep Water Soloing (DWS) had recently been banned! DWS is a thrilling way of climbing that entails free climbing (without a rope and harness) up a cliff and jumping or falling off the rock into the deep water that lies below!
Read more
I had decided to make the trip coincide with the Songkran festivities as we had thoroughly enjoyed the festivities the year prior. Here is a video of Railay, filmed and edited by a close friend of mine, Andy Saiden:
Once we cleared the long immigration queues, we proceeded to the shuttle bus counter since the group this year was significantly smaller in size. The tickets amounted to
THB150
each for the 40 minute bus ride from the
Krabi Airport
to the nearby town of Ao Nang. Despite having asked the driver to drop us off at the Ao Nang beachfront where the long-tailed boats departed periodically to West Railay, he instead attempted to take us further down the road to what he claimed was the Ao Nang stop at the Krabi jetty (possibly Noppharat Thara Beach?). I have a feeling that he gets commission for dropping off his passengers there as the cost of boat rides to West Railay from there would very likely be significantly higher. By the time the bus actually stopped however, we were pretty far from the beachfront and were forced to walk back. Ominous storm clouds loomed in the horizon, which then unknown to us was to become the leitmotif for the entire trip, as we walked to the ticket booth for the long-tailed boats. The ticket booth is located at the
corner
of the L-shaped road that joins the main road (that goes back up the hill towards Krabi town) to the road that runs parallel to the Ao Nang beach. One is able to directly approach the owners of long-tailed boats that are waiting but if the group doesn't have at least 8 people, the difference in cost would have to be shared out between the passengers. The ticket booth, on the other hand, sold tickets for
THB100
for a one-way trip to Railay per person since the boats would only leave once the sufficient number of passengers had gathered. The long-tailed boats themselves (Ruea Hang Yao in Thai) are so named due to the automotive engine that is mounted on the stern with a long metal pole connecting the drive shaft to the propeller.
Getting There
Location of ticket booth for the long-tailed boats to Railay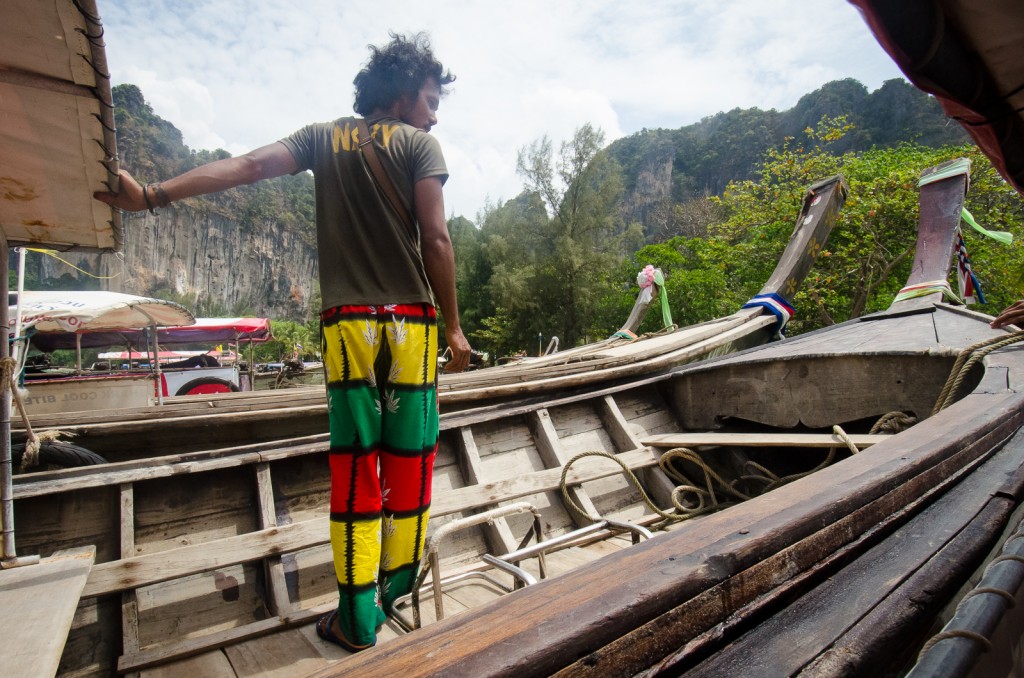 Walking Street
As we made our way from West Railay to East Railay via a narrow shop-lined alley appropriately named 'Walking Street', I noticed to my fascination a large number of Eurasian children either loitering about or playing with other Thai children. The numbers seemed to be significantly higher (I noticed four Eurasian children in the first 5 minutes or so) than what you would find anywhere else as I find that first generation Eurasians such as myself tend to be extremely rare wherever one goes. The couples also seemed to always consist of an Asian male and a Caucasian female, leaving me wondering whether there was some natural proclivity that accounted for this combination or if it was rather due to some cultural (possibly patriarchal) element.
360 Panorama
Accommodation
Since Jamie & Cass had already organized their accommodation at Viewpoint Resort (which was where we had stayed for the last two trips), I instead made my way to the (far more) humble Rapala Rock Wood Resort, a backpacker lodge of sorts that had a number of ramshackle bamboo bungalows available for a (relatively) low price. Rapala also had a restaurant at the end of a long flight of stairs that served some of the cheapest food in all of Railay. I was initially offered a room with an attached bathroom for THB500 a day but after instead meeting and bargaining with the owner, we settled on a THB400 room with a shared bathroom that had its rates reduced to THB2500 for a week (MYR36 per day). The room was a very simple 3m x 3m room, with a thin double mattress on the floor with 2 towels, 2 pillows and a small, thin blanket provided. The wall mounted fan was strong enough to ensure that I wouldn't suffer from the sweltering heat which was all that I really required.
Before I left the room for dinner, I fastidiously set up my traveling security measures - basically taping a piece of string above the door that would let me know if there had been any intrusion, connecting the laptop (that was to be sequestered under the mattress) to the laptop security cable that had been wound around the frame of the room, as well as a rubber door stopper ready for when I got back. I had a huge dinner at Rapala where I ravenously ate two meals that ultimately ended up costing THB205 in total along with drinks, seemingly setting a precedence for a voracious appetite that was to remain throughout the entirety of the trip. Jamie, Cass and I then walked around Railay noting the obvious differences from the year before that were brought upon by the inexorable development of the area due to tourism. Hot Rock, the climbing shop that we had frequented on the previous two trips for Deep Water Soloing (or 'cliff jumping' as the owner Luang likes to call the activity), had also moved to another location. Luang's wife, Saralisa, and son, Liam, were also nowhere to be found.
Weariness caught up with me shortly after as I had been awake almost the entire night editing the photos of a recent music and arts event that I had covered. So after purchasing a small bag of detergent for my laundry that cost THB10 I returned to my room for some much needed sleep.