0
Western Arthurs Day 7 : Haven Lake - Mt. Scorpio - Promontory Lake
Onwards to Lake Promontory
Turning right at the Kappa moraine junction brought us down a steep descent to Lake Juno through fairly thick vegetation, the path narrowing and the sides closing in. Carcasses of long dead trees stuck out occasionally obstructing the trail and the trickling of a stream that ran down the path kept our boots wet. Everything here seemed a little surreal. As the track began to climb once again past the two lakes and up to Lake Promontory with the Northern cliffs of Carina Peak towering above us, the vegetation began to close in. It was fairly overgrown here and we were forced to push our way through, scratching and scrambling our way upwards.
As the scrubby bush began to let up and the surroundings opened up to reveal tall formidable shells of once-living trees that lined the lake, we made our way forward to circle the Northern shores and around to the South-Eastern corner of the lake. The terrain here was quite muddy, especially around the fast-flowing river, but once over the river the terrain improved a little and we drew nearer to the clearings that are used for camping, sheltered by the hills just beyond. Located right next to the lake, the
Promontory Lake Campsite
was the most scenic campsite so far; but since it had no 'facilities', was also the most bare - one has to go above and over the hill to relieve oneself so as to not contaminate the water catchment area.
Lake Promontory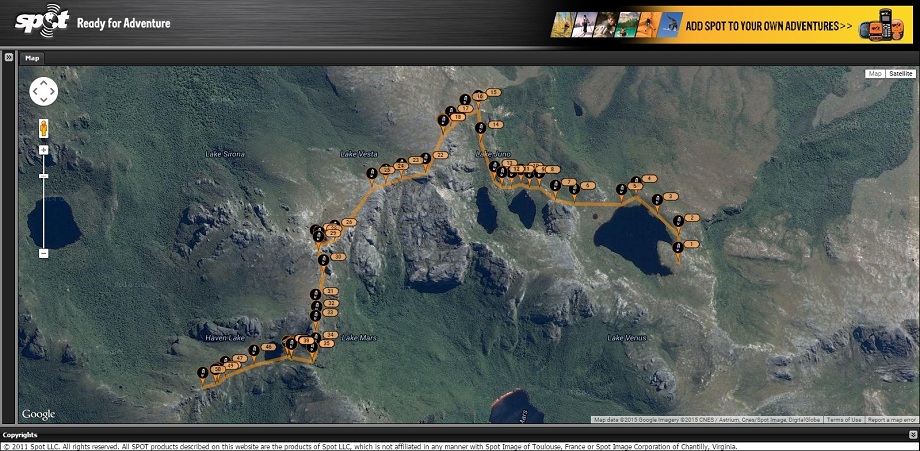 The day's route as recorded by my SPOT Connect Satellite Communicator
Suunto Movescount Stats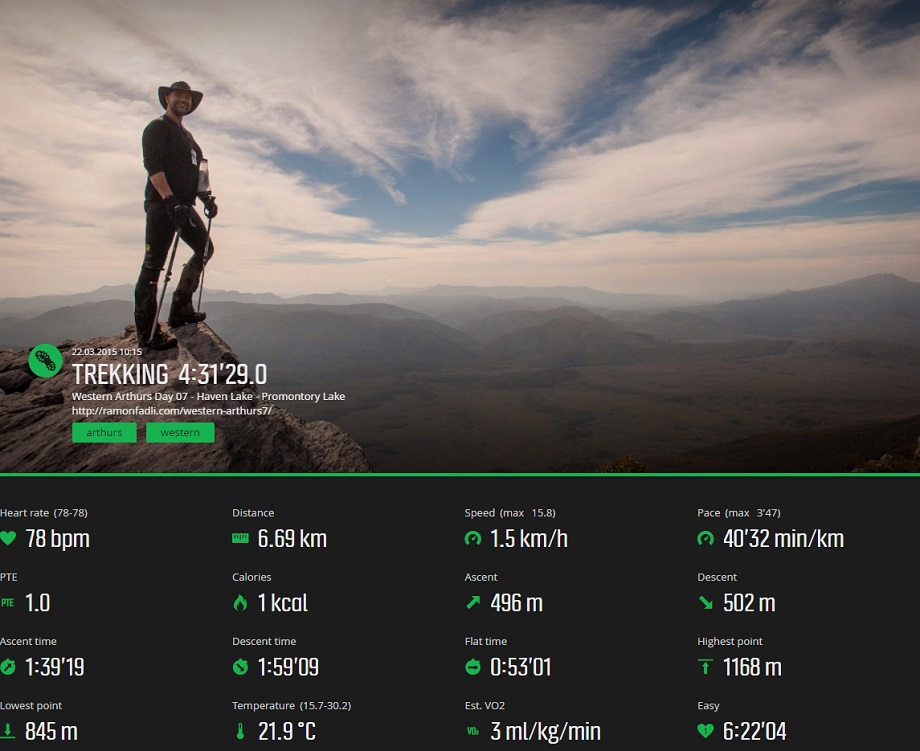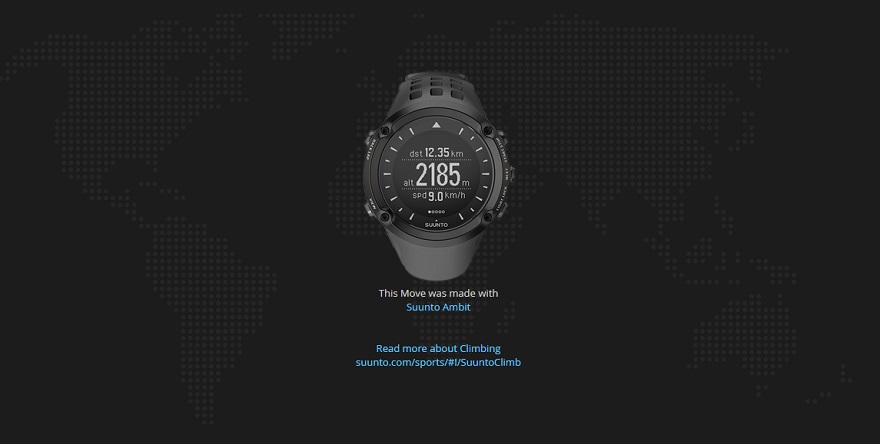 Download file:
Western Arthurs - Day 7.gpx
Day 8 : Inclement Weather
We had inclement weather that night, with heavy rain starting around 4 in the morning and continuing on throughout the next day. The mist rolled in when the rain subsided, blanketing everything in a complete whiteout, leaving us stranded in the campsite, completely unable to move. This forced us to seriously re-evaluate our options, and because we were aware that the next stage of the hike to Lake Rosanne would be through thick scrub, mostly on an exposed ridge, and could occasionally be hard to follow, we glumly began to prepare ourselves of the possibility of exiting the range through Kappa moraine once the weather cleared.