0
ABC Day 07 - Bamboo to Deurali
Back in the Forest

I left Bamboo (
elevation : 2310 m
) a little later than usual since it was going to be a short day, and climbed up past the other lodges and over a stream to the boulder-lined path. The trail crossed several rivers, and passed a waterfall that was festooned with prayer flags. I was then thrown back into the forest, and found myself surrounded by little brown birds that were flitting from bamboo shoot to bamboo shoot. They were twittering away, but at times their sounds could only barely be made out over the rushing Modi Khola. It had rained a lot the day before and all the little streams, rivulets, and tiny waterfalls washed down the hillside and over the path to ultimately join the river way down below.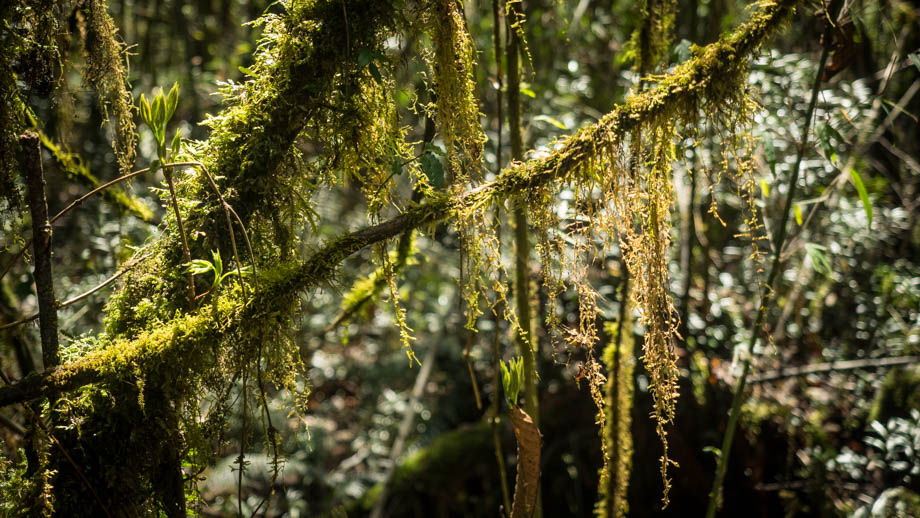 Leaf colouration; the rosette (basal leaves) of an Asiatic poppy plant (

Meconopsis sp.

)
Pitcher Cobra Lily (

Arisaema nepenthoides

)
The tip of Machapuchare (
elevation : 6997 m
) was glimpsed every now and then through gaps in the dense foliage, and as the sun rose over the hills to the right, crepuscular rays were sent slanting down the valley to bathe everything in their soft light. I stopped at a viewpoint that lay just before Dobhan (
elevation : 2600 m
), as I figured that there was not much that could beat a hot cup of coffee whilst overlooking such incredible views. I would make a short coffee stop like this on the trail in the first hour or so each and every day, and I was always particularly aware about the roaring sound that my
Jetboil Zip
made. As such, I would always take great measures to ensure that it was ignited only when there was no one around.